Good Morning Friends…
Have you started preparing Chrismas cards for the coming season??  If not yet, we at Heartfelt Creations brings you loads of inspiration to get started with the Christmas and holiday cards, using their latest release, O Holy Collection. The beautiful traditional color combo of this collection and the Holy Night scenes of the Holy Family are too adorable to paint.
For today's inspiration, I have a card using the Silent Night stamp and Die. The gold and deep red Christmas ornament with Silent Night hand painted image and Vellum Poinsettias looks. fabulous.
Also today, I m excited to share a good news with all my international crafty friends who always appreciated my makes with Papericious Vellum and were waiting to get their hands on my favorite vellum cardstock. Ppapericious Vellum is up on shelves internationally and will be sold worldwide via Heartfelt Creations. You can find it here on their website. I m feeling so blessed and thankful to Heartfelt Creations for always supporting me and giving me recognition worldwide through their creative platform.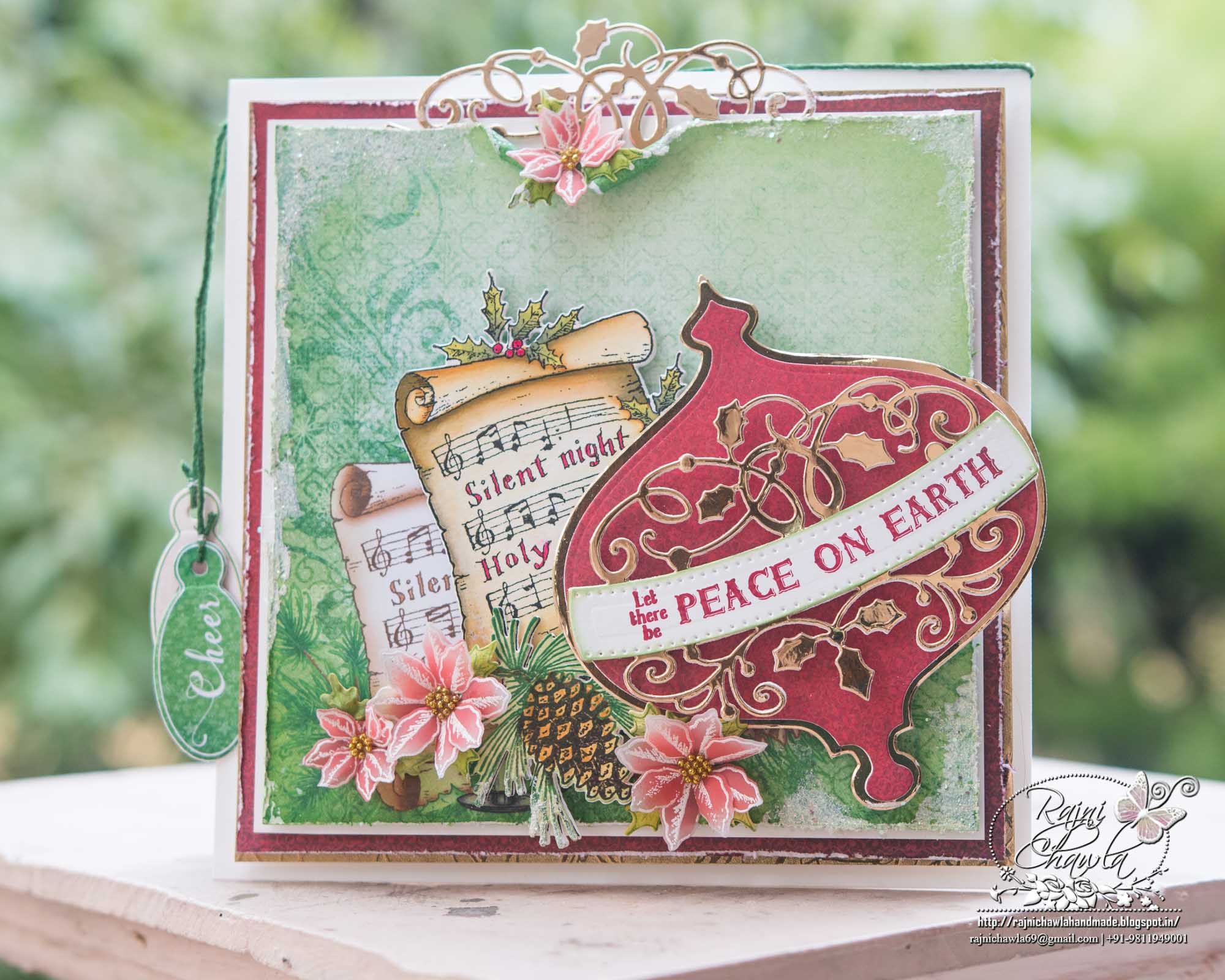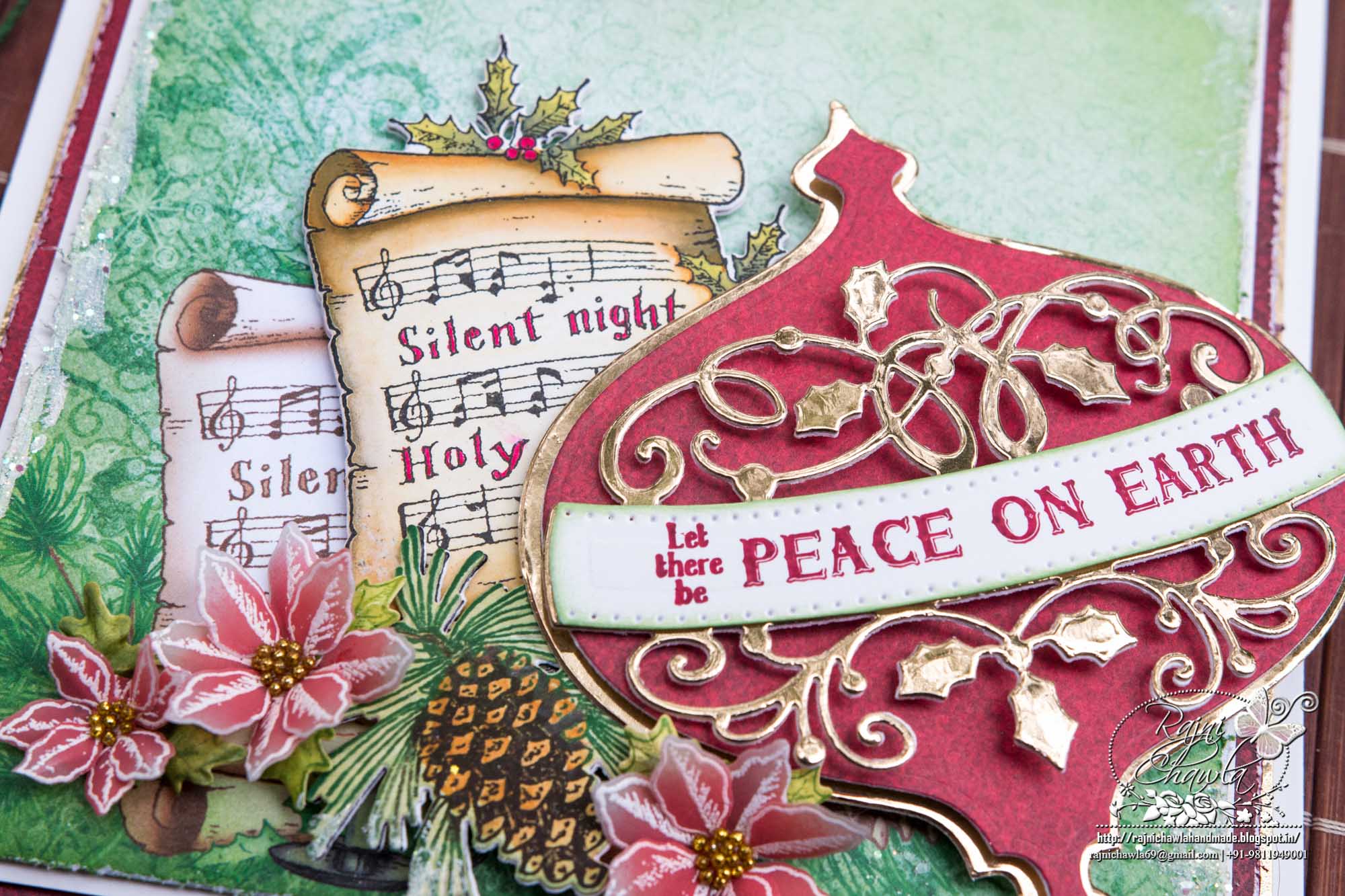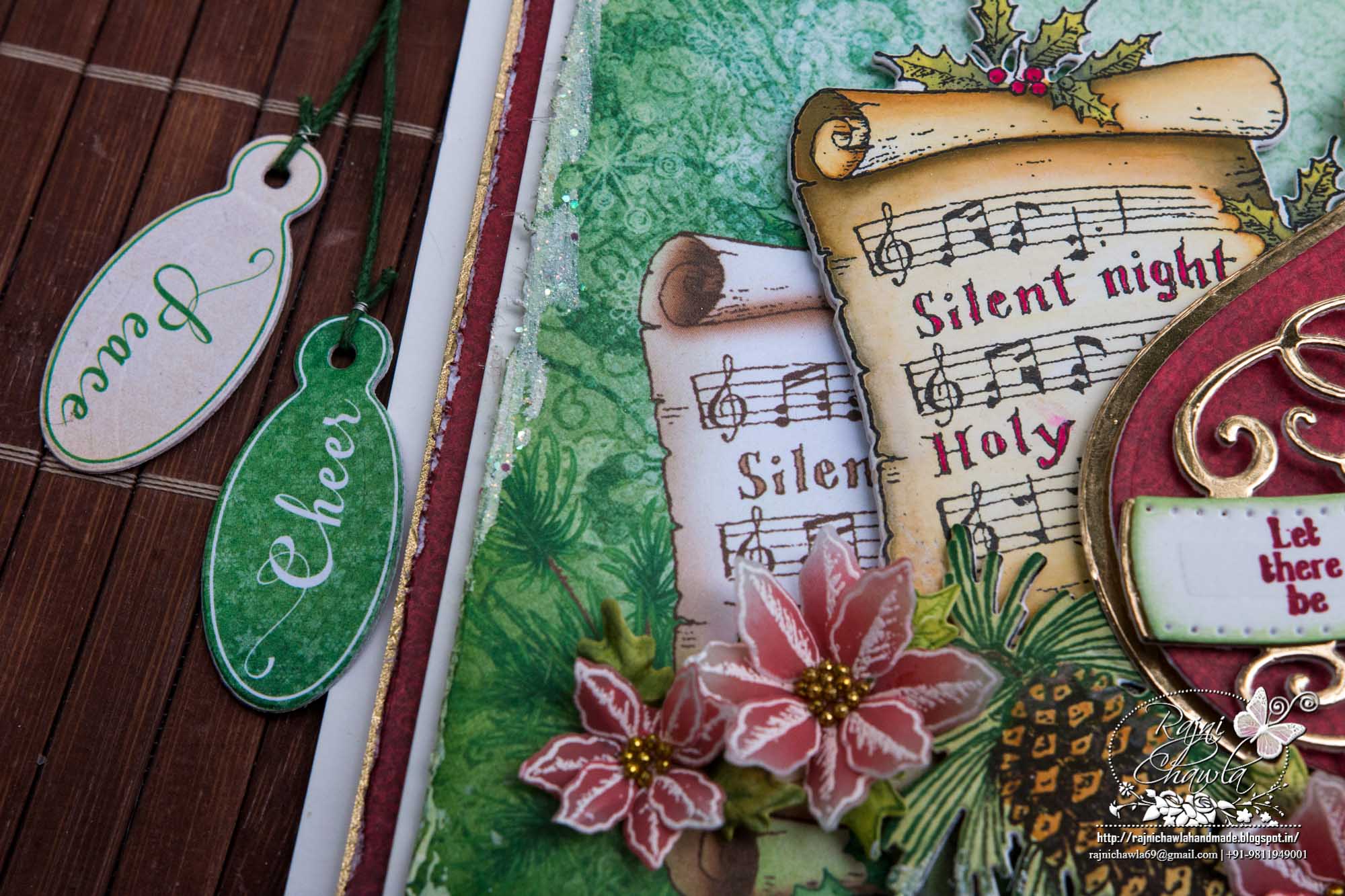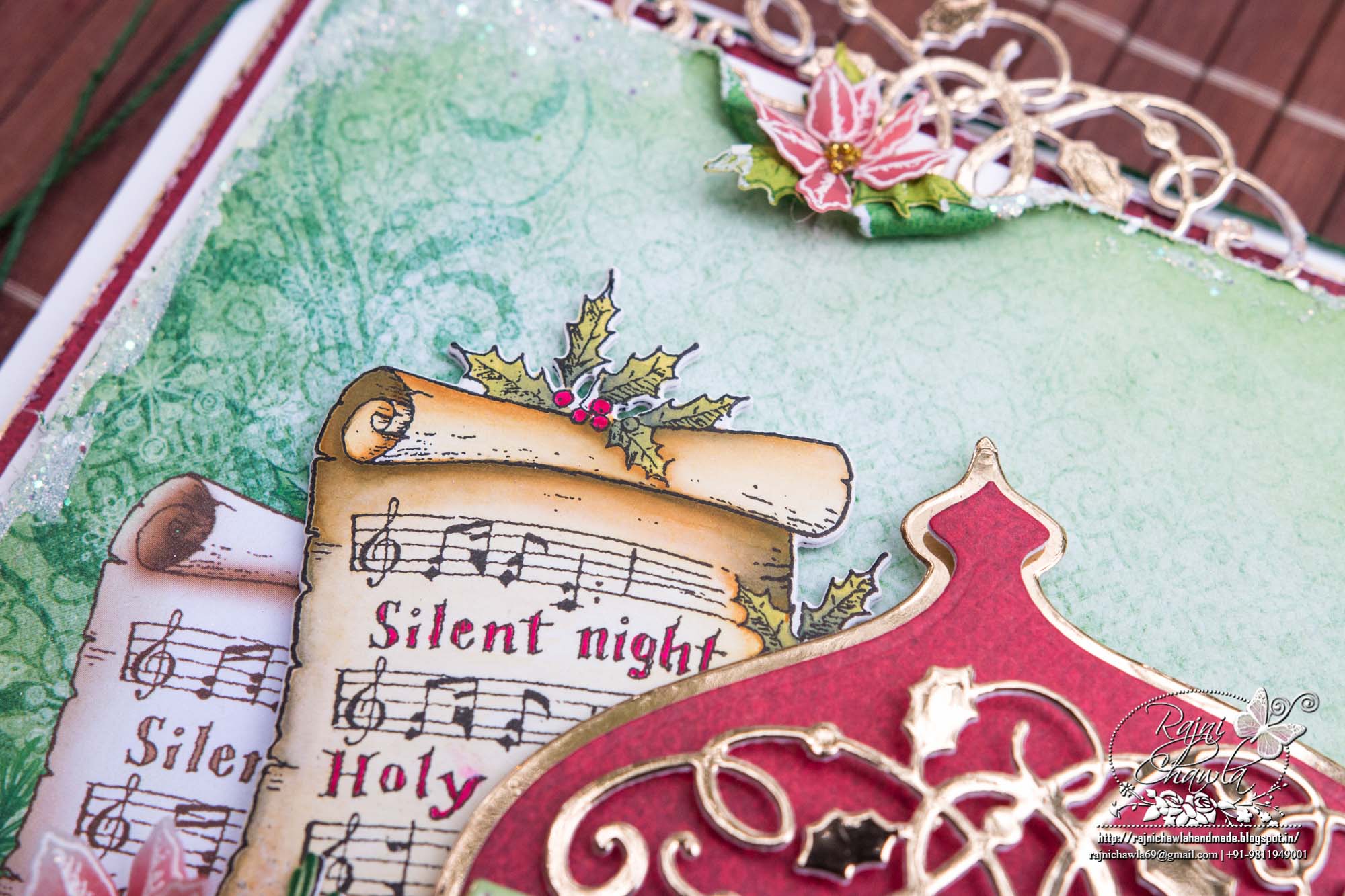 Supplies from Heartfelt Creations:
HCD1-7186 Silent Night Scroll Die
HCD1-7188 Noel Ornament Die
HCPC-3833 Silent Night Scroll Cling Stamp Set
HCPC-3834 Noel Sentiments Cling Stamp Set
HCDP1-292 O Holy Night Paper Collection
HCPC-3822 Poinsettia & Holly Clusters Cling Stamp Set
HCD1-7176 Poinsettia & Holly Clusters Die
HCD1-745 Luggage and Tags Die
RACP468 Ranger Archival Ink Pad – Jet Black
RACP482 Ranger Archival Ink Pad – Olive
RACP451 Ranger Archival Ink Pad – Coffee
RACP461 Ranger Archival Ink Pad – Vermillion
RAHT Heat It Craft Tool
PGM15016 Rajni Chawla's Frosting Powder
HCDA2-450 Stack and Store Daubers-Pack of 30
CB80 ColorBox Pigment Ink Pad – Frost White
RPEJ685 Embossing Powder – White
Other Products Used: Papericious Vellum, Zig Clean Clear Brush Markers, Distress ink Peacock Feather, Gold Mirror Sheet, Golden Glittered Micro Beads, Foam Dots, Smooth white cardstock, Distressing tool or sharp scissors, Glue Dots.
Videos Referred: 
For more tips on creating with the O Holy Night collection, watch the tutorial at https://youtu.be/UWDeK6soJ0E.
Instructions: The ready side-fold card from smooth white cardstock measures 7 1/2″ by 7 1/2″. For the top panel, choose a 6′ by 6″ panel from the designer paper collection and distress all the edges with Peacock Feather. Further distress the edges with a distressing tool or a sharp scissors, keeping a torn effect on the top. Mat 3 layers behind the top panel, starting from white, deep red and then gold mirror cardstock respectively. Each layer is 1/16″ of an inch larger than the previous layer. All the layers are given dimensions using glue dots. Once all the layers are ready, further layer the panel on ready card-stock.
Stamp the Silent Night image from the Silent Night Scroll Cling Stamp Set with black archival ink and color it using Zig Clean Clear Brush Markers. Finally cut the image using it's coordinating die. Also, stamp a pinecone using Coffee Archival ink and Olive Green Archival and paint with Zig Markers. Cut it using it's coordinating die.
For the ornament, Using Noel Ornament Die, cut a bottom layer from gold mirror sheet, middle layer from deep red paper and top fancy layer again from gold mirror sheet. Layer the bottom 3 layers using glue dots. Bend and shape the top layer and glue it as shown. Cut another piece of a top fancy layer on white cardstock, stamp the sentiment from Noel Sentiments Cling Stamp Set using Vermillion Archival and snip off the top and bottom fancy edge. Also, color the edges with Olive Green Archival Ink. Adhere the sentiment on the ready ornament. Also, cut an extra top fancy layer of the ornament from gold mirror sheet and keep it aside for the final arrangement.
For the Poinsettias, stamp the images from Poinsettia & Holly Clusters Cling Stamp Set with white Color Box Ink on Papericious Vellum, sprinkle white heat embossing powder, dust extras and heat set using the heating tool. Cut the flowers using it's coordinating die. Shape the flowers gently on the back of stylus and add gold glittered microbeads to the centers using adhesive that dries clear. Make 2 small and 2 large flowers.
Once all the elements are ready, assemble the card as shown. Finish the card by adding a twine around the card center holding some extra tags from the paper collection. Also add some frosting powder on the edges using an adhesive that dries clear, to add some glittered snow.