Good Morning Friends….
We at Heartfelt Creations brings you a surprise launch today.  Elegant tag dies and sentiment stamps are one of the most used tools in the craft room, and it's every crafters desire to have a well-rounded collection. This one of a kind collection provides you with a selection of greetings paired with matching designer tags, to make the perfect sentiment for your handmade cards and gifts. These dies and stamps are a wonderful way to adorn special gifts, tuck into pockets of greeting cards, and are the main staples for the craft room and will always stand the test of time.
For today's inspiration I have a bannered shaker card to share.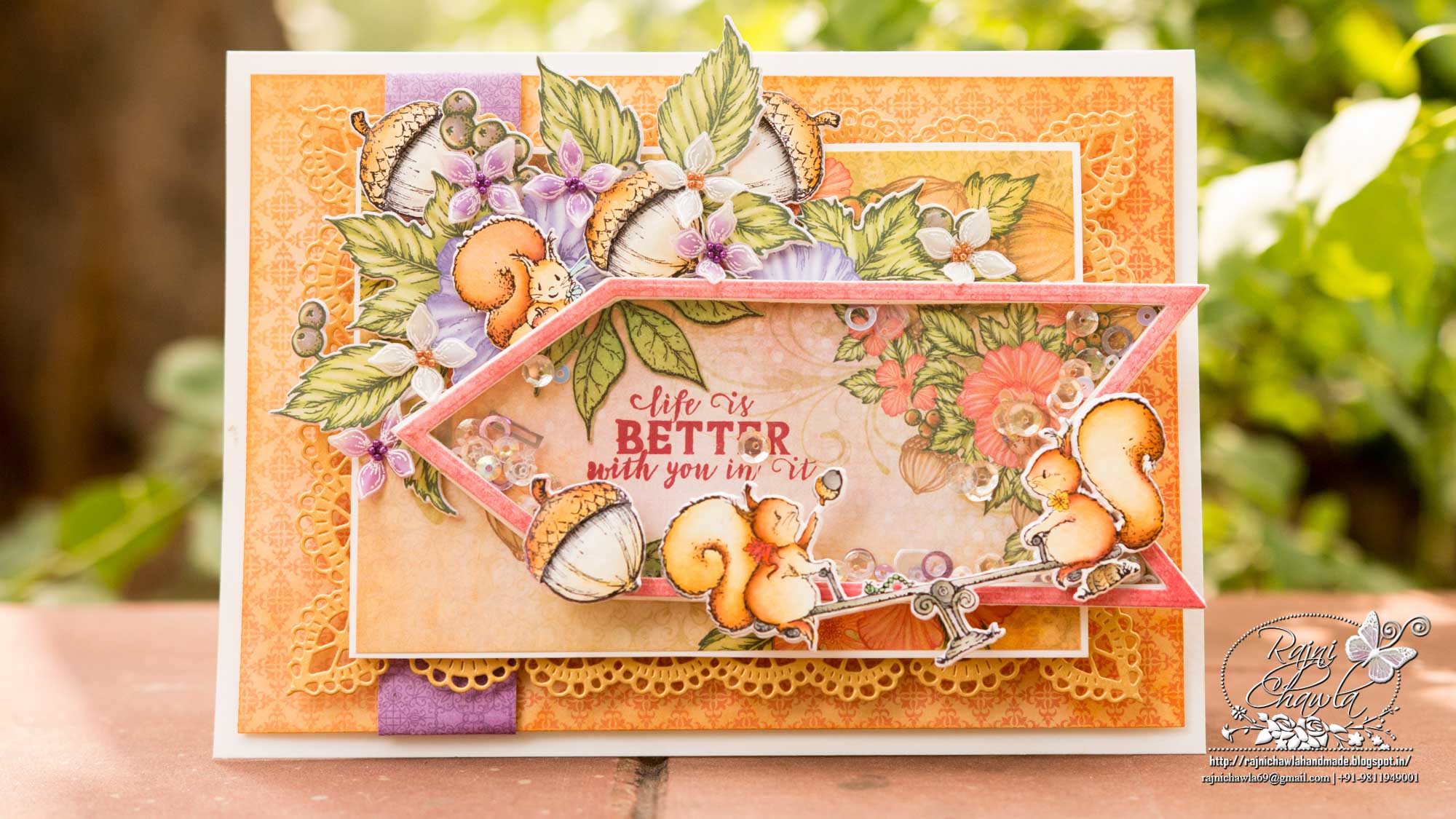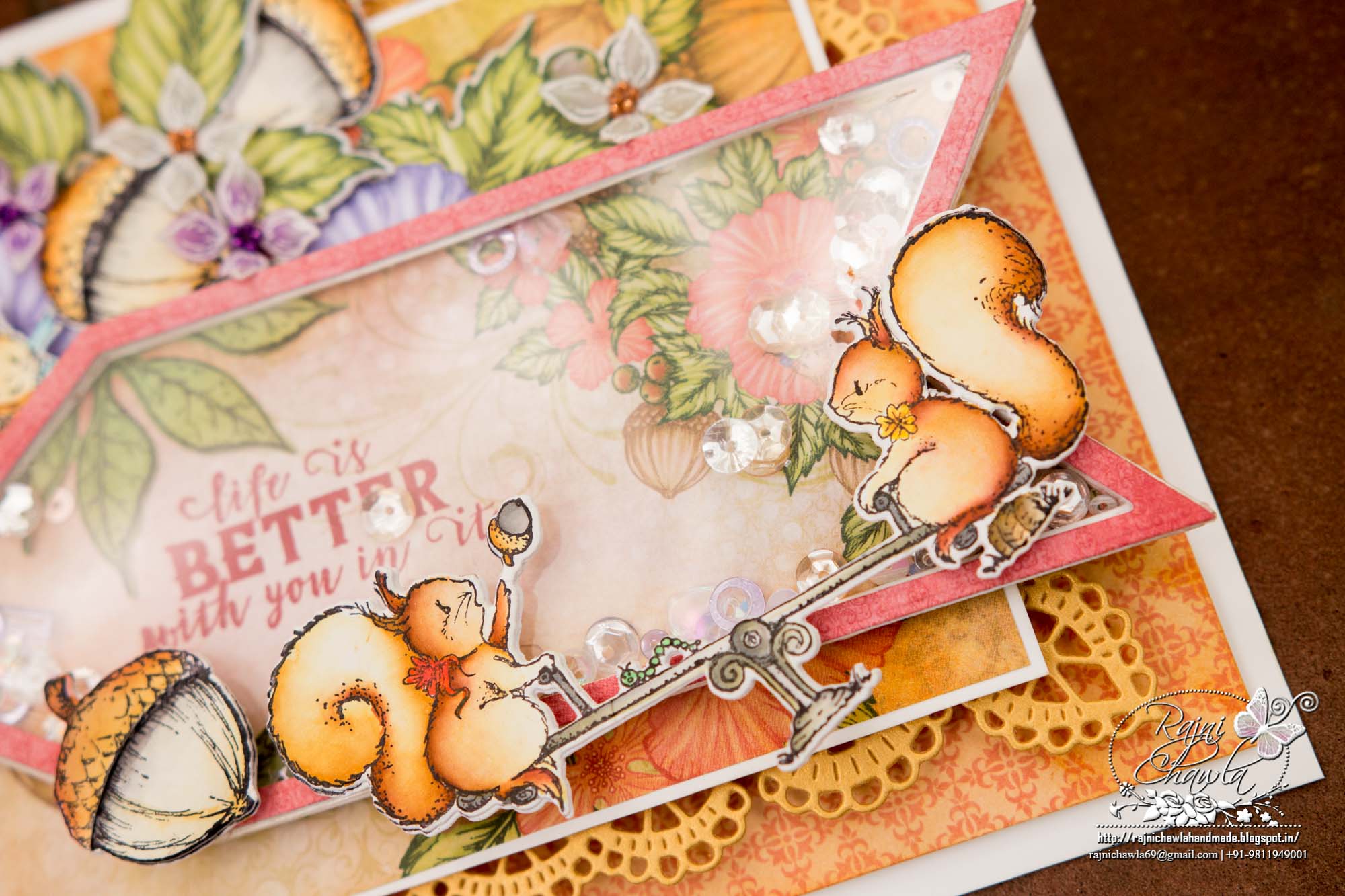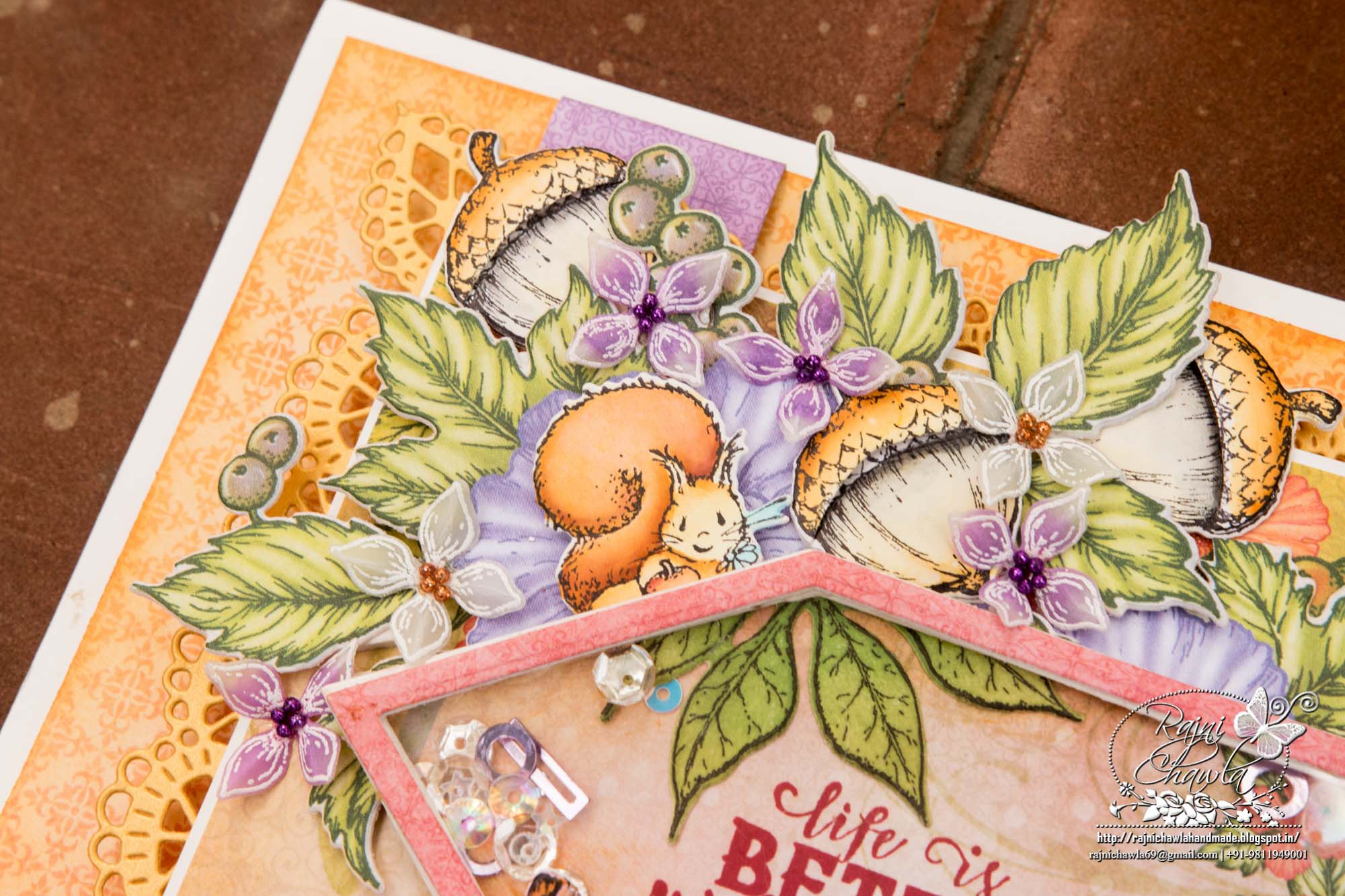 Supplies from Heartfelt Creations: 
HCD1-7198 Oakberry Cottage Die
HCD1-7199 Oakberry Lane Antics Die
HCPC-3840 Oakberry Cottage & Sentiments Cling Stamp Set
HCPC-3841 Oakberry Lane Antics Cling Stamp Set
HCDP1-294 Oakberry Lane Paper Collection
HCD1-7204 Arrows and Banner Die
HCD2-7192 Eyelet Lace Frames Die
HCD1-7122 Woodsy Landscape Die
HCPC-3766 Woodsy Treescape Cling Stamp Set
HCD1-7170 Lush Lilac Die
HCPC-3816 Lush Lilac Cling Stamp Set
18002 Rajni Chawla's Vellum Flowerite – 10 Sheets
RACP993 Ranger Archival Ink Pad – Red Geranium
RACP468 Ranger Archival Ink Pad – Jet Black
HCDA2-450 Stack and Store Daubers-Pack of 30
CB80 ColorBox Pigment Ink Pad – Frost White
RPEJ685 Embossing Powder – White
159723 Designer Dries Clear Adhesive
HCST1-401 Deluxe Flower Shaping Kit
DDOTS Double Dots 100pc. -3D Foam Circles
Other Products Used: Smooth white cardstock, Scoreboard, Die Cutting Machine, Glitter balls, a piece of metallic card stock, Mixed Sequence, and Zig Clean Clear Brush Markers
Videos Referred: .For more tips on creating with the Oakberry Lane collection, watch the tutorial at https://youtu.be/HirfUN8NEYY
For more tips on creating with the tags & sentiments, watch the tutorial at https://youtu.be/eAfLuNkRda4.
Instructions: The ready top-fold card from white cardstock measures, 8″ by 5 1/2″ and the first matted layer on the card is from the designer paper collection which measures, 5″ by 7 1/2′. Cut a strip, measuring 1 1/2″ by 5″ of a purple paper from the paper collection and mat it on the right side of the card panel as shown.
For the next layer, choose a paper from the paper collection and cut it measuring 5 3/4″ by 4″ and layer it on a white cardstock, making 1/8″ border on all the four sides. Use a double-sided tape and layer it on Eyelet Lace Frames die cut which is cut from a golden metallic paper
For Shaker, cut 6-7 pieces of frames from white cardstock and one frame from peach color pattern paper by stacking larger 2 banner dies from Arrows and Banner Die Set. Glue and stack all the white die cut frames together and colored frame with acetate sheet and keep them aside. Also cut a piece of patterned paper with flower and one piece of acetate to create window front, using outer banner die. On the base of the shaker, stamp a sentiment from Oakberry Cottage & Sentiments Cling Stamp Set using Red Geranium Archival ink. Stamp and cut leaves from Woodsy Landscape stamp and die set and color them using Zig Markers. Attach the stacked frame to the base as shown, glue the painted leaves and fill the window with sequence and close the shaker using acetate top.
For embellishing the card, stamp the images from Oakberry Cottage & Sentiments Cling Stamp Set and Oakberry Lane Antics Cling Stamp Set with black and cut them using their coordinating dies. Color all the images with Zig Clean Clear Markers. All the walnuts are layered and shaped by adding an extra layer and shaped using Deluxe Flower Shaping Kit. Extra die cut layers are added to the squirrels for extra support. For filler flowers, white heat emboss few Lilacs from Lush Lilac Collection, color them using distress oxide ink, shape them a little with hands and add glitter balls to the center.
Cut a printed flower cluster from the same paper collection and add it as an extra accent between the card layers, Once all the elements are ready, assemble the card as shown.