It's time to shake off the wintertime blues and greet the spring season with the breathtaking Tulip Time Collection from Heartfelt Creations! Energize yourself with a beautifully hued paper collection filled with pastel pinks, pretty purples, sunny yellows and grassy greens…the ideal springtime colors for all of your spring themed paper craft creations! Graceful illustrations of delicate tulip bouquets, elegant flower pot arrangements, and colorful meadow like scenes garnish delicate backgrounds adorned in beautiful brocades, dainty lace like patterns and soft floral images, certain to put a spring in your step and a song in your heart! Rounding out this spring-inspired collection are three blossoming cling stamps sets displaying tender images of budding tulips, an assortment of flower pots ready to hold the first cuttings of the season, as well as a pretty picket fence ideal for building a cheerful garden scene! When paired with the coordinating dies, creating fresh and invigorating springtide embellishments for handmade greeting cards, scrapbook layouts and altered art pieces are accomplished quickly and with ease! A fourth beautifully illustrated cling stamp set featuring breezy tulip petals in varying diameters, along with the coordinating dies and a customized Tulip Shaping Mold, will allow you to surround yourself with realistic replicas of the first flowers of spring! So, join us as we welcome the season of new beginnings with the Tulip Time Collection!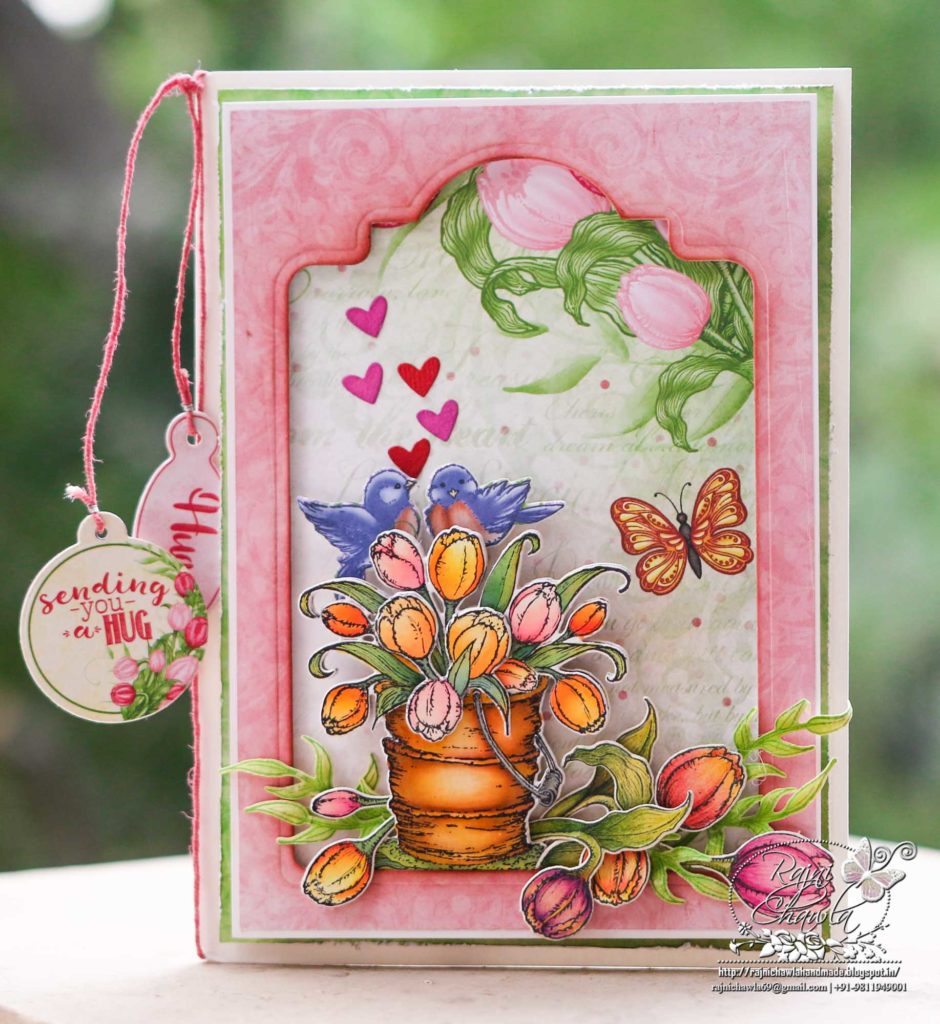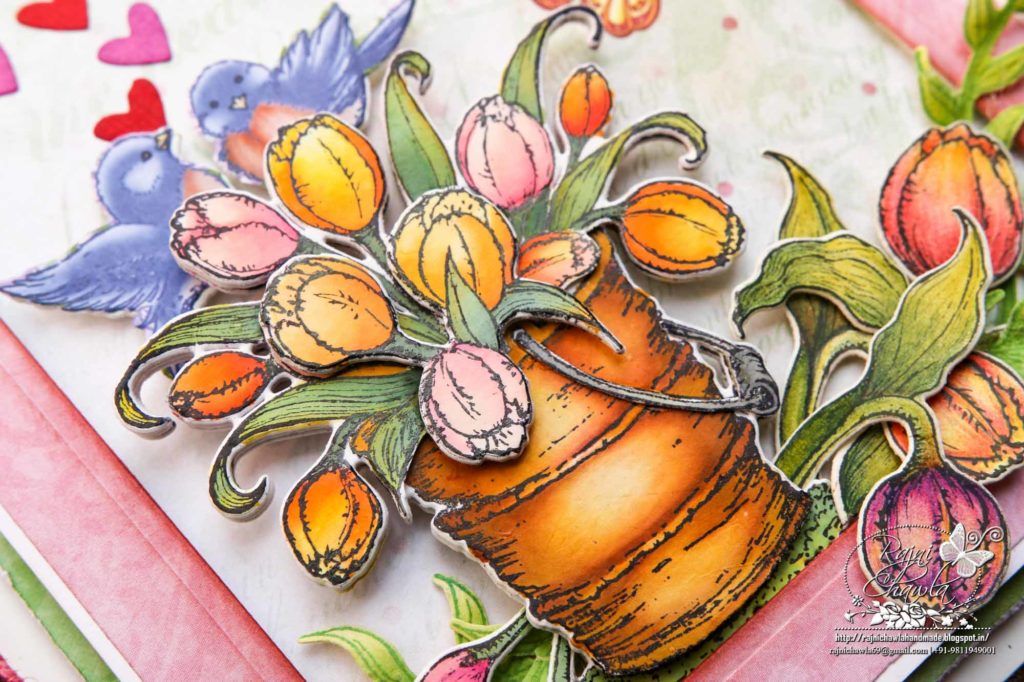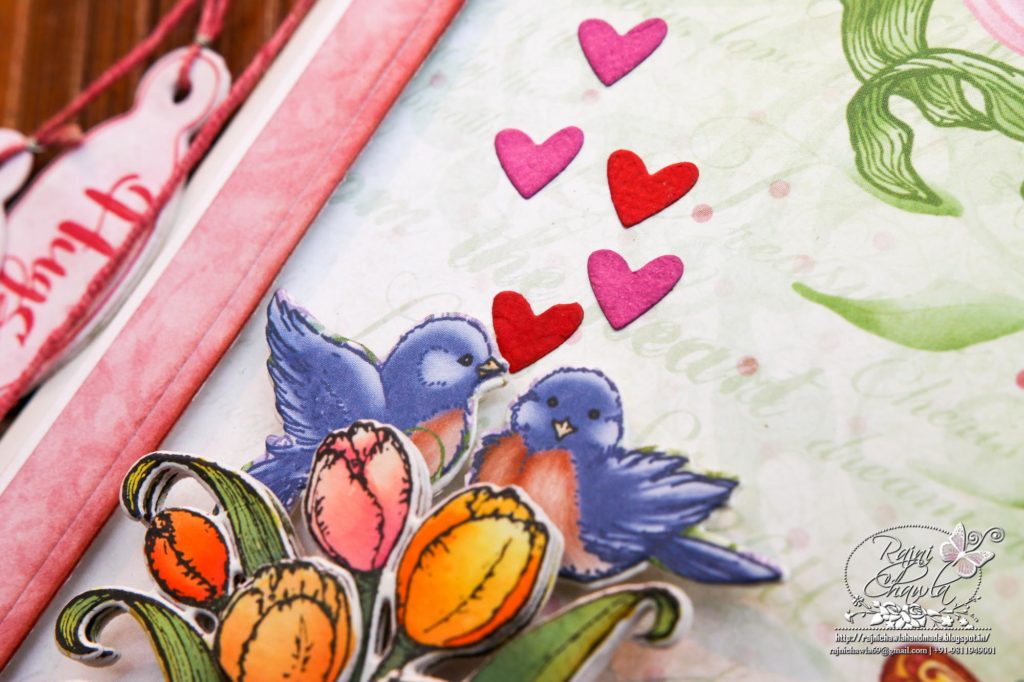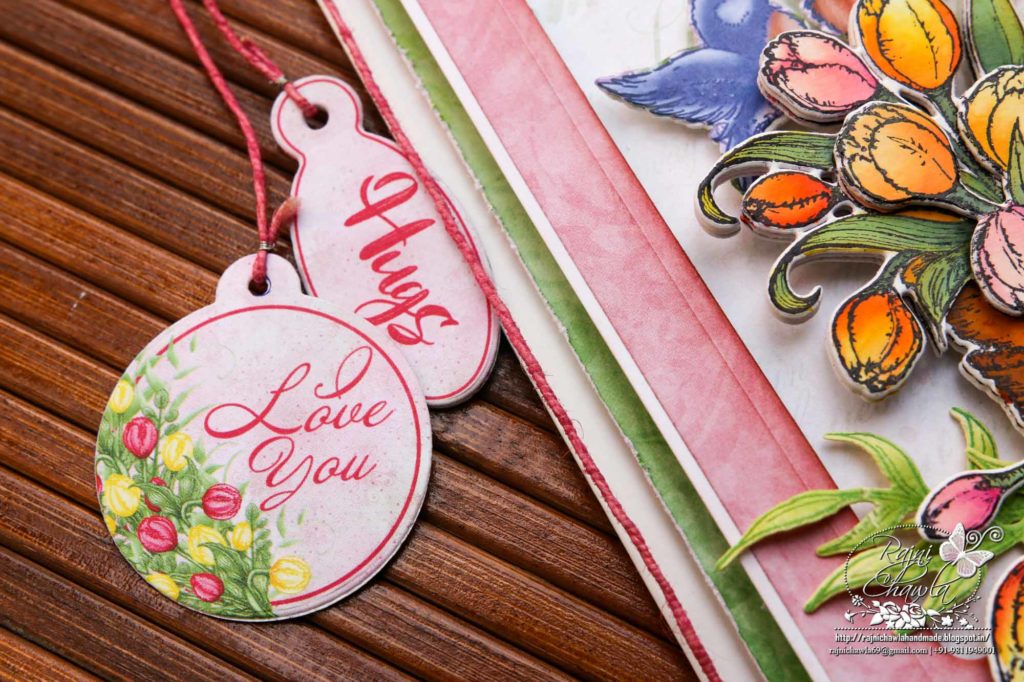 Supplies from Heartfelt Creations:
HCD1-7219 Tulip Bouquet Die
HCD1-7220 Tulip Vase & Fillers Die
HCPC-3859 Tulip Bouquet Cling Stamp Set
HCPC-3860 Tulip Vase & Fillers Cling Stamp Set
HCDP1-298 Tulip Time Paper Collection
HCD1-7169 Rain Boots and Blossoms Die
HCPC-3811 Rain Boots and Blossoms Cling Stamp Set
HCD1-7202 Album Tags and Accents Die
HCD1-7203 Ornamental Tags Die
HCD1-7168 Songs of Spring Die
478455 Zig Clean Color Real Brush Markers – 36 Pack
409311 Color In Watercolor Brush – Fine
RACP468 Ranger Archival Ink Pad – Jet Black
Other Supplies Used: Smooth White Cardstock, Die cutting Machine, Paper Trimmer, twine and a Scoreboard.
Videos Refered: For more tips on creating with the Tulip Time collection, watch the tutorial at https://youtu.be/rfYMxeNBmJk.
For more tips on creating with the tags & sentiments, watch the tutorial at https://youtu.be/eAfLuNkRda4.
Instructions: The ready sidefold card from smooth white cardstock measures, 6″ by 8″. To create the top panel, choose the paper from designer paper collection, measuring 5 1/4″ by 7 1/4″ and cut the window using Album Tags and Accents Die. Choose another paper from the same paper collection which measures, 5 1/2″ by 7 1/2″ and layer it behind the window as shown. Further layer it on the ready card base.
Stamp the images from Tulip Bouquet Cling Stamp Set, twice using black archival ink and cut them using its coordinating dies. Then paint the images with Zig Clean Clear Brush Markers. Create 2 separate layers, one with the flower pot and other with tulip flowers. Add dimensions to the image using foam dots. Also stamp, cut and paint the images from Tulip Vase & Fillers Cling Stamp Set.
Stamp the foliage from Rain Boots and Blossoms Cling Stamp Set using Olive Archival Ink and paint them using Leaf Green Archival Ink. Cut them using its coordinating die and shape them using delux flower shaping kit.
The birds are cut from the paper collection using Songs of Spring Die. The hearts are punched from the colored paper stash. Once all the elements are ready to assemble the card as shown and finish the card by tieing tags using Ornamental Tags Die.