Good Morning All…
For today's Heartfelt inspiration, I have a beautiful framed card to share which I created for Making Cards Magazine., June 2018 issue. I created this card using beautiful Backyard Blossom Collection and framed die by Heartfelt Creations.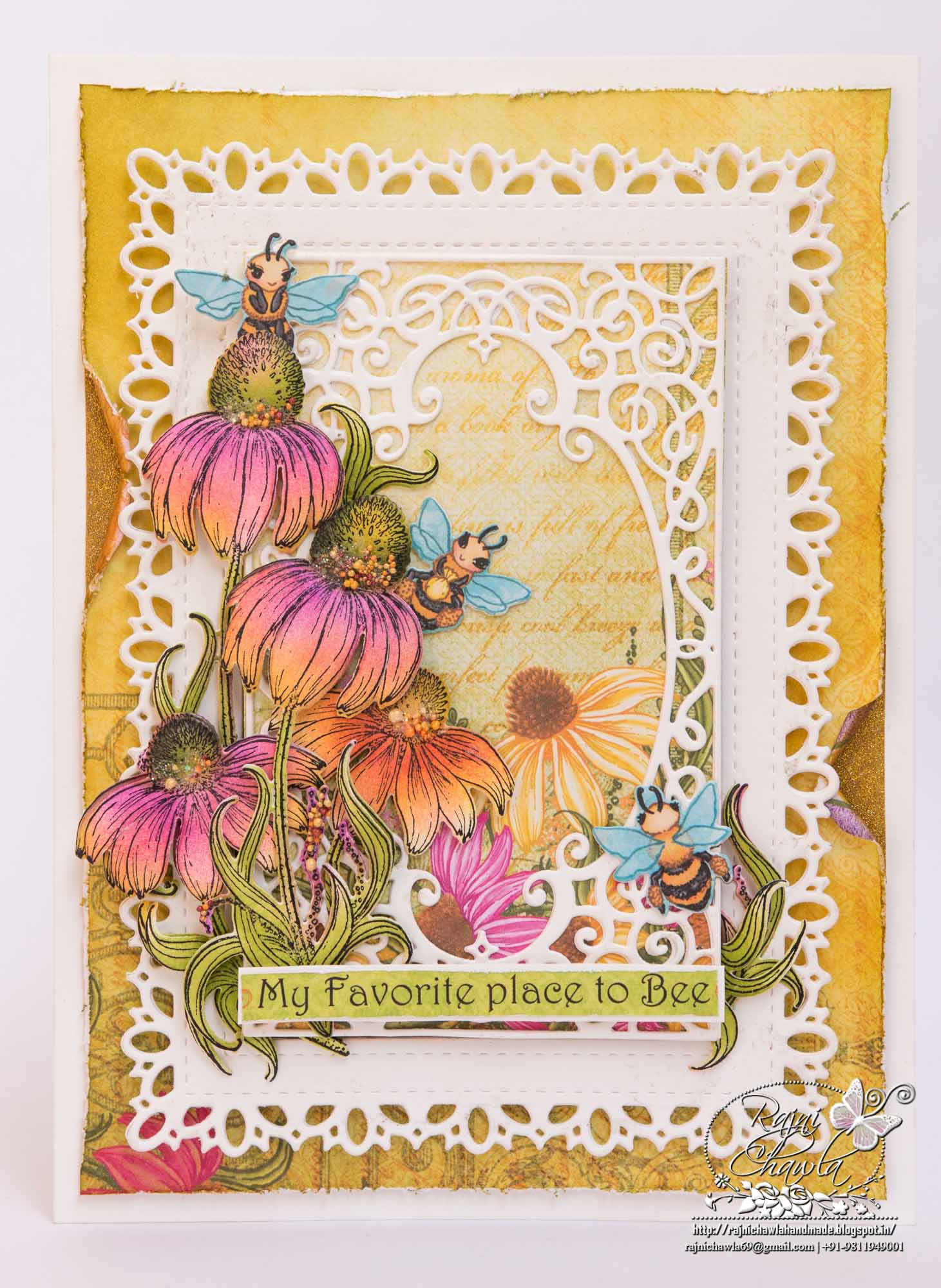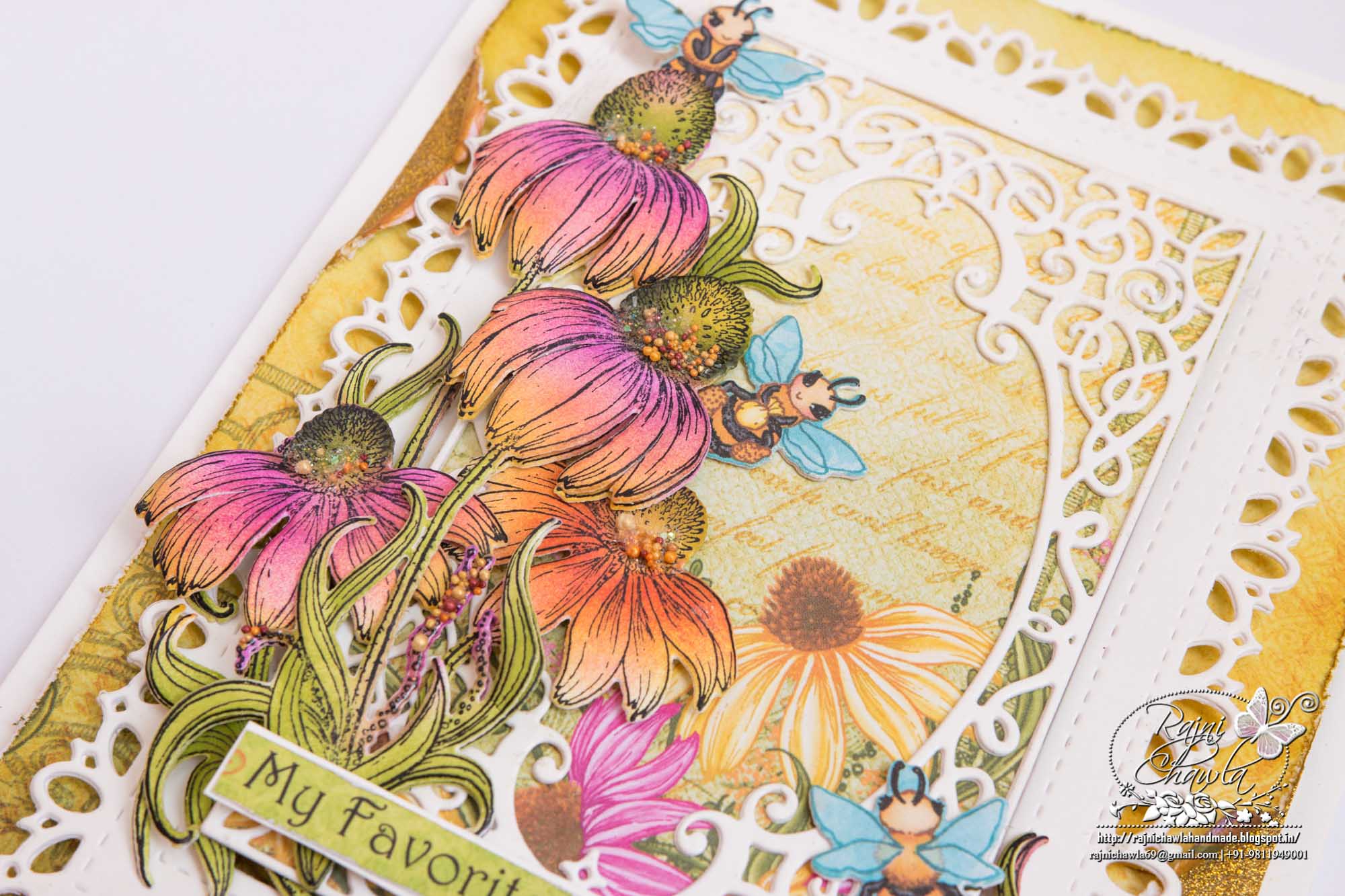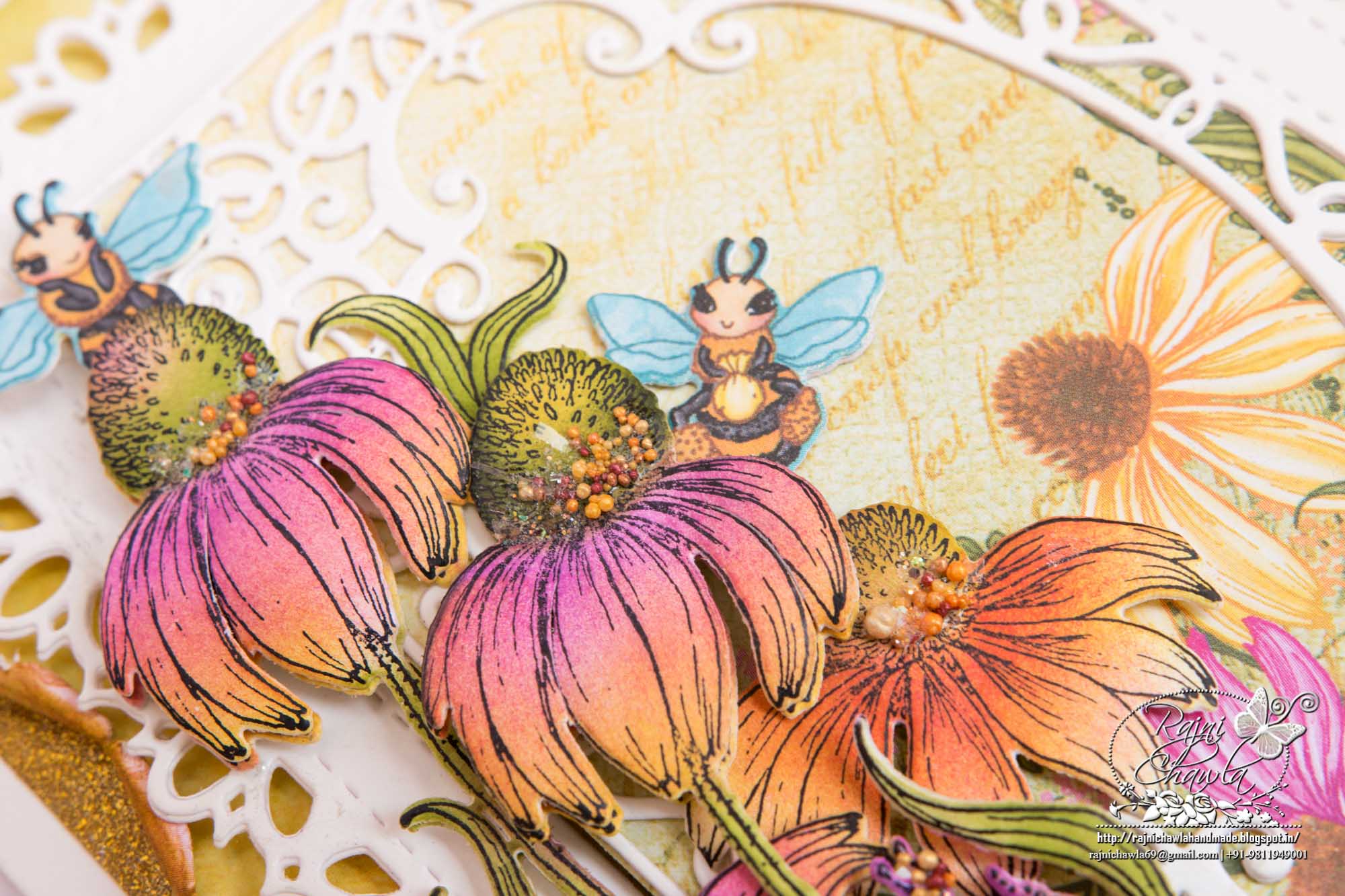 Supplies From Heartfelt Creations:
HCD1-7185 Sweet as Honey Die
HCPC-3831 Sweet as Honey Paper Collection
HCD1-7181 Backyard Blossoms Die
HCPC-3827 Backyard Blossoms Cling Stamp Set
HCD2-7191 Intricate Swirl Frames Die
RACP985 Ranger Archival Ink Pad – Cactus Flower
RACP436 Ranger Archival Ink Pad – Leaf Green
RACP468 Ranger Archival Ink Pad – Jet Black
RACP632 Ranger Archival Ink Pad – Buttercup
RACP524 Ranger Archival Ink Pad – Vibrant Fuchsia
HCDA2-450 Stack and Store Daubers-Pack of 30
ANC818 Go Man Go Prills
Other Supplies Used: Smooth White Cardstock and Foam Dots
Videos Referred: For more tips on creating with the Frame a Card Leafy Borders, watch the tutorial at https://youtu.be/K_1152Kd2Ls.
For more tips on creating with the Backyard Blossoms collection, watch the tutorial at https://youtu.be/swO34-n1HNc.
Instructions:
.Create a side fold card from a smooth white cardstock measuring, 6″ by 8″.. Choose the designer paper collection from Backyard Blossom Paper Collection to create a front panel for the card. It is cut using the outer most die of the Eyelet Rectangle Basic Die. Distress the edges with scissors and give torn effects. Add a small piece of glittered cardstock behind the torn edge.
Cut a frame by nesting outer 2 dies from Intricate Swirl Frames Die set, using white cardstock. Layer the outer fancy frame with glue dots on the card front. To the inner fancy frame, add a beautiful scenic print from the back of the die cut creating a window scene. Layer this frame in the center of the card panel adding dimensions using foam dots.
Stamp the 4 images from Backyard Blossom Cling Stamp set Garden's Edge Coneflower Cling Stamp Set and 4 images from Backyard Blossoms Cling Stamp Set, using black archival ink and cut all the images using their coordinating dies. Color 2 images from both the stamp sets with Cactus Flower, Vibrant Fuchsia and Buttercup archival inks. Color the leaves and foliage with leaf green and Fern Green archival inks. Shape the flowers from the back using a stylus on the molding mat. Layer these flowers on the remaining stamped n cut images. This will give an extra dimension to the flowers. To the coneflower centers, add prills and crystal Clear glitters with the help of any glue that dries clear.
The honey bees are cut from the paper collection from As Sweet As Honey, using it's coordinating die.
Once all the elements are ready, assemble the card as shown. Add a sentiment from the paper collection and add few prills on the coneflower centers with glue that dries clear.