Good morning friends!!
I am so thrilled and excited to see myself on Heartfelt Creation's board. It's a dream team. God has given me a wonderful opportunity to enjoy this beautiful world of crafting and to meet few more talented crafters across the globe. I know it's going to be a fun learning time with HC family. Today, I am on board with my very first project as a Heartfelt Creations Design Team!
Though I was bit nervous while creating this project as I entered my craft room after many days due to my ill health, but I have surely tried my level best to inspire you.
Full View of the layout: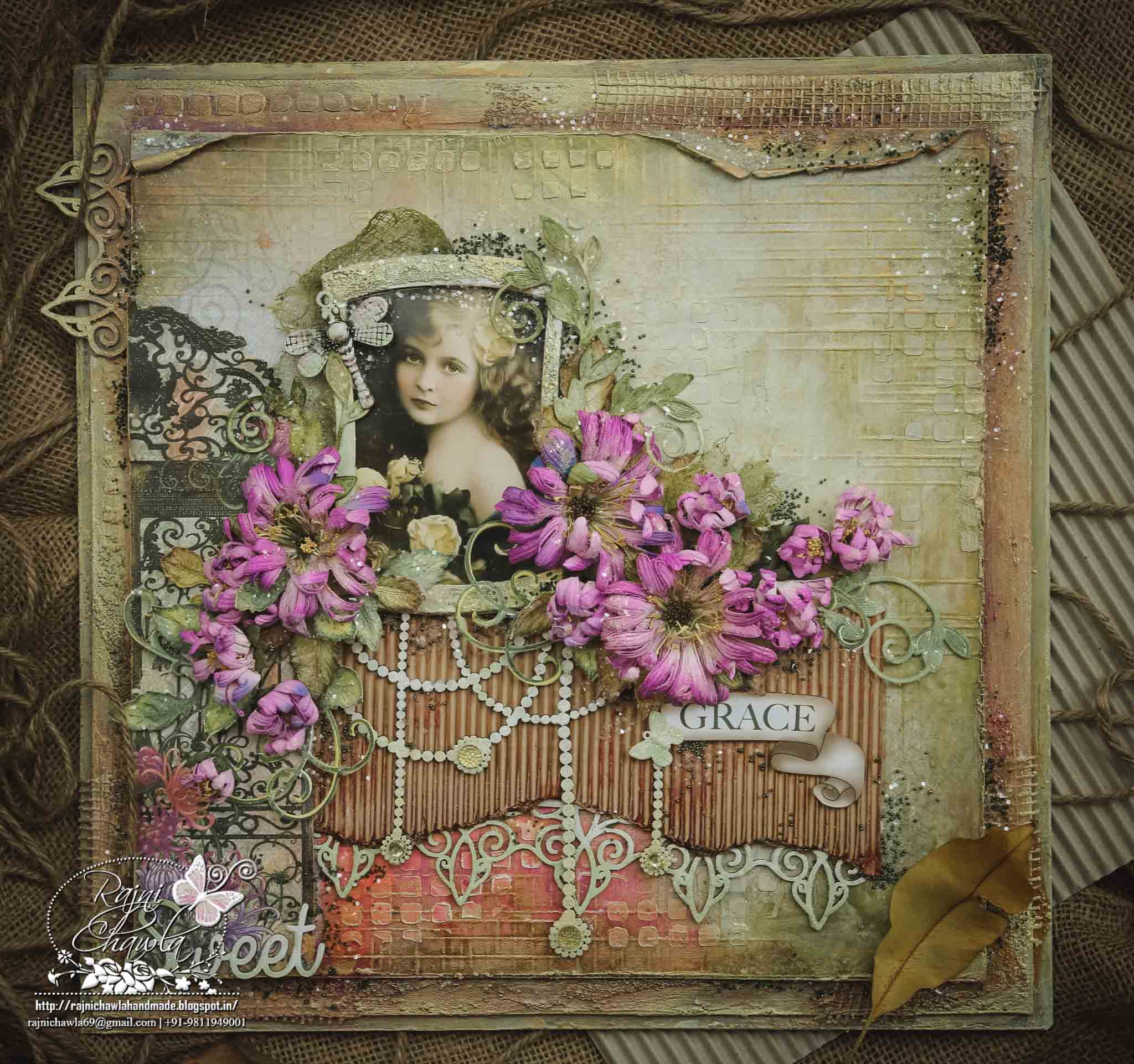 Heartfelt Creation Products Used: 
HCPC-3691 Enchanted Mum Cling Stamp Set
HCDP1-258 Enchanted Mum Paper Collection
HCPC-3390 Bella Rose Leaves Cling Stamp Set
HCPC-3545 Open Leaf Cling Stamp Set
HCST1-401 – Deluxe Flower Shaping Kit (mat and tools)
159723 – Art Institute Glue – Dries Clear
173842 – Score-Pal Measuring & Scoring Board
DDOTS Double Dots 100pc. -3D Foam Squares
TSMP501 Memento Dye Ink Pad – Lilac Posies
TSMP400 Memento Dye Ink Pad – Rose Bud
71082 ColorBox Fluid Chalk Ink Pad – Harvest
71026 ColorBox Fluid Chalk Ink Pad – Lime Pastel
Other products:
Archival inks Library Green, Clear Rock Candy Glitters, Stickles, Heavy Gesso, Silk Glaze, Micro beads, Dusty Attic Chipboards, Texture Paste, Prima Stencils, Heavy Chipboard, Dry Mech, Spellbinder's Wonky Rectangles, mists /sprays and Acrylic paints, fussy cutting scissors.
Instructions for Flowers and leaves: Follow Emma Lou's video below of shaping Enchanting Mum Flowers:
The flower centers are made using stamens of Sunrise Lily die. Paint the stamens with ColorBox Fluid Chalk Ink Pad – Harvest and Lime Pastel and split them in half. Add Prills using – Art Institute Glue that Dries Clear. Leaves are all stamped with Library Green Archival Ink and painted with ColorBox Fluid Chalk Ink Pad – Lime Pastel. Leaves and flowers are shaped using Deluxe Flower Shaping Kit.
Instructions for Vintage Girl Frame: The vintage girl image is downloaded from Pinterest. Nest outer two dies of Spellbinder's Wonky Rectangles with heavy cardstock and make a frame for the vintage girl image. Give a light coating of texture paste on the frame and sprinkle micro beads and leave it for drying. Once dried apply matching shades of acrylic paint and paint the frame.
Instructions for Layout: Fussy cut the floral gate using fussy cutting scissors. Score rest of the designer paper using score pal randomly and apply a coat of diluted White Gesso. Stick the designer paper to heavy chipboard and also, layer the fussy cut floral gate.  Apply texture paste randomly using stencils and leave it to dry. To speed up the process you can use the heat gun. Once dry spray with shades of pinks and greens. Build few layers of colors drying in-between the layers. Once satisfied with the background highlight all the details with silk glaze.  Dusty Attic chipboards are all painted with dusty in colors acrylic paints and dusted with clear rock candy glitter using Art Institute Glue. Assemble the layout by creating different layers with chipboards, corrugated sheet and cheese cloth and also add dimensions using glue dots.
Here are the detailed pictures…
Beautiful Mums flowers!!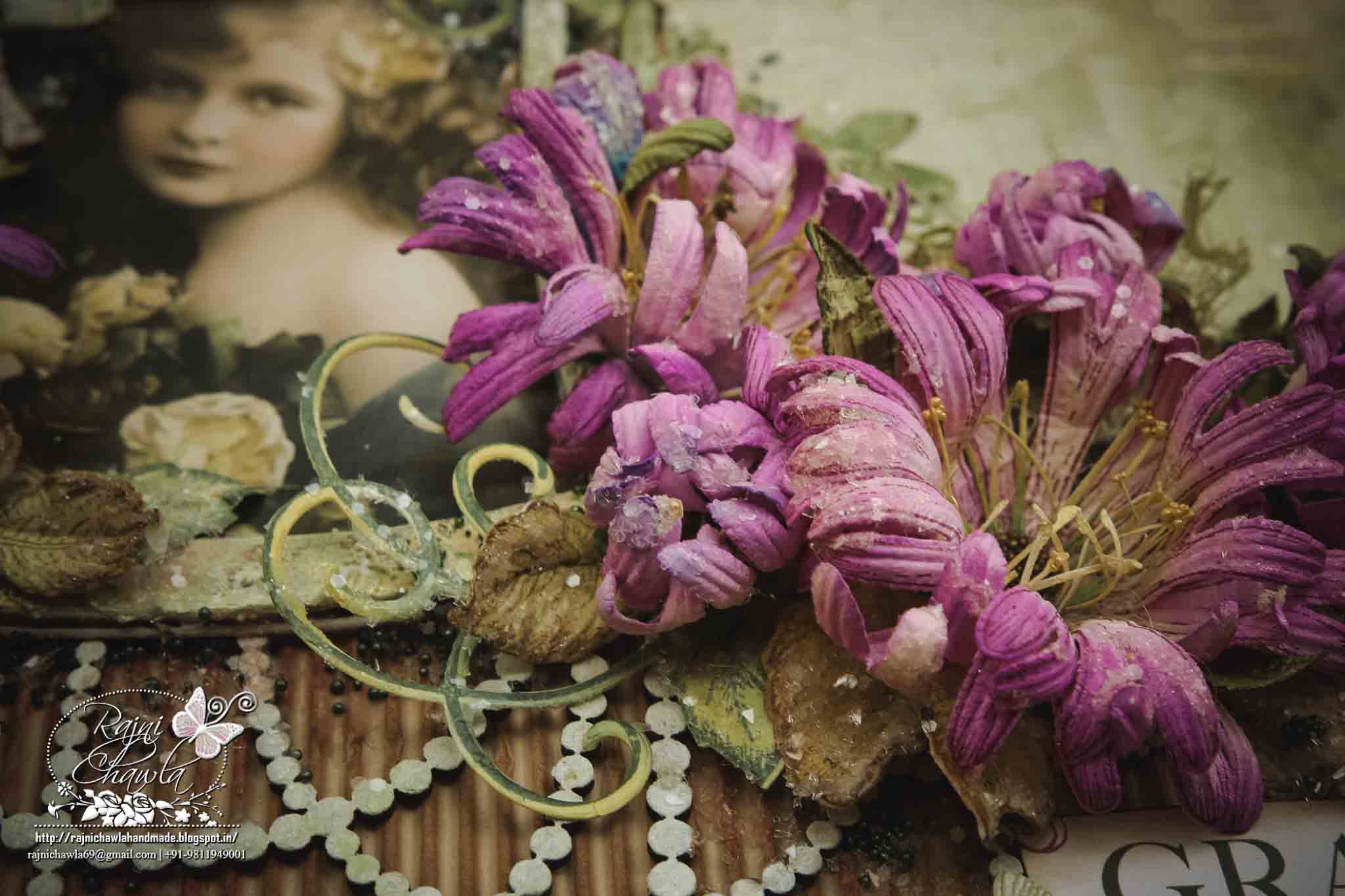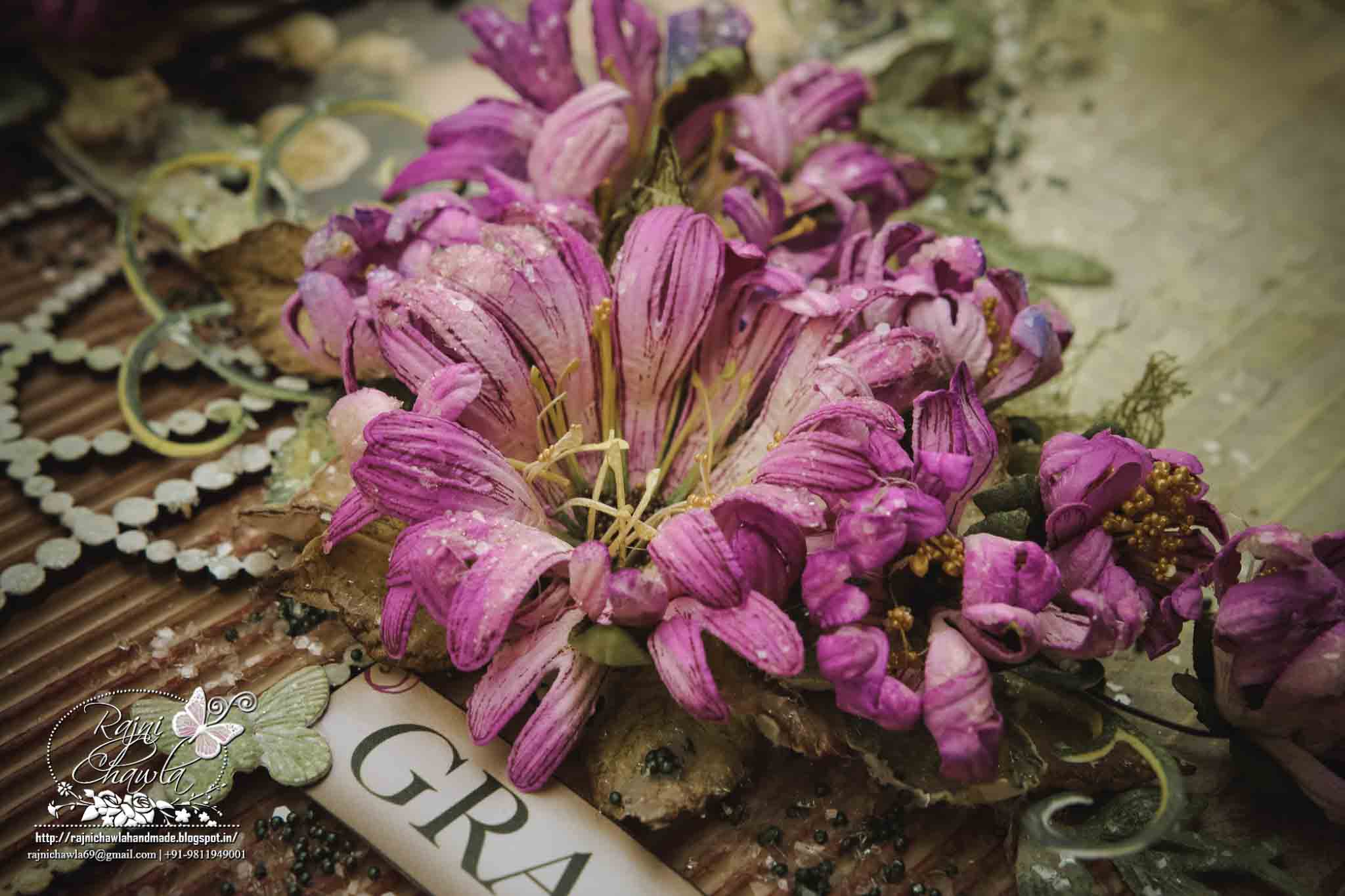 Gorgeous designer paper from Enchanting Mums Collection…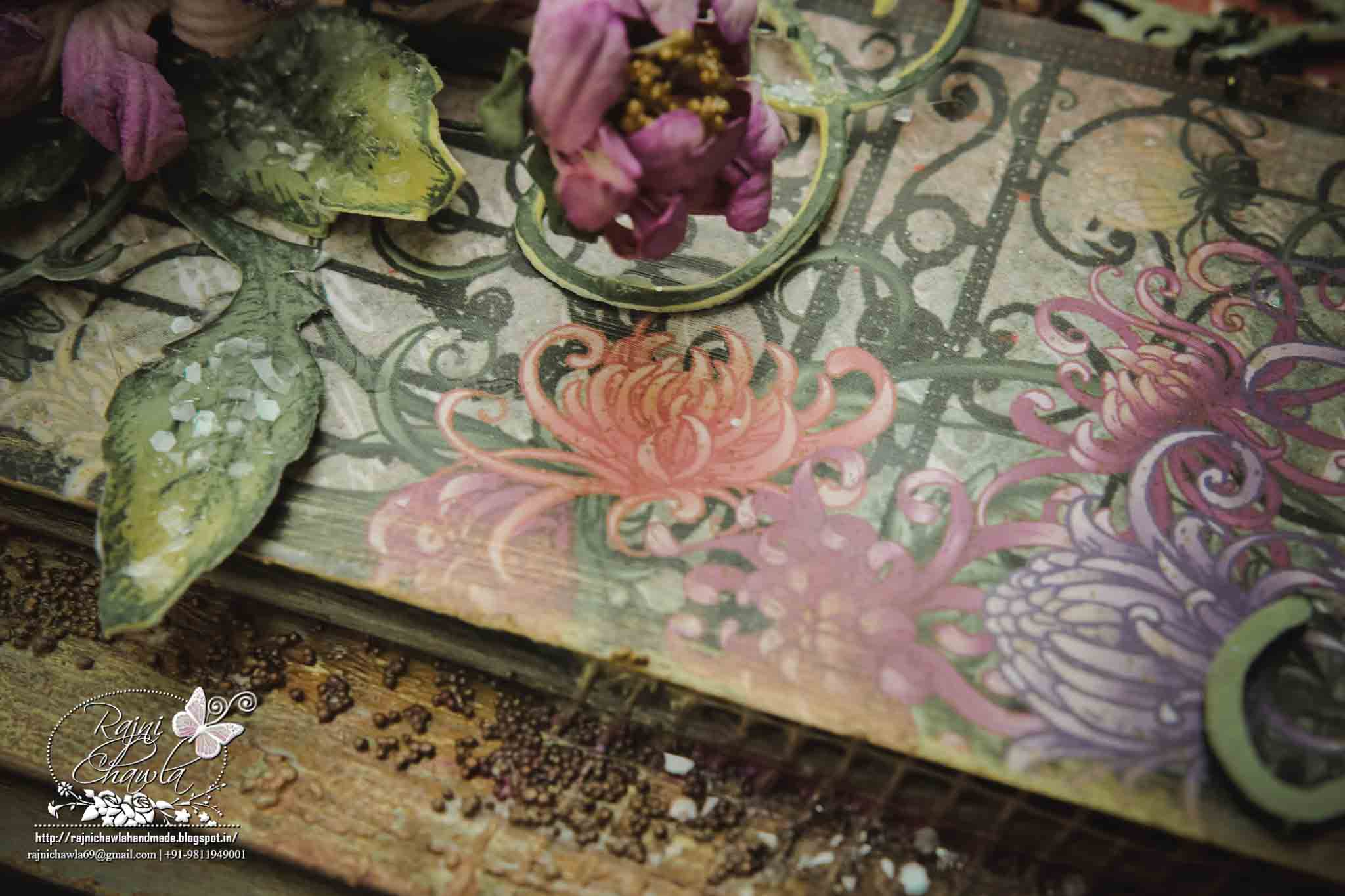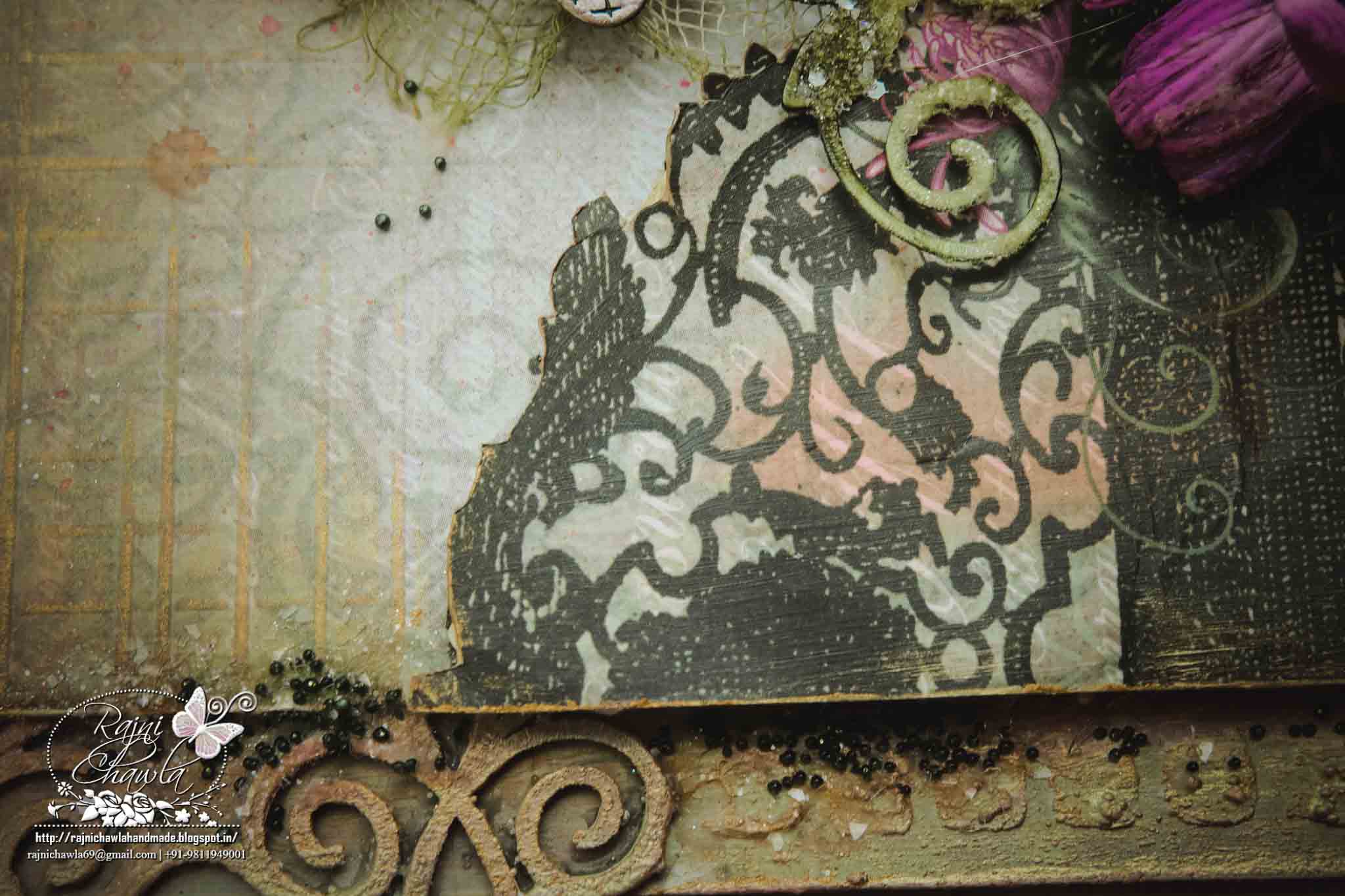 Dusty Attic chipboards…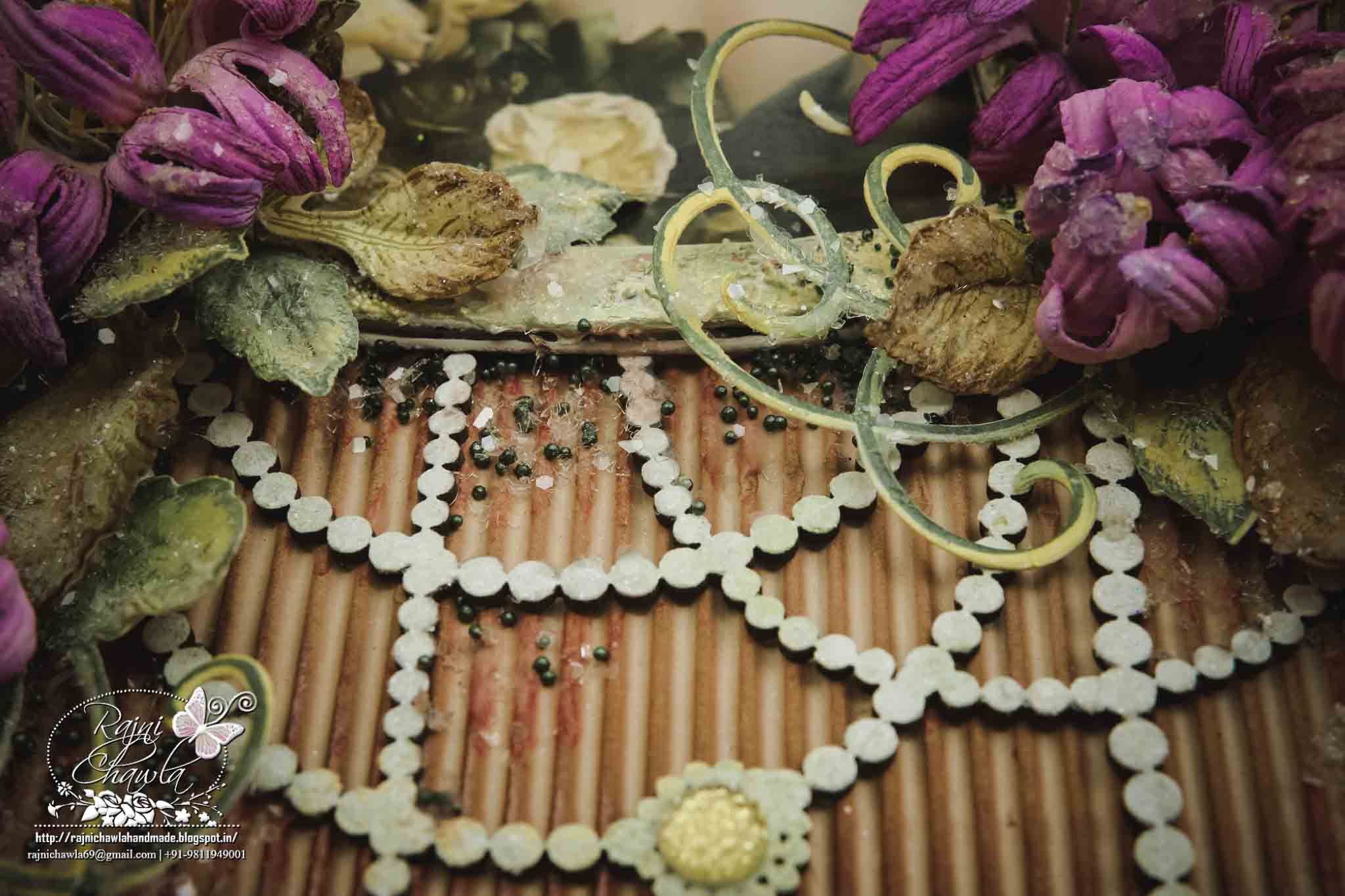 Banner fussy-cut from designer paper itself.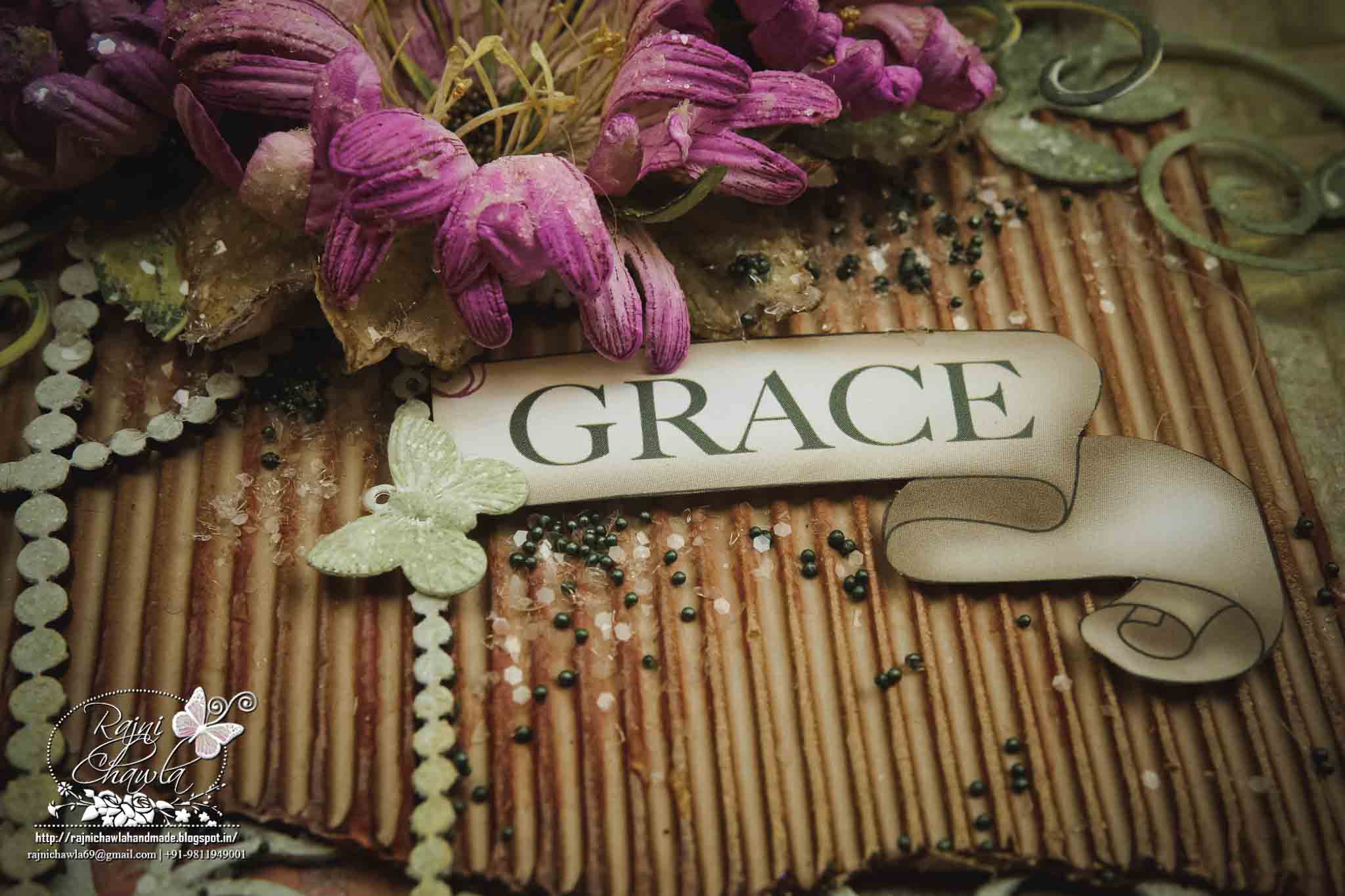 Sweet….another chipboard from Dusty Attic!!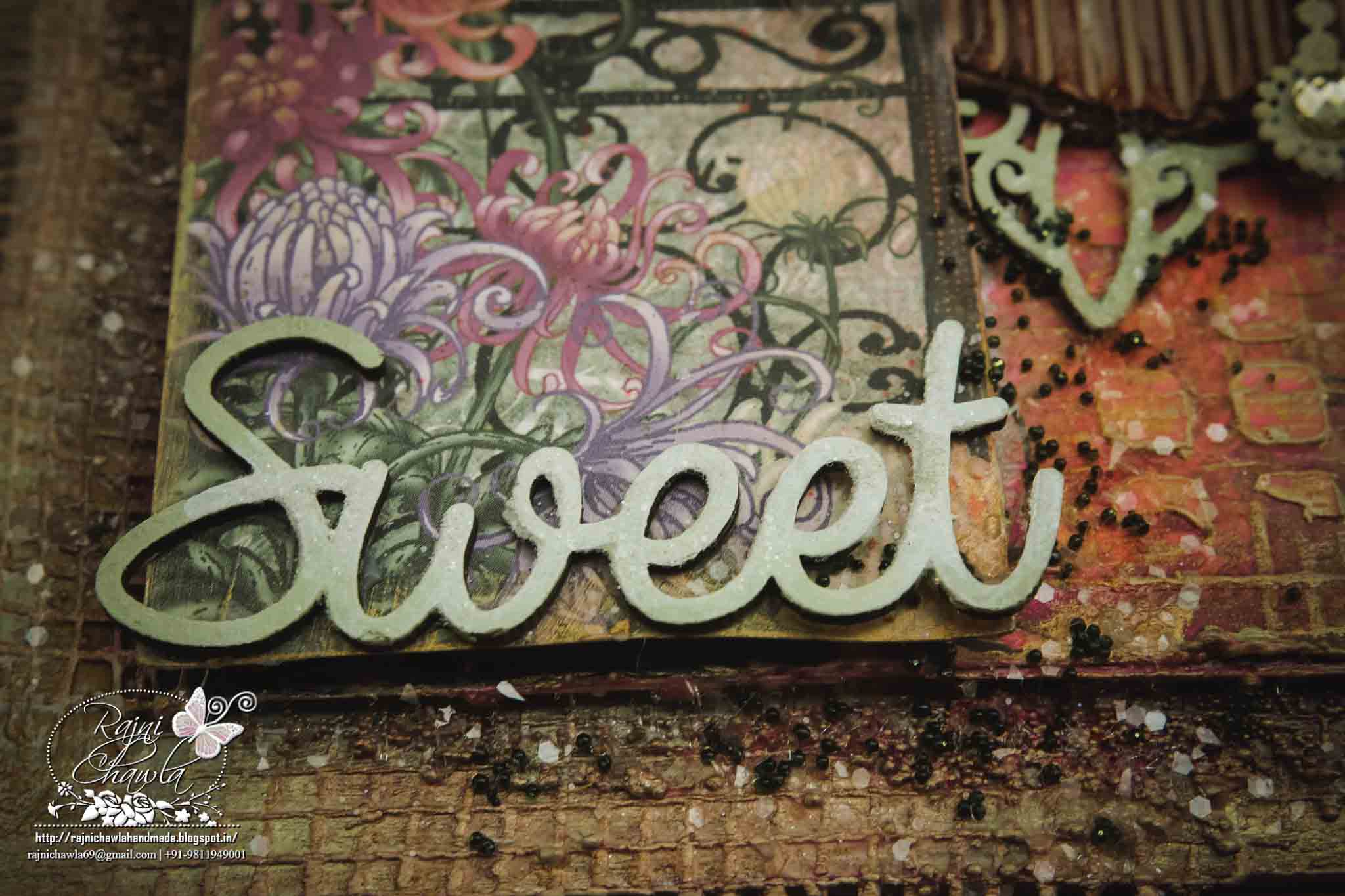 Chipboards beautifully layered between corrugated sheet.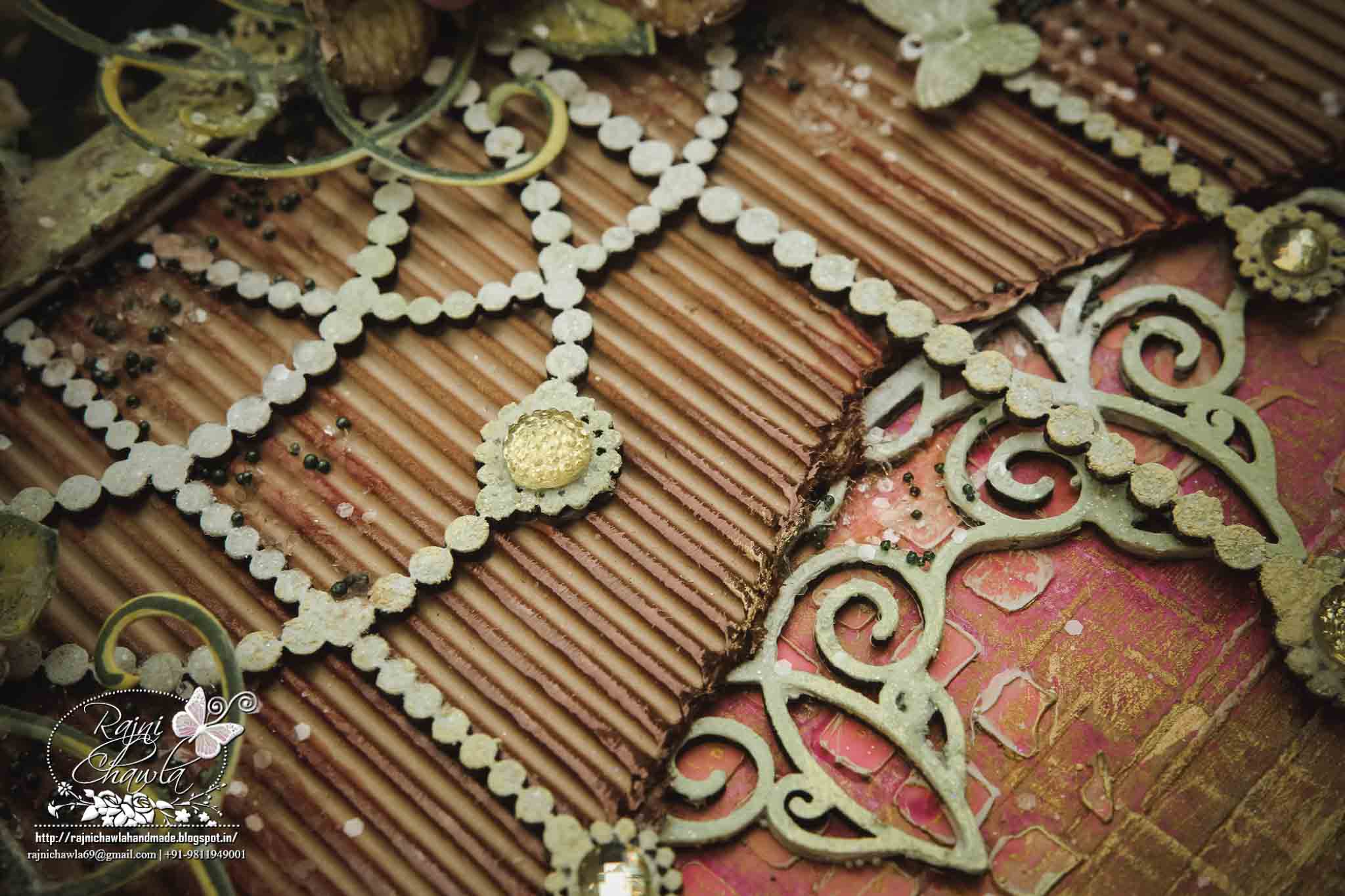 Frame created with Spellbinder's Wonky Rectangles textured with mix media texture paste.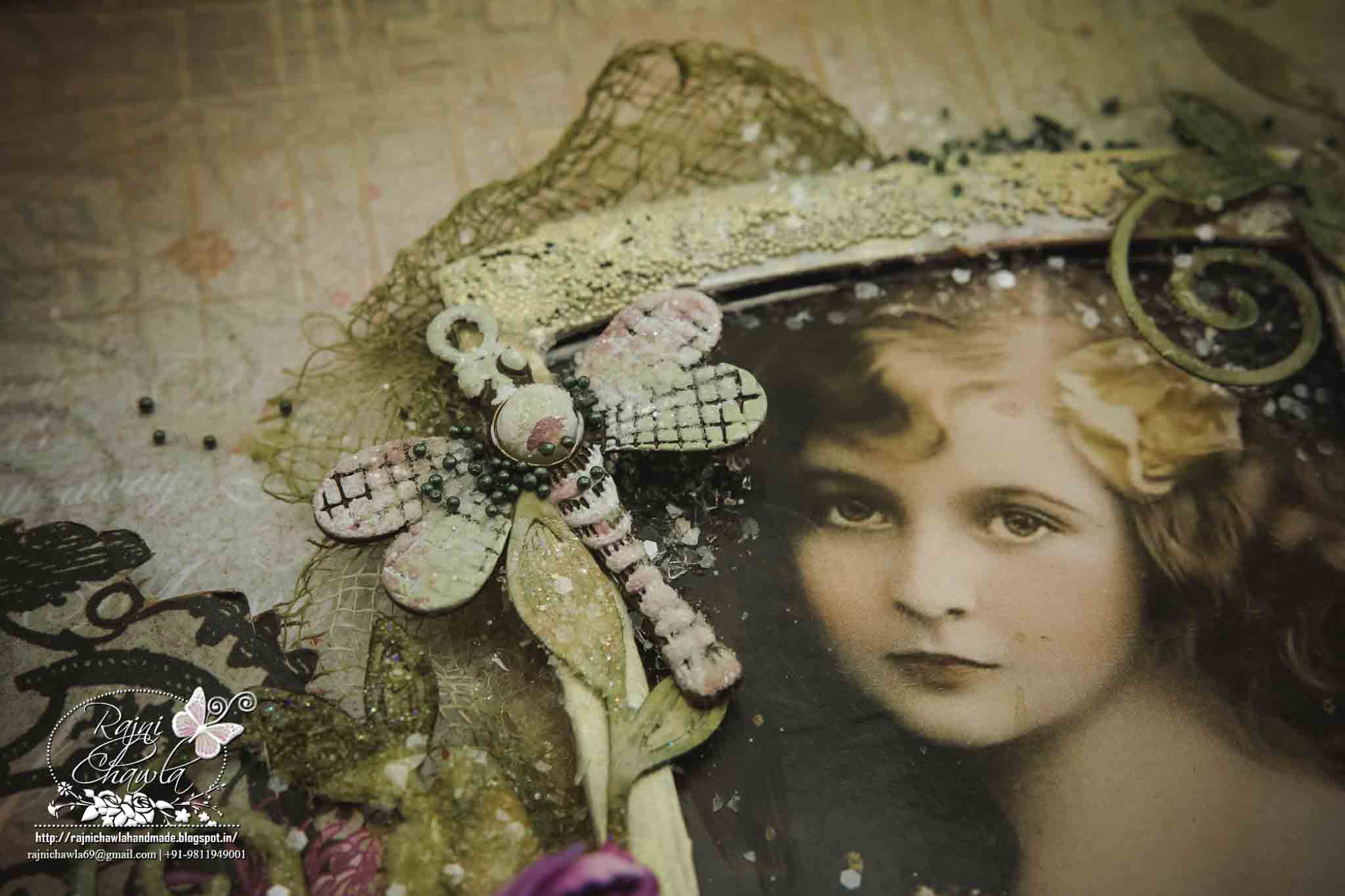 Hope I was able to do justice with this collection and I was able to inspire you with this creation of mine.
If you are an Indian crafter and looking for craft supplies at best prices contact Meetu Aggarwal (www.krafterscart.in) or Priya Sivaraj ( www.thecraftshop.in).
Thanks for stopping by!!
HAPPY CRAFTING!!