Good Morning All…
Here comes an my another take on Cheery Blossom Retreat Collection using newly launched flower making cardstock by Heartfelt Creations.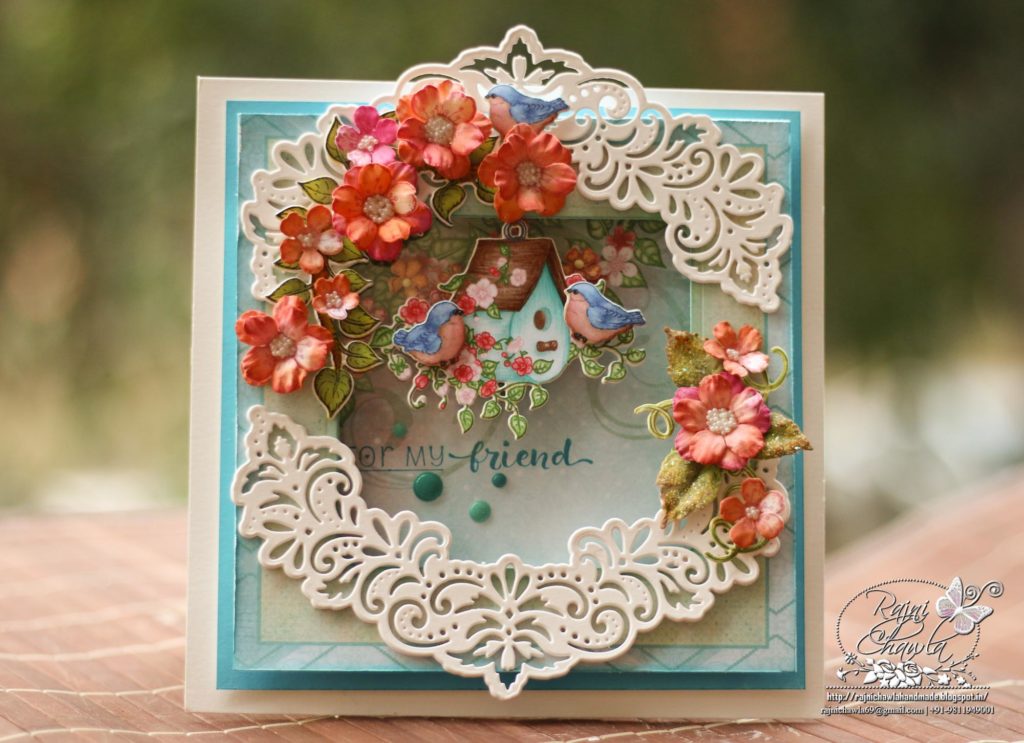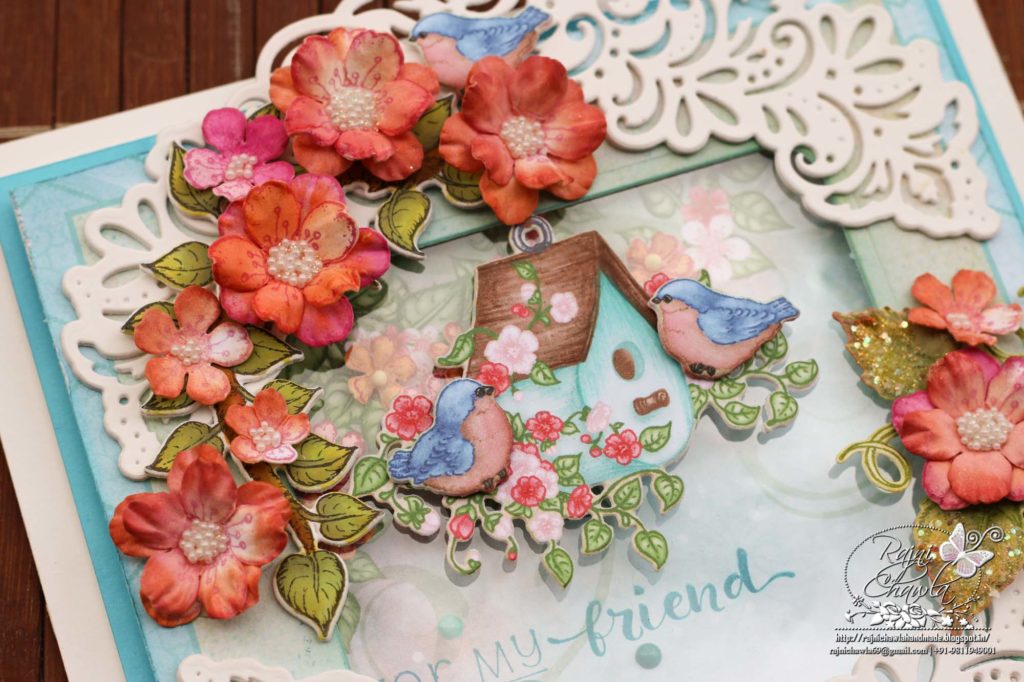 Supplies from Heartfelt Creations:
HCD1-7230 Tweet Cherry Blossoms Die
HCD1-7231 Cherry Blossom Retreat Die
HCPC-3866 Tweet Cherry Blossoms Cling Stamp Set
HCPC-3867 Cherry Blossom Retreat Cling Stamp Set
HCDP1-2100 Cherry Blossom Retreat Paper Collection
HCFB1-474 3D Cherry Blossom Shaping Mold
HCD1-7213 Elegant Pocket Accents Die
HCD2-751 Cut Mat Create 2A Die
HCPP1-475 Deluxe Flower Shaping Paper – Pack of 50
HCD1-7110 Classic Rose Die
HCPC-3752 Classic Rose Cling Stamp Set
RACP663 Ranger Archival Ink Pad – Tea Rose
RACP614 Ranger Archival Ink Pad – Magenta Hue
478455 Zig Clean Color Real Brush Markers – 36 Pack
409311 Color In Watercolor Brush – Fine
RACP468 Ranger Archival Ink Pad – Jet Black
RACP482 Ranger Archival Ink Pad – Olive
RACP436 Ranger Archival Ink Pad – Leaf Green
Other Supplies Needed: Smooth white cardstock, Paper Distressing tool, Funnel Tray, Die Cutting Machine, Scoreboard, Peeled Paint Distress Ink, Foam Dots
Videos Referred:
Instructions: The ready top fold card from white card stock measures 7″ by 7″. To create the top panel, choose 6″by 6″ card panel from the paper collection and glue it on a white cardstock measuring 1/16″ larger on all the 4 sides. Using Cut Mat and Create 2A die, cut a window in the center. Adhere acetate sheet to create a clear window. Layer the panel on blue cardstock measuring 6 1/2″ by 6 1/2″. Layer the complete panel on the card base.
Stamp the images from Cherry Blossom Retreat Cling Stamp Set and Wishing Well Oasis Cling Stamp Set and color them using Zig Markers. Once all painted, cut them using their coordinating dies.
Stamp the florals from Tweet Cherry Blossoms Cling Stamp Set with Magenta Hue on Deluxe Flower Shaping Paper and color them using Tea Rose and Magenta Hue and cut them using coordinating dies. Shape them using Cherry Blossom Shaping Mold. Press the centers and glue them to form 2 layered flowers. Add mini pearls to the flower centers to complete the flowers. Also stamp the Cherry Blossom leaves and leafy vines from Classic Rose Collection. Color them using Leaf Green and Olive Green and shape them using their coordinating molds.
Prepare 2 die cut elements by stacking 3 die cuts together using Elegant Pocket Accent Die and glue them on the card as shown.
Once all the elements are ready, assemble the card as shown and finish the card by adding Rajni Chawla's Crystal clear glitter to the flowers and leaves using an adhesive that dries clear. Also add die cut birds from the paper collection for an extra interests.