Monkeying Around Tunnel Book
Good morning all…
Are you ready for an adventure?  Grab your water bottle, sunscreen, and safari hat and join us as we explore exotic jungles taking in the lively and entertaining antics of the new Monkeying Around Collection by Heartfelt Creations!  Filled with amusing illustrations of ever so charming monkeys, this newest collection is sure to have you "going bananas" with excitement!  Four entertaining cling stamp sets supply you with an assortment of fun-filled, mix and match monkey images to create just the right amount of monkey mayhem for any of your paper crafting project needs, while various sized palm tree fronds, floral accents, bananas, coconuts along with lush palm tree die cuts add a dimensional tropical feeling to your projects with ease!  Trek through a paper collection filled with deep jungle greens, sunlit yellows and ocean like blues, accented with balmy breeze teals, pretty floral pinks and a hint of sunset reds creating just the right tropical color palette to showcase these adorable apes on cards, scrapbook layouts or altered art pieces.  So, come along with us as we join in with the monkey chatter, swing from vine to vine and take part in the shenanigans of the new Monkeying Around Collection!
Today I have a tunnel book to share using the same collection from Heartfelt. Tunnel Book….Aww…that sounds something NEW!! I was not known that something of that kind too is there in this craft world. Few months back when I was watching you tube channel I came across a video by Vicky Papaiannou. She is an amazing artist inspires me always with her beautiful Art Journals. I love her work and got inspired by her Tunnel Book idea and gave it a go with Heartfelt Creation's new release. I found this collection was just so perfect for the same theme. You can look for her VIDEO here.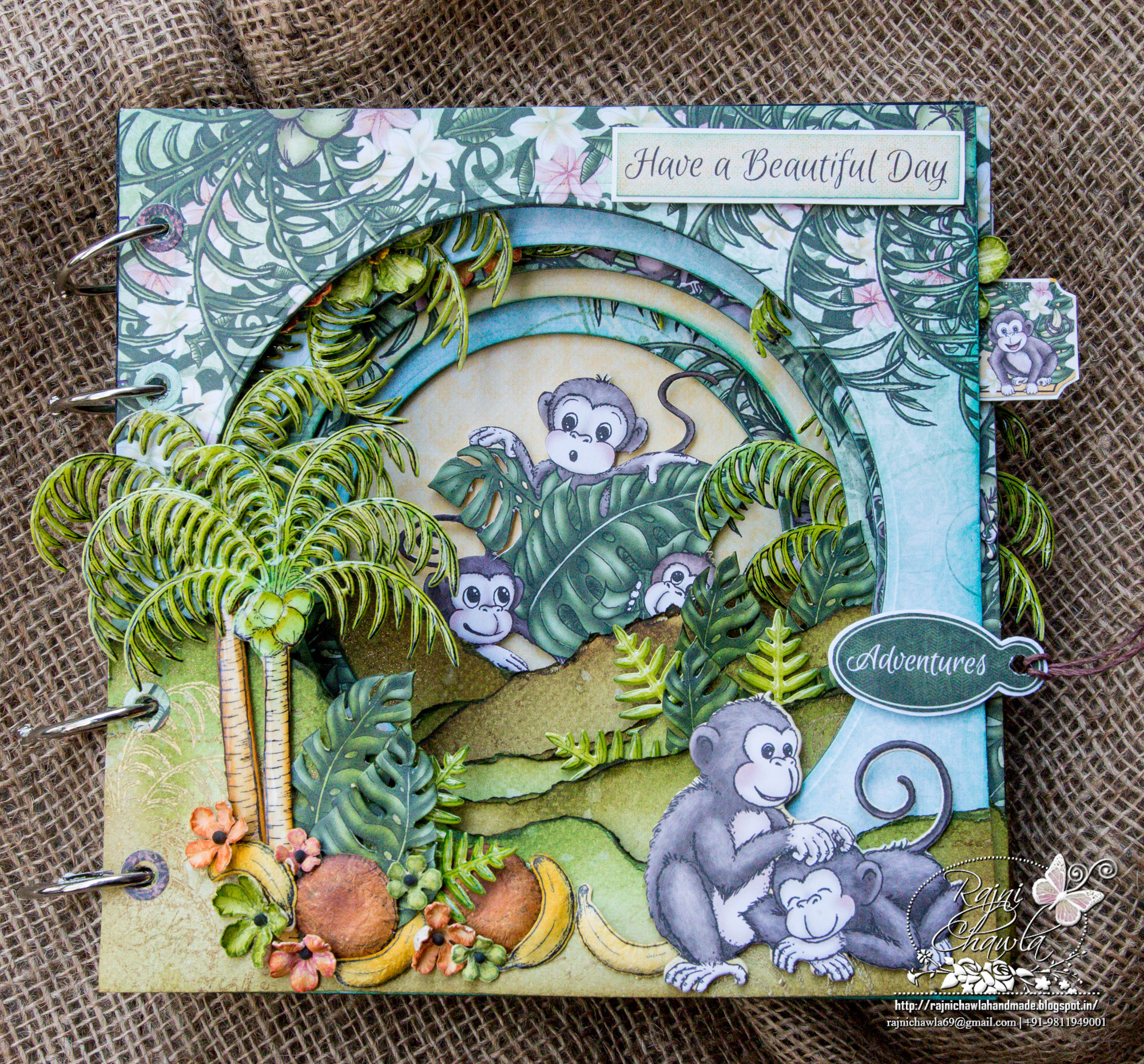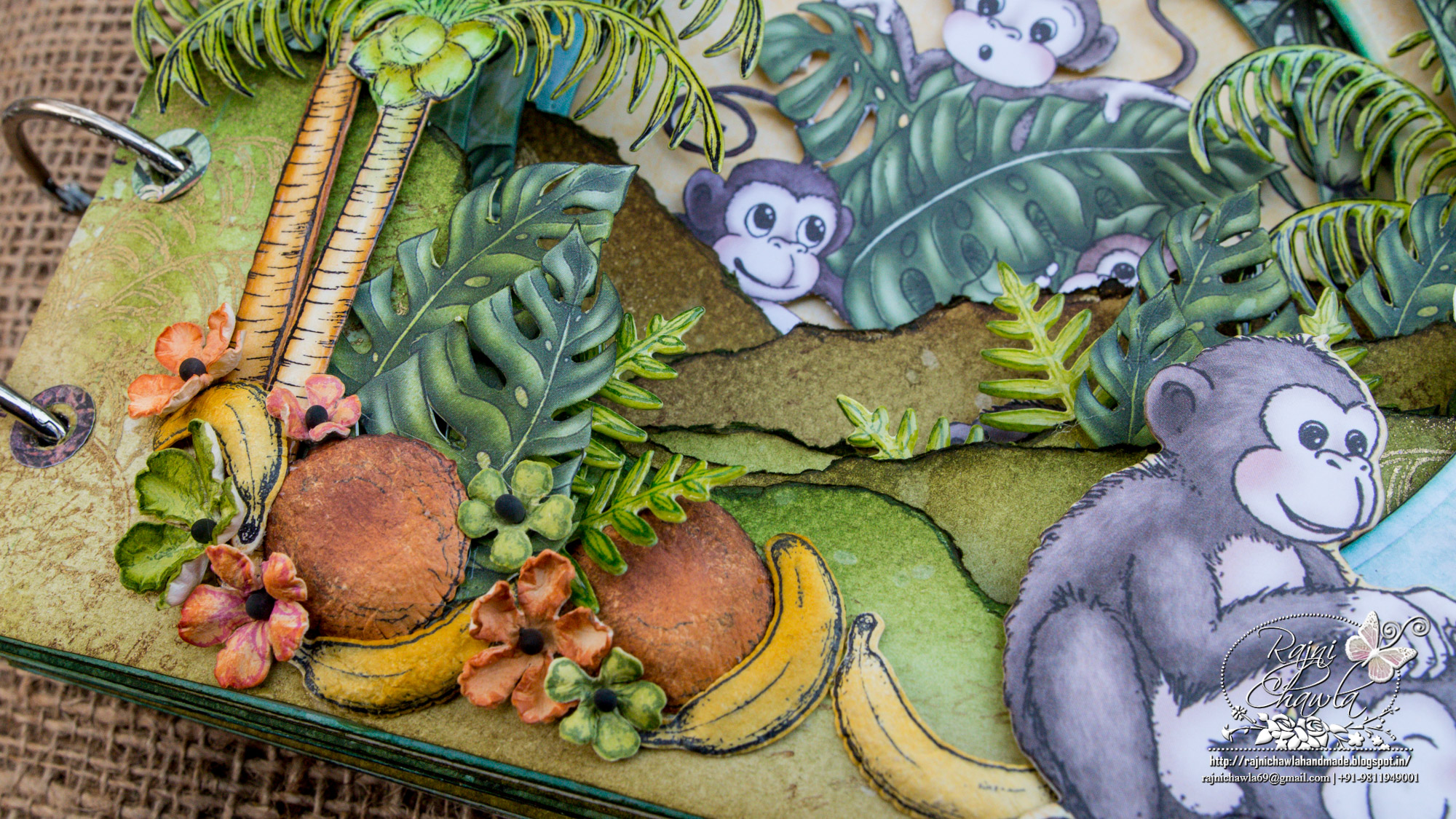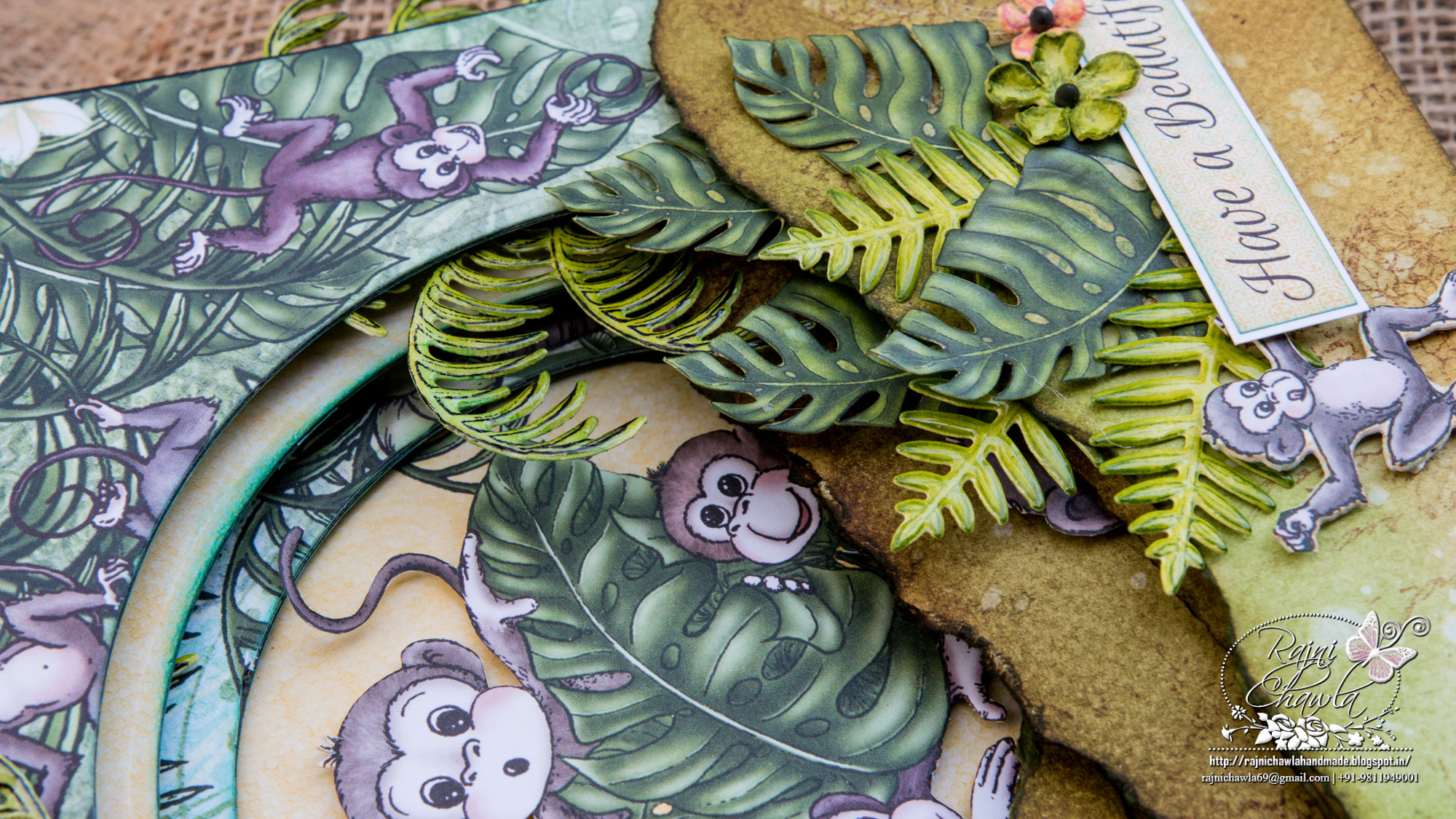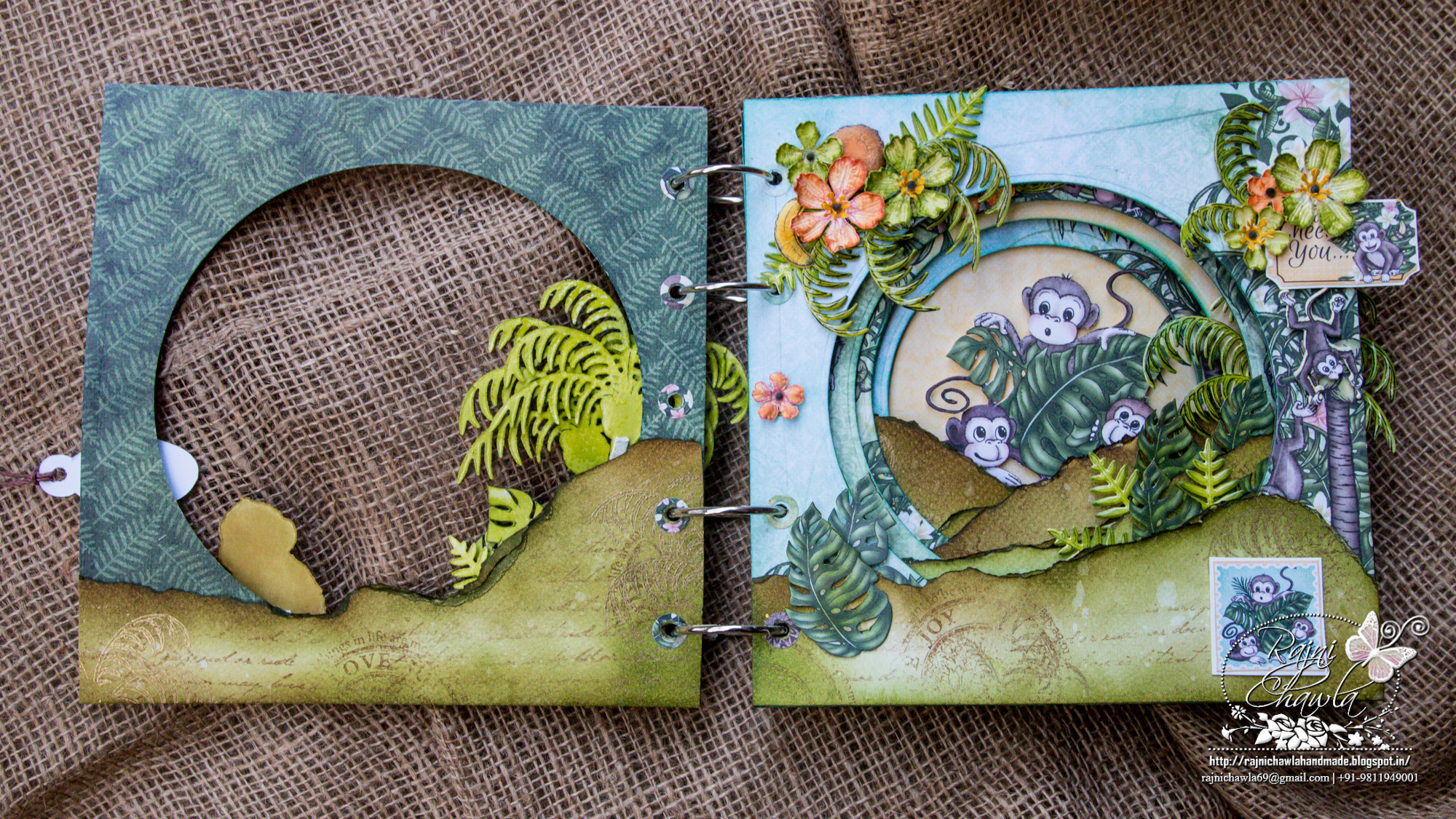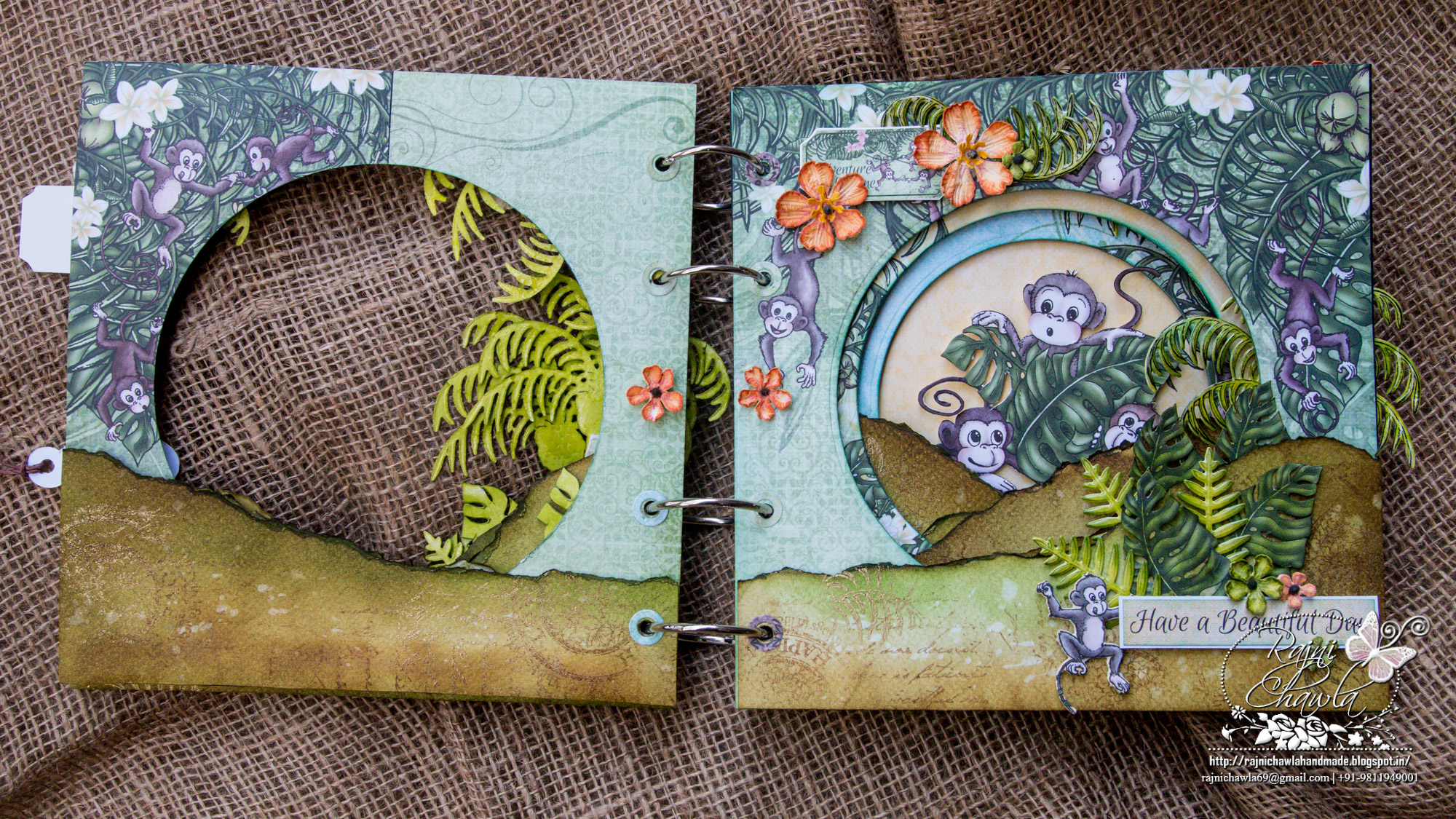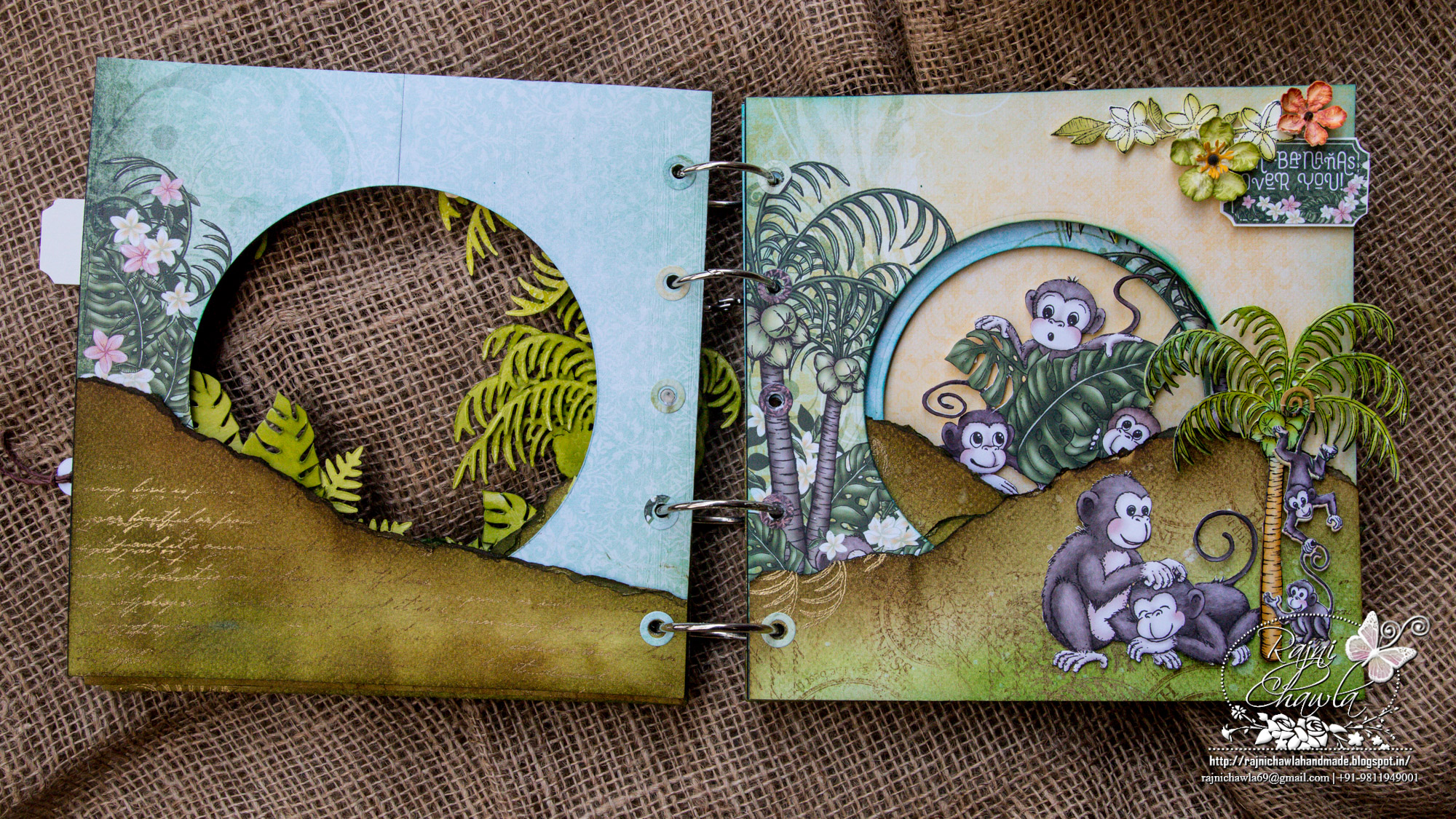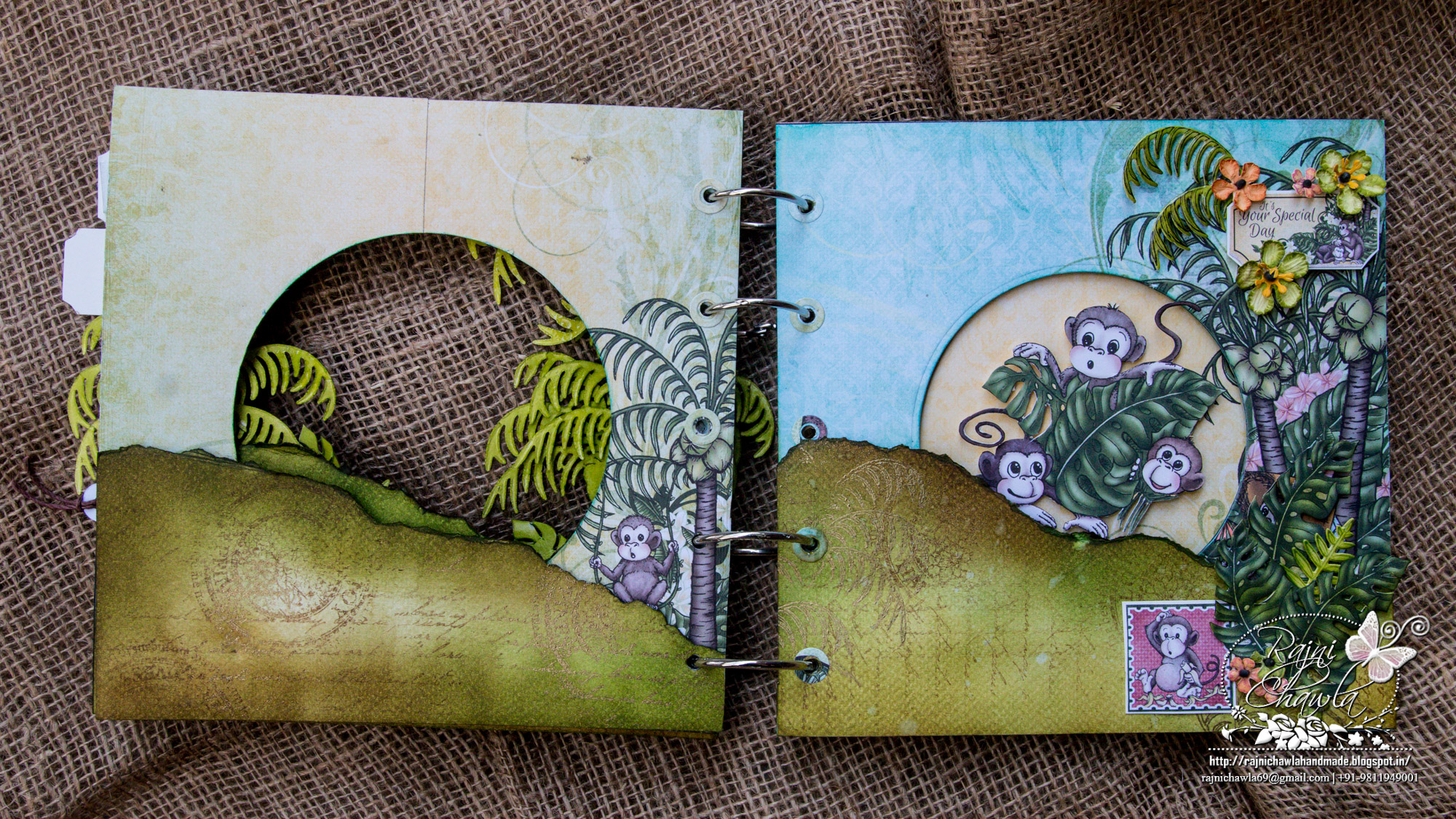 Products from Heartfelt Creations:
Monkeying Around Paper Collection HCDP1-276
Palm Tree & Monkeys Die HCD1-7132
Monkeying Around Die HCD1-7133
Monkey Antics Die HCD1-7134
Palm Tree & Monkeys Cling Stamp Set HCPC-3777
Monkey Antics Cling Stamp Set HCPC-3779
Designer Dries Clear Adhesive, 159723
Large Elegant Word Background Cling Stamp Set, HCPC-3323
Moments With You Cling Stamp Set, HCPC-3568
Deluxe Flower Shaping Kit, HCST1-401
Wildwood Florals Die HCD1-7125
Wildwood Florals Cling Stamp Set HCPC-3769
Glue Tip Pins, PIN6
Other products used: Die cutting machine, Archival inks Olive Green, Plum, Coffe, Sunflower, Fern Green, Library Green, Black chipboard, Spellbinders Grand Circle die, Crop a Dile, album rings, Glue dots, Crystal Clear glitter, Versamark, Golden Heat Embossing Powder, Distress Inks Pealed Paint and Vintage Photo
Instructions: The ready album measures 8″ by 8″. The album has the total of 8 pages.Take 8 pieces black chipboard. Using first five dies from Spellbinders Grand circle die, cut windows from first 5 pages exactly in the center and keep the last page aside without cutting. Now choose pattern paper for all the pages from the designer paper collection. Similarly cut windows from designer paper too. You will have to cut 2 papers for one page. That means one will be used on the front side and the other will be used on the back side. Adhere pattern paper on all the 6 pages of chipboard with tacky glue. Hand tear a strip of 8′ by 2.5′ of white cardstock as shown in the picture and create a background by distressing the strip using Pealed paint and Vintage Photo. Add extra textures by stamping it with Large Elegant Word Background Cling Stamp a postcard stamp from Moments with you stamp set. Heat emboss a little script with gold if needed. Create 10 such backgrounds for all the 5 pages and adhere them on the base of each page. Arrange all the pages, keeping the one with the largest window on the top and the one without any window on the last. Make holes on all pages using crop a dile. For embellishing stamp multiple images of a palm tree with Library Green archival ink and color it using Fern Green and Olive Green, Coconuts have been stamped with Coffee brown archival and colored using vintage photo. Bananas are stamped using Coffee Archival and painted using Sunflower Archival ink. Coconuts and Bananas are softly embossed using Deluxe Flower Shaping Kit. Stamp multiple flowers from Wildwood Floral Stamp set with Plum and paint them using Tea rose archival. Shape the flowers using deluxe flower shaping kit. Cut few images from Designer paper using their coordinating dies to make extra embellishments for the album. Also cut Few tags and messages from the paper collection. Once all the embellishments are ready, assemble the album creating a monkeying around scene on all pages. The last page has a huge pocket on the back which can hold extra tags and photographs. For all detailed pictures please visit my website www.rajnichawla.com.