Hello, Friends…
Welcome back once again on this beautiful Wednesday. Today, we designers at Heartfelt Creations are debuting their September month release, Beary Fun Retreat Collection. Long days filled with the sunshine begin to fade and the crisp evening breezes begin to call for cozy wool knit sweaters as the fall season slowly ushers out the lazy days of summer! Along with the falling leaves and the last surge of floral blossoms, autumn brings with it a more relaxed and reflective way of life and a reminder that winter will soon be around the corner. Autumn also brings with it a fun that only autumn can bring…playing in crisp piles of fallen leaves, picnics with warm beverages, cozy evenings spent around the campfire and exploring fields filled with rows and rows of sunflowers bowing their heads giving way to the season! Even the animals of the forest recognize and celebrate the subtle arrival of autumn, spending their last few days before hibernation playing and making preparations for the arrival of the upcoming winter season. Come along with us and join in our fall festivities as we go on one final fun filled retreat with the Beary Fun Retreat Collection by Heartfelt Creations! Filled with delightful and captivating illustrations of adorable bears, this autumn themed collection is sure to appeal to all ages! Perfect for celebrating an array of occasions, this fun loving assembling of stamps, dies, and decorative papers will bring a whimsical and lighthearted touch to all of your paper crafting creations. The dynamic paper collection boasts a color palette filled with beautiful tones of burnt oranges, rusty reds, midnight blues, along with leaves like greens and golden yellows all mixed with checkered plaids, decorative stripes and gorgeous imagery of blooming sunflowers and falling leaves. Three sets of detailed cling stamps with coordinating dies allow you to join in the fall themed fun of a charismatic bear family enjoying their last retreat before winter sets in. Whether sitting around the campfire roasting marshmallows near an adorable tree house, enjoying songs strummed out quietly on guitar or filling up on delightful meals of honey, these cute images are ideal for embellishing all of your falls themed cards and scrapbook layouts! So throw on a cozy sweater, grab a cup of hot cocoa and join in the fun as we enjoy one last "Beary" fun filled autumn retreat!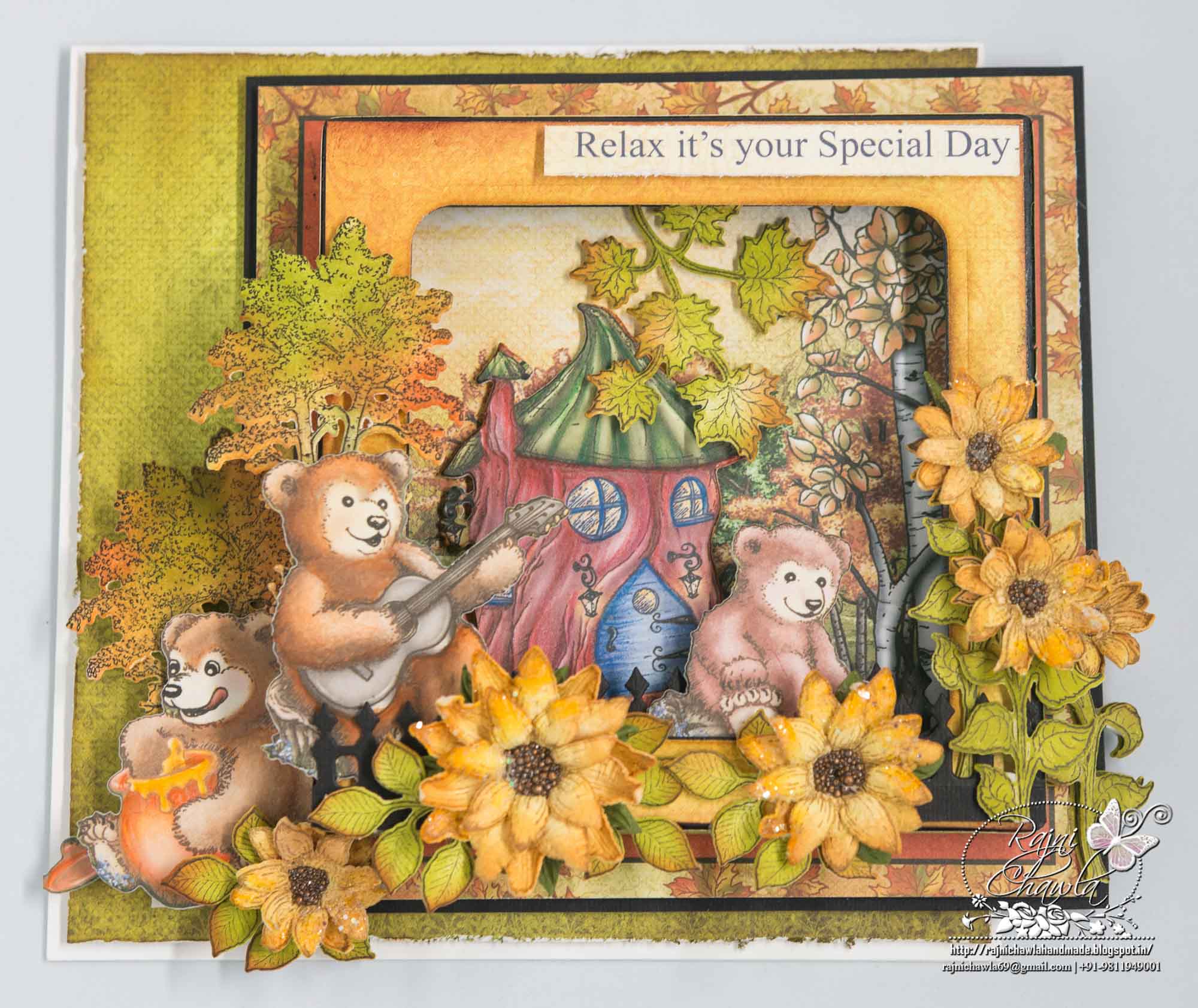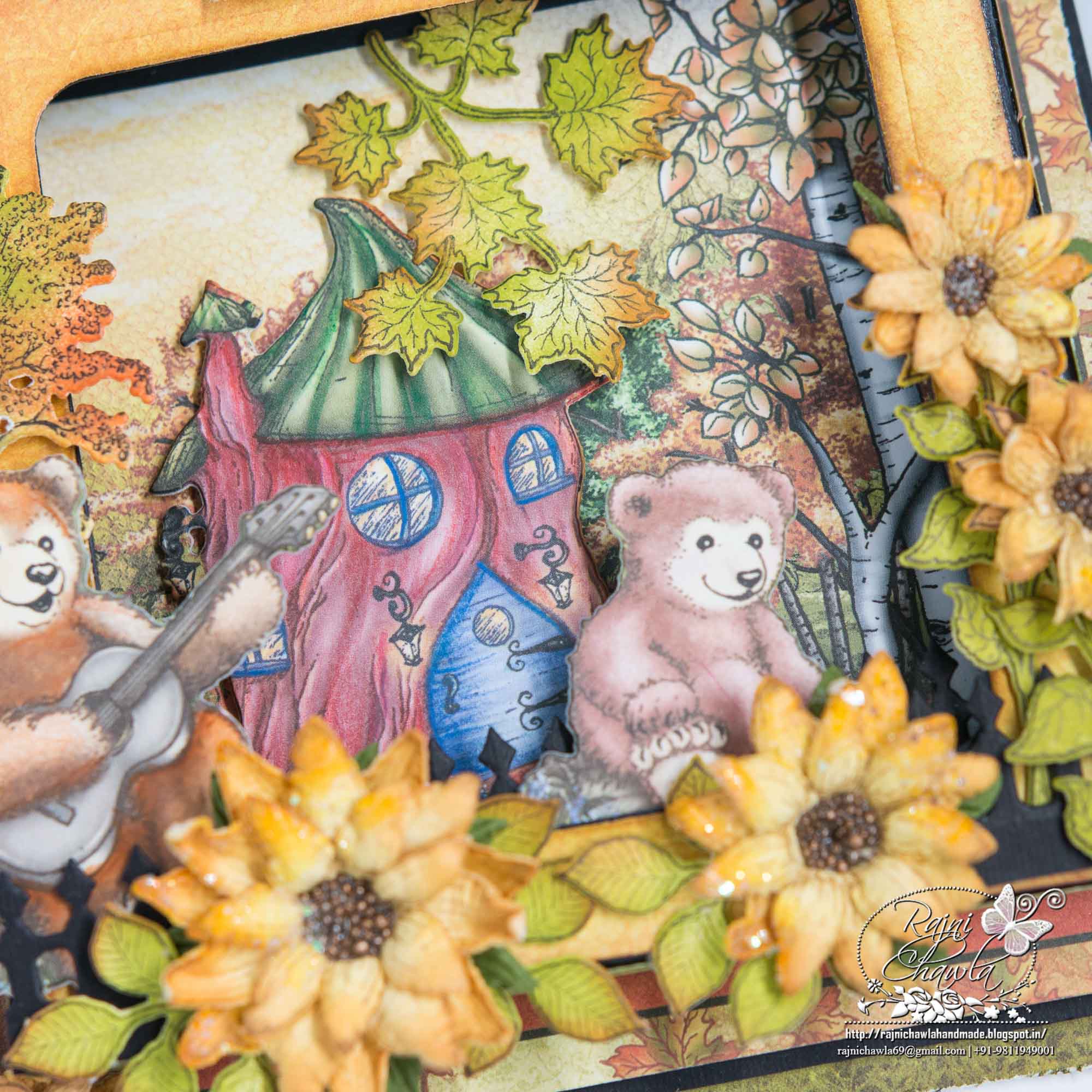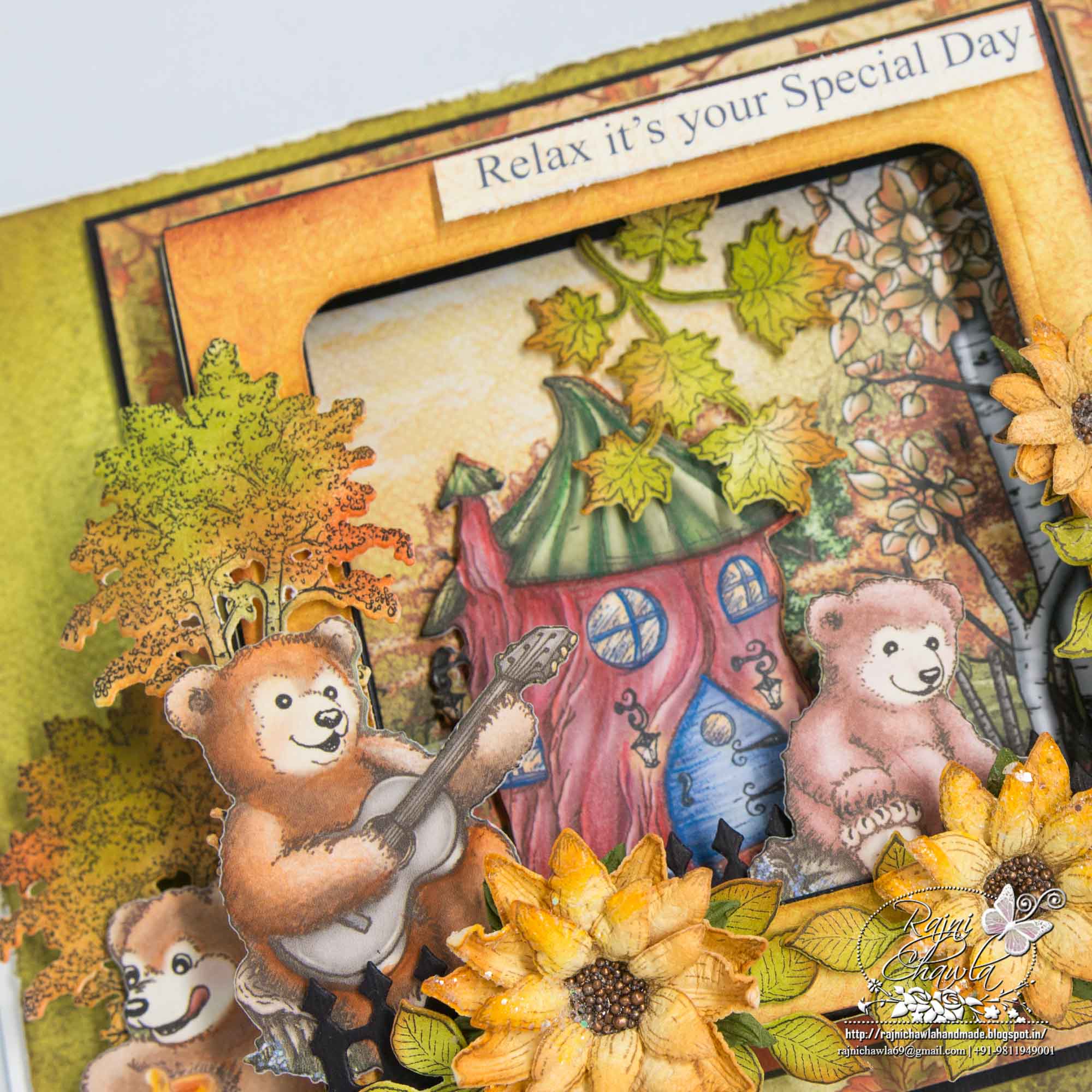 Products from Heartfelt Creations:
HCD1-7151 Beary Fun Retreat Die
HCD1-7152 Happy Time Treehouse Die
HCD1-7153 Sunflower Accents Die
HCPC-3797 Beary Fun Retreat Stamp Set
HCPC-3798 Happy Time Treehouse Stamp Set
HCPC-3799 Sunflower Accents Stamp Set
HCDP1-282 Beary Fun Retreat Paper Collection
HCD2-751 Cut Mat Create 2A Die
HCD1-7124 Woodsy Critters Die
HCD1-7122 Woodsy Landscape Die
HCPC-3768 Woodsy Critters Cling Stamp Set
HCPC-3766 Woodsy Treescape Cling Stamp Set
HCD1-753 Classic Sunflower Die
HCPC-3626 Classic Sunflower Cling Stamp Set
HCD1-783 Border Essentials Die
ANC829 Express-O Yourself Prills
159723 Designer Dries Clear Adhesive
71082 ColorBox Fluid Chalk Ink Pad – Harvest
71035 ColorBox Fluid Chalk Ink Pad – Dark Brown
71049 ColorBox Fluid Chalk Ink Pad – Pumpkin Spice
Stack and Store Daubers-Pack of 30, HCDA2-450
Rajni Chawla's Crystal Clear, PGM15015
HCST1-401 Deluxe Flower Shaping Kit
HCBC1-456-1 Card Shadow Box Set-Black
Other Products Used: Archival inks Black, Coffee Brown, Leaf Green, Sunflowers, Monarch Orange, Distress ink Vintage Photo, Foam Tapes, Smooth White Card Stock and Staedtler Pencil Colors
Instructions: The ready card base measures 7″ by 7″. Create and layer a mat using Designer paper from the Beary Fun Collection, a 1/8th inch smaller than the card. Distress all the sides with scissors.
To prepare the shadow box, choose the pattern paper, glue the inside scene and cover all the sides. The window of the shadow box is cut using Cut Mat Create 2A Die. Elements from Woodsy Treescape Cling Stamp Set, Beary Fun Retreat Stamp Set, and Sunflower Accents Stamp Set are stamped with black archival and cut using their coordinating dies. The trees and all the leaves are painted using fall colors of Archival inks. The bear images are stamped with Coffee Brown and colored using Staedtler water color pencils.
For the flowers, stamp and cut Sunflowers using color box dark brown ink. Color the flowers with Harvest, Pumpkin Spice, and Red Barn, with the help of Stack and Store Daubers. Shape the flowers using Deluxe Flower Shaping Kit. Follow Emma's video for easy shaping of Sunflowers. Add details to flowers by adding Crystal Clear Glitters and Frosting Powder. Also, add prills in the center using an adhesive that dries clear. Once all the elements are ready, assemble the shadow box as shown and layer it on a 61/2″ X 6 1/2″ mat. Further, adhere it to the card base as shown. To finish the card, add a sentiment from the paper collection.