Good Morning all…
Wishing you all a very happy new year. May 2019 brings you lots of happiness and success in life and may your talent add some extra sparkles to your creative journey.
Continuing with Floral Fashionista, I have another beautiful card to share.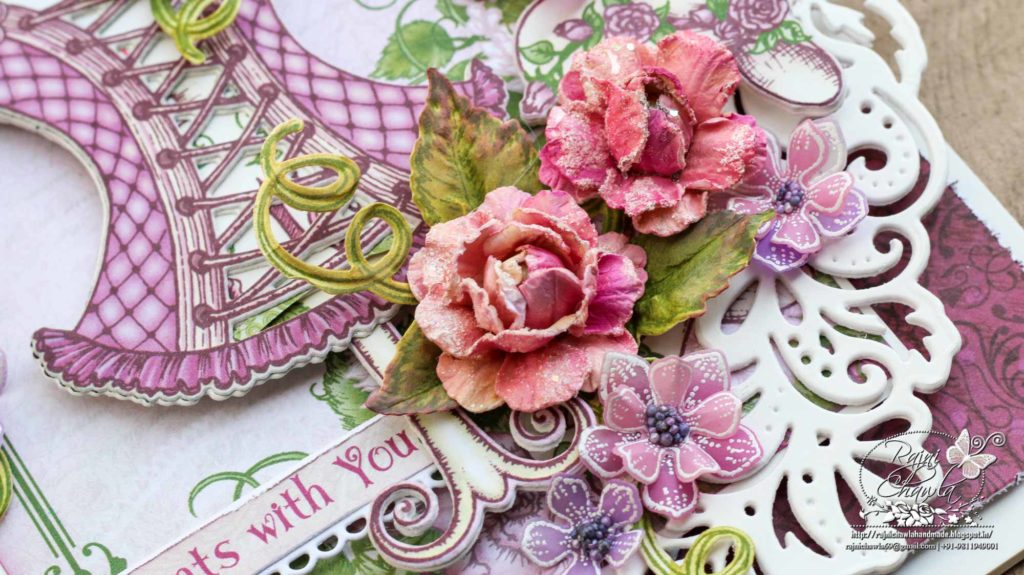 Products from Heartfelt Creations:
HCD1-7215 Floral Fashionista Die
HCD1-7216 Floral Corset Die
HCD1-7217 Elements of Fashion Die
HCPC-3855 Floral Fashionista Cling Stamp Set
HCDP1-297 Floral Fashionista Paper Collection
HCD1-7212 Petite Pocket Accents Die
HCPC-3752 Classic Rose Cling Stamp Set
HCD1-7110 Classic Rose Die
18002 Rajni Chawla's Vellum Flowerite – 10 Sheets
RACP499 Ranger Archival Ink Pad – Plum
RACP649 Ranger Archival Ink Pad – Pink Peony
RACP524 Ranger Archival Ink Pad – Vibrant Fuchsia
RAHT Heat It Craft Tool
PGM15016 Rajni Chawla's Frosting Powder
HCDA2-450 Stack and Store Daubers-Pack of 30
ANC822 I Cannot Tell A Lilac Prills
CB80 ColorBox Pigment Ink Pad – Frost White
RPEJ685 Embossing Powder – White
159723 Designer Dries Clear Adhesive
359503 Funnel Tray
Videos Referred: For more tips on creating with the Floral Fashionista collection, watch the tutorial at https://youtu.be/9V6JOqdQtC8.
Other Products Used: Smooth white cardstock, Die Cutting Machine, Scoreboard, Bonefolder.
Instructions: The ready top fold card measures, 6″ by 8″. To create the top panel, choose a ready card panel from the designer paper collection and mat it on a smooth white cardstock measuring 1/16″ of an inch larger on all the four sides. Cut 4 pieces of die cuts from white cardstock using fancy Petite Pocket Accents Die and prepare 2 sets by gluing 2 die cuts together. Also, cut 2 corners using the same die. Assemble the panel as shown. Further layer the panel on deep maroon paper measuring 5 1/2″ by 7 1/2″ and layer the ready panel on the card base.
To prepare the roses, stamp the flower petals of 3rd size of the rose petals using plum archival ink and cut them using their coordinating dies. Shape the flowers and add frosting effects using Rajni Chawla's Frosting Powder. For leaves, stamp the images with library green archival ink, cut them using its coordinating dies, and shape them using Deluxe Flower Shaping Kit.
For vellum flowers, randomly color the vellum using distress oxide, Seedless Preserves and Worn Lipstick. Stamp the flowers from Floral Fashionista Cling Stamp Set using white Color Box Ink, sprinkle white heat embossing powder and dust extras in funnel tray. Heat set the flowers using the heating tool. Now shape the flowers on needle tool, glue one medium and one large flower together and add the prills to the flower center using an adhesive that dries clear. Prepare 8-10 flowers.
For the focal image, cut the dummy, dress and a cap from the designer paper collection. Stack few die cuts to add extra strength to the images. Layer the image as shown on the card panel. Assemble the card front as shown and finish the card by adding a sentiment from the paper collection