Happy Wednesday and welcome to the blog world again!!
Spring is in the full swing here in India. Trees and bushes that lost their leaves over the winter begin to grow new leaves again. Nature looks charming and many kinds of beautiful flowers are seen blooming all around. The lovely flowers win my heart. When I walk in a garden, I am enchanted by the dazzling colors of flowers and love looking at the bees, busy searching for honey.
Today, I have a spring card to share using Heartfelt Creation's Dogwood Collection.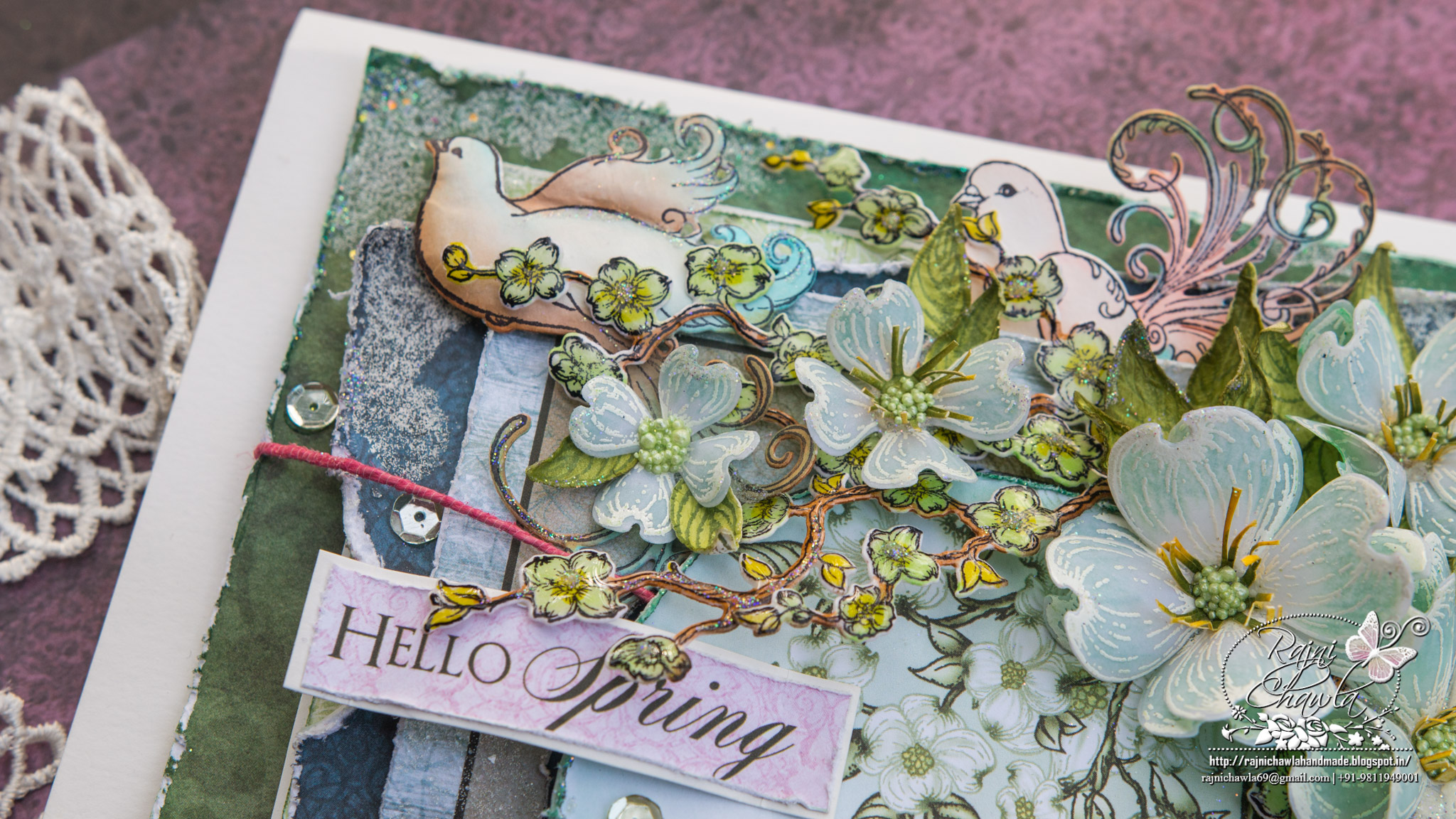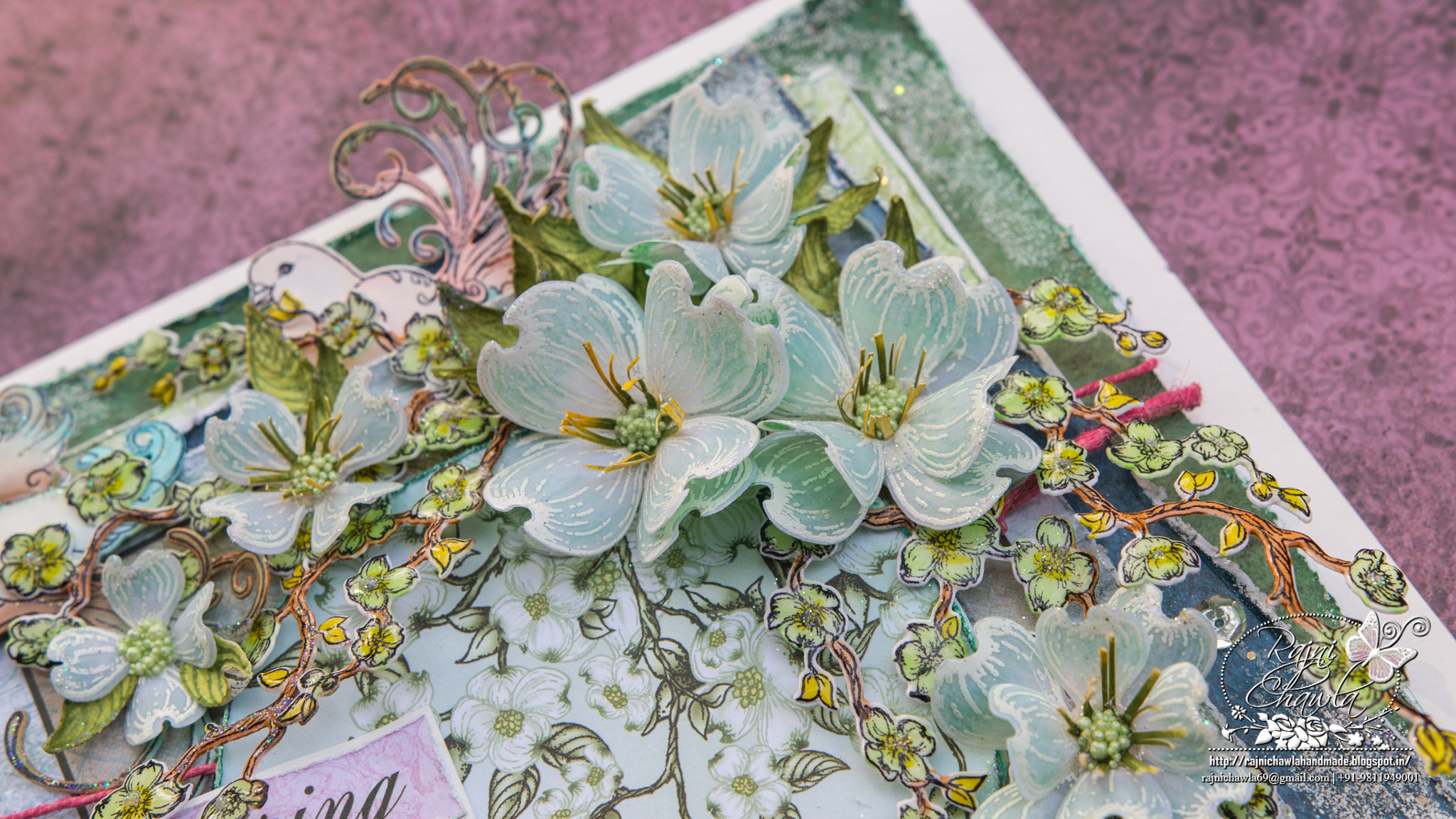 Products from Heartfelt Creations;
Designer Dries Clear Adhesive, 159723
Deluxe Flower Shaping Kit, HCST1-401
Flowering Dogwood Paper Collection HCDP1-275
Flowering Dogwood & Doves Die HCD1-7131
Flowering Dogwood Die HCD1-7129
Flowering Dogwood Cling Stamp Set HCPC-3773
Flowering Dogwood & Doves Cling Stamp Set HCPC-3775
Flowering Dogwood & Doves Die HCD1-7131
Deluxe Flower Shaping Kit HCST1-401
Other Products Used: Finger Daubers, Vellum, Clear UTEE, Crystal Clear Glitter, Frosting Powder, Foam tape, Archival ink Coffee Brown, Smooth white card stock, Distress tool, Twine, Sequence, Zig Clean Clear Brush Markers. Staedtler Pencils, Versamark ink, White heat embossing powder.
Instructions: The ready top fold card of white card stock, measures 7 1/2′ by 7 1/2′.  Choose the 6′ by 6″ panel from the designer paper collection. Cut the circle apart and distress the edges using distress tool or a pair of scissors. Also cut two 6′ by 6′ panels and a 6 1/2′ by 6 1/2′ panel from the same collection and distress their edges too. Sprinkle frosting powder on all the edges randomly using the adhesive that dries clear. Dry all the panels with a heat gun. After all the panels are ready, layer them together as shown using foam tape. Layer the ready panel on the card base. To embellish the card, white heat emboss the Dogwood flowers and cut them using it's coordinating die. Color the flower from the back using Staedtler Pencils and lightly shape the flowers using Delux Flower Shaping Kit. Add flower centers and prills to complete the flowers. Stamp Dogwood branch thrice using black archival, cut it using it's coordinating die and lightly paint with vintage photo and peeled paint. Heat emboss them using clear UTEE. Stamp and Cut Doves and paint them using Zig Brush Markers and add crystal clear glitter. The shades used are…052, 070, 036 AND 042. Lightly emboss it from the back. Once all the elements are ready, assemble the card as shown.  the sentiment is from the same paper collection. For more detailed images you can visit my site http://rajnichawla.com/