Good Morning Friends….
Wishing all my friends a very happy and prosperous Diwali. For today's Heartfelt inspiration, I have a beautiful pocket card using Lush Lilac Collection to share. This card of mine is one of those 6 cards which got published in Australian Simply Cards Magazine in their July, issue. This collection has always been among my favorite collections from Heartfelt Creations.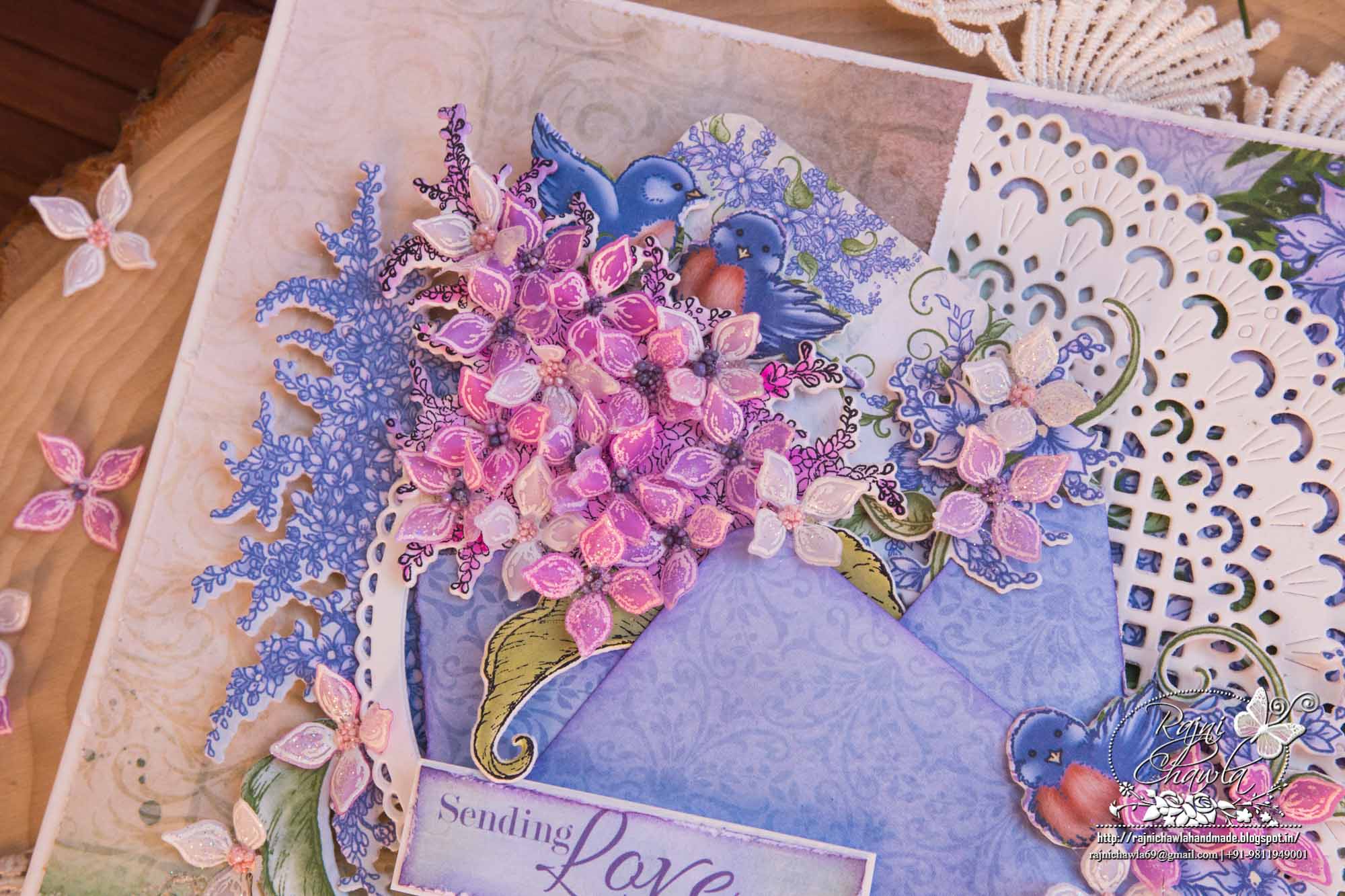 Supplies from Heartfelt Creations:
HCD1-7170 Lush Lilac Die
HCD1-7171 Lush Lilac & Umbrella Spray Die
HCD1-7172 Sweet Lilac Scroll & Cage Die
HCPC-3816 Lush Lilac Cling Stamp Set
HCDP1-287 Lush Lilac Paper Collection
HCD2-7190 Frame a Card Leafy Borders Die
18002 Rajni Chawla's Vellum Flowerite – 10 Sheets
RAHT Heat It Craft Tool
PGM15015 Rajni Chawla's Crystal Clear
ANC811 Tu Tu Pink Prills
CB80 ColorBox Pigment Ink Pad – Frost White
RPEJ685 Embossing Powder – White
159723 Designer Dries Clear Adhesive
Other Supplies Used: Smooth White Cardstock, Funnel Tray, Scoreboard and paper trimmer.
Videos Referred: For more tips on creating with the Lush Lilac collection, watch the tutorial at https://youtu.be/KDbdzC0MnAI.
For more tips on creating with the Frame a Card Leafy Borders, watch the tutorial at https://youtu.be/K_1152Kd2Ls.
Instructions: The ready side folds card measures 6" by 7". Take a cardstock measuring 11" by 6" and score at 4" on the longer side. To the 4" top fold of the card attach a die semi circle die cut using Frame a Card Leafy Borders Die for extra accent. Add pattern papers on the side half panel and inside of the card.
Choose a pattern paper from the Lush Lilac Paper Collection and cut a piece measuring 2 ½" by 2 ½". Score n cut at 2" using envelope punch board, create an envelope. Cut a fancy frame using outer 2 dies of the Basic Circle Small die and layer the envelope as shown.
For Vellum Lilacs, first, white heat emboss the flowers, cut them using their coordinating die,  and then color them using distress oxides. Shape them on the back of needle tool and press them in the center.  Add prills to the flower centers.
Cut embellishments from the Lush Lilac designer paper collection and form flower clusters around the focal images and add sentiments from the paper collection to finish the card.