SUBMISSION FOR THE FINAL ROUND OF HEARTFELT CREATIONS
Boxed Aquarium Album
It's second Wednesday of the month and the new release day of Heartfelt Creation's May release…Under The Sea Collection and now I am officially allowed to share the first project that I submitted for the final round for their design team selection. I really loved the new Under The Sea Collection by Heartfelt Creations. The vibrant shades of designer papers showing the depth of the sea, beauty of sparkling fishes and shells….and never ending silence of  sea weeds along with the soft n cool blooming hibiscus….It's beauty and serenity overloaded!! I was flipping through the papers and saying to myself…OH MY GOSH….How much deep the designers  can think of designing and how much grown they are in their minds….Hats off man!!
The very first thing that came into my mind after looking at the collection was Aquarium and I decided to make the same. I altered a box a shadow box with mini-album inside. I have never worked with such theme and never ever altered a box like this. This was my very first try and I loved n enjoyed every bit of it.
Don't forget to check out amazing creations by all design team members at Heartfelt Creations blog. It's another must buy collection from them.
Here is the list of supplies of Heartfelt Creation
 Under the Sea Paper Collection
DDOTS Double Dots 100pc. -3D Foam Squares
159723 – Art Institute Glue – Dries Clear
Other supplies:
 Spellbinders Wonky rectangle die, Spellbinders Grand Ovals, Rusty Hinge, Salty Ocean, Mermaid blue and Peacock Feather Distress inks, Clear rock candy glitter, Diamond dust, Fussy cutting scissors, Ranger's Multi Medium Matt, Black Distress Marke, Red tacky tape, White Gesso, Acetate sheet, Black card stock, Black chipboard.
TOP VIEW OF THE BOX: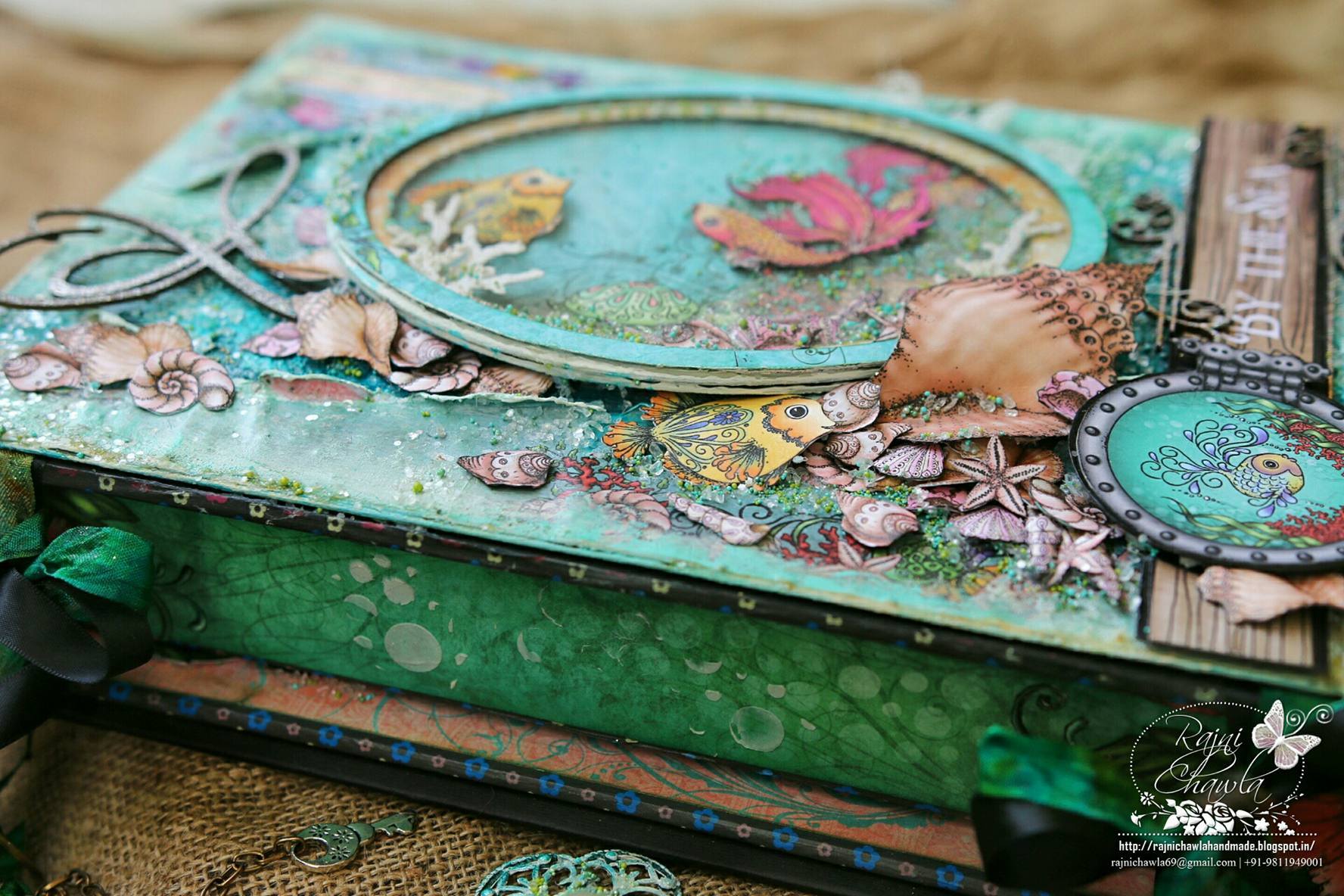 Instructions for the cover of the box:
The box that I altered was 12 1/2 inches by 8 1/2 inches with bottom of 13 inches by 9 inches and height is 2 inches. For the cover of the box, I decided to make an aquarium amidst in sea waves. I took a separate piece of chipboard half an inch smaller to the actual size of the lid. Applied first coat of heavy white gesso and gave textures with tearing the pattern paper on two corners. The space left was given textures using texture paste randomly and sprinkled glass beads when wet. Dry it with the heat gun. Prime the whole area of pattern paper with a light coat of white gesso. Once dry start misting with 2-3 shades of blue  drying it in between all coats. Once happy with the background,decorated it with an oval aquarium, fussy cut and shaped embellishments from patterned paper, diamond dust and glass beads.
Here are few close-ups to show all detailing of the Aquarium on the cover:
Look at the 3- dimensional shapes of shells and fishes. They really looked amazing. I never thought of that I would be ever using my HC Flower Shaping kit for shaping shells instead of flowers.
A Little more decoration with Dusty Attic chipboards…GORGEOUS, GORGEOUS!! I can't resist myself from using them.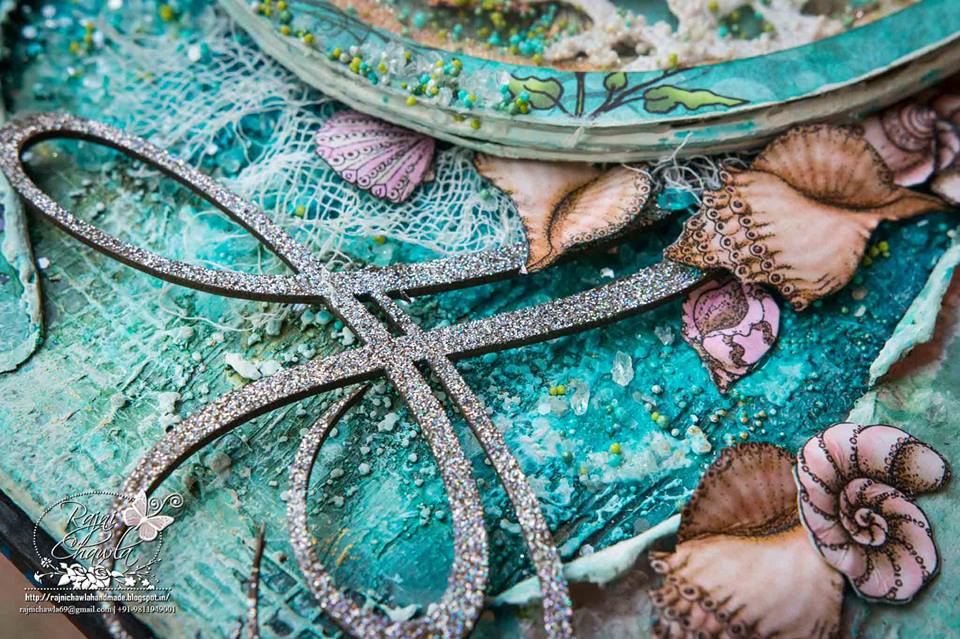 I loved the textures on the background too…..all created using various mix media mediums.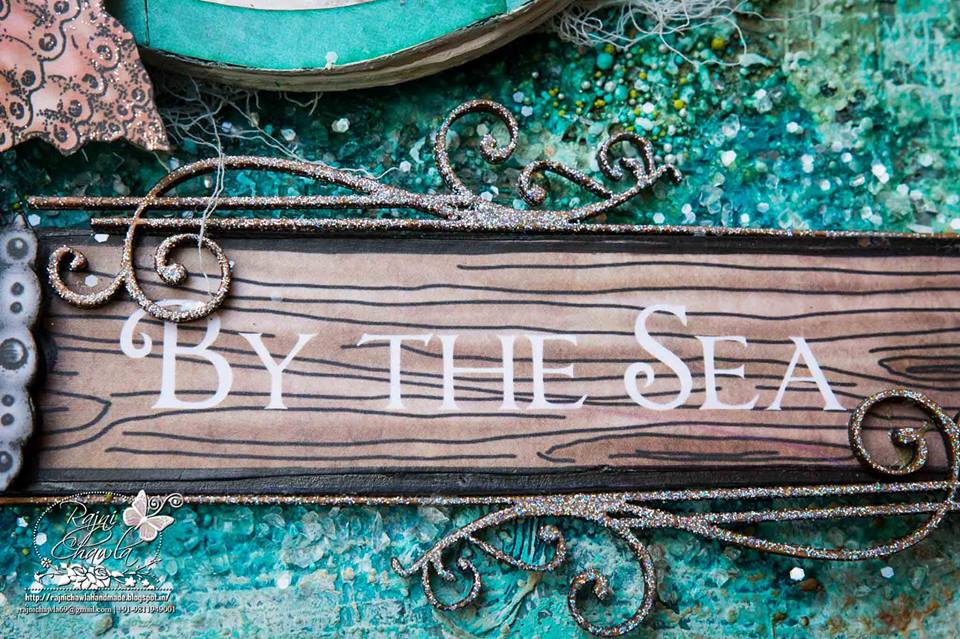 Instructions for oval aquarium on the cover:
Adhere designer paper on thick black cardstock. Cut a base layer using Spellbinders Grand Ovals die. Cut 1 piece of a ring by nesting first two dies and another using 1st and 3rd die of the same. Attach acetate sheet behind the top layer. Create under the water theme by using fussy cut fishes and shells and add prills and micro beads for decoration. Glue them together on the base layer using foam tape and close the aquarium.
I used HC Leafy Branch Die to create corals. I heat embossed the cutouts with different shades of heat embossing powders and sprinkled prills when hot. You really have to be little quick here. You cam heat set them again if necessary.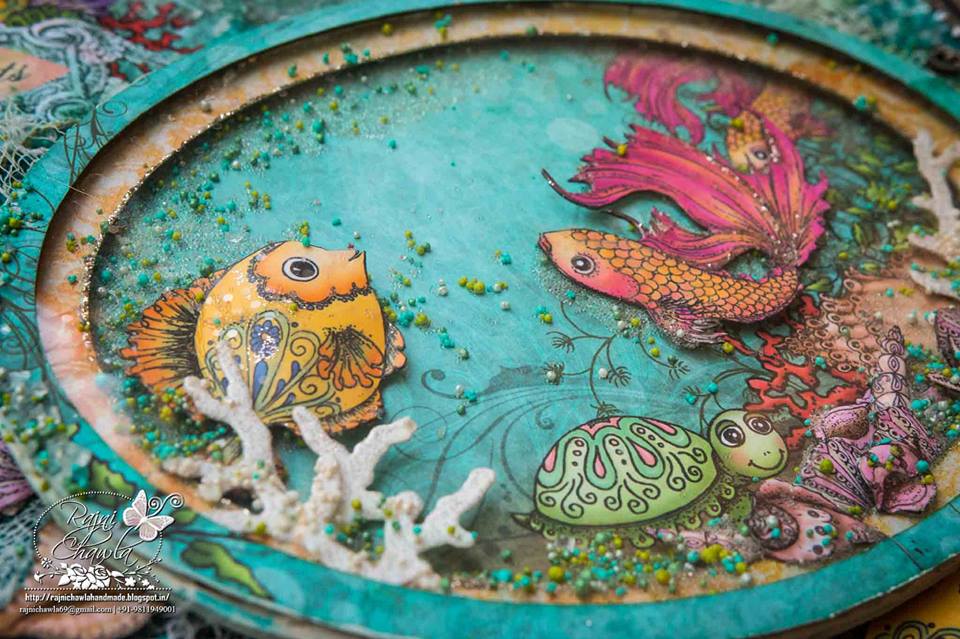 TOP VIEW OF THE BOXED ALBUM WHEN OPENED…
I did a little bit of stenciling with texture paste using bubble stencil on all the sides and inside of the lid.
Can you peep inside the box?
There is huge one more aquarium inside the lid with a huge magnetic pocket to hold all the fancy tags which can hold lots of photographs and messages. I designed a step fold mini album.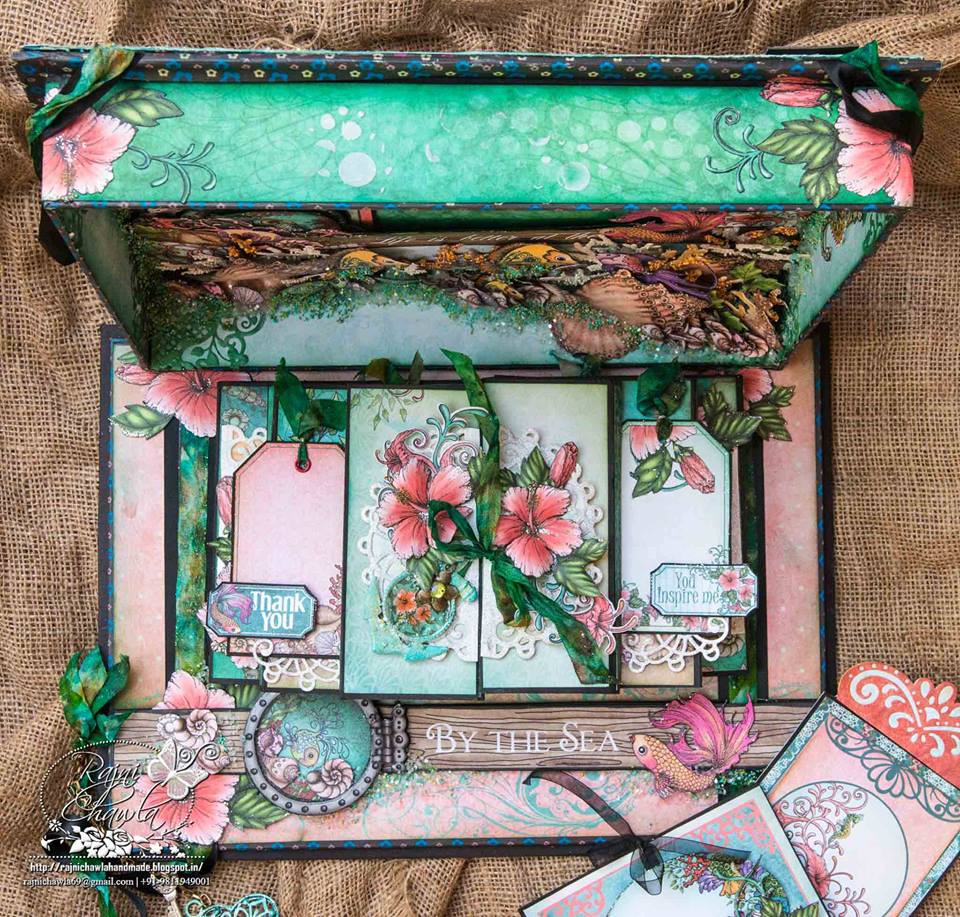 Instructions for the aquarium inside the lid: 
I made a huge magnetic pocket in the lid of the box which can hold lots of multi-fold tags and photo mats. All the tags and photo mats are magnetic so that they can stay stuck in place while opening the box. the whole 2 inches depth of lid is used to create different layers of an aquarium which is decorated with all fussy cut embellishments. All the embellishments were coated with the multi-medium matte to add extra strength. and also glittered using golden stickles.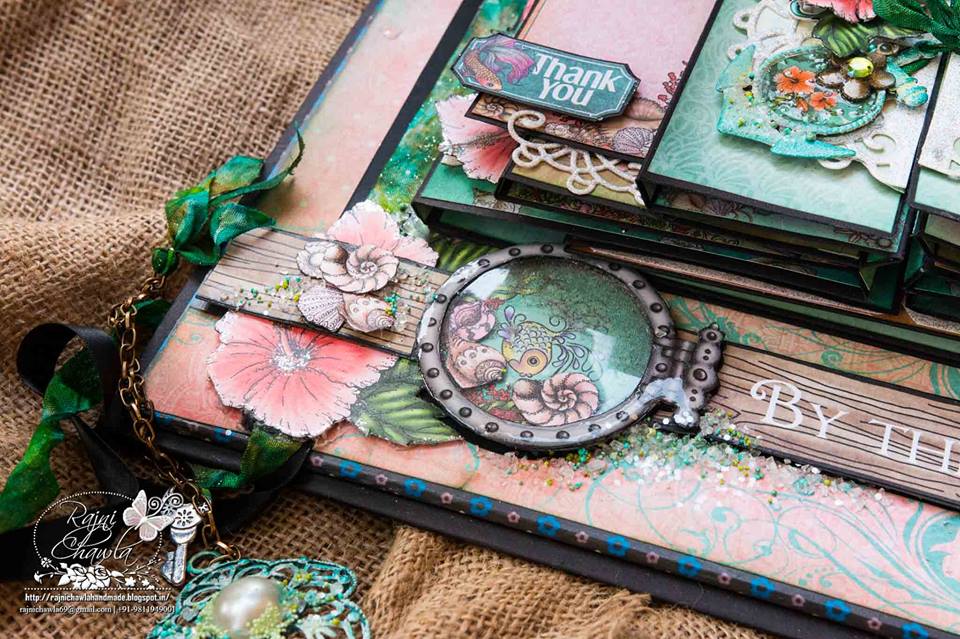 Instructions of round aquarium inside the box:
This aquarium is simply fussy cut from the same gorgeous collection. Cut the separate layers and mount them on thick card stock. Stick an acetate to the back of top layer and  decorate the base layer using prills and fussy-cut shells. Now close the aquarium using 3-D foam tape.
On the right side, I used fussy cut fish as an embellishment and decorated the base with prills, micro beads and glitters.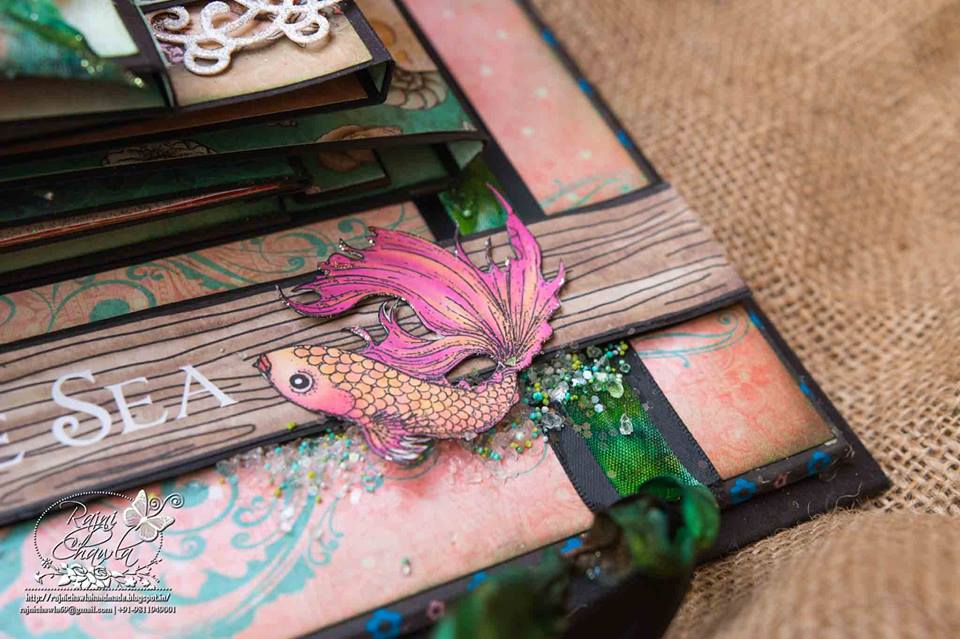 INSIDE TOUR OF THE BOX ALONG WITH THE ALBUM DETAILS…
Flip Fold album in front…with beautiful fussy-cut Hibiscus, embellished with fussy cut Hibiscus flowers and a metal charm with the same blooming theme….a 3-dimensional aquarium in the lid of a box with a huge magnetic pocket holding lots of multifold tags. Oh…so much of work it was!! It really looked amazing to see those beautiful layers. I used the entire 2 inches depth of the lid for creating different layers of the aquarium.
OPPSS….I forgot to take the side click showing all the layer.  This is the front view.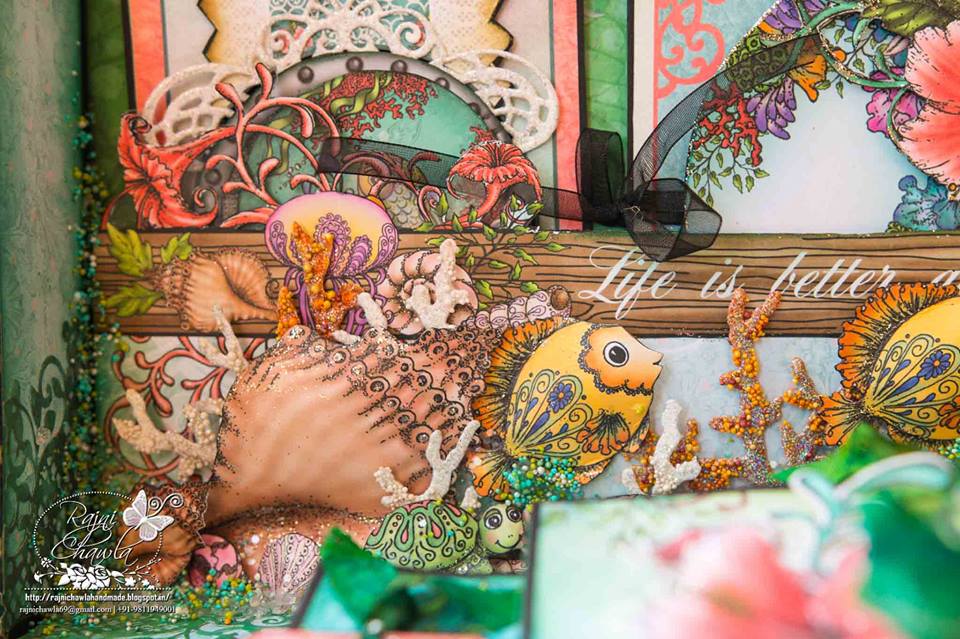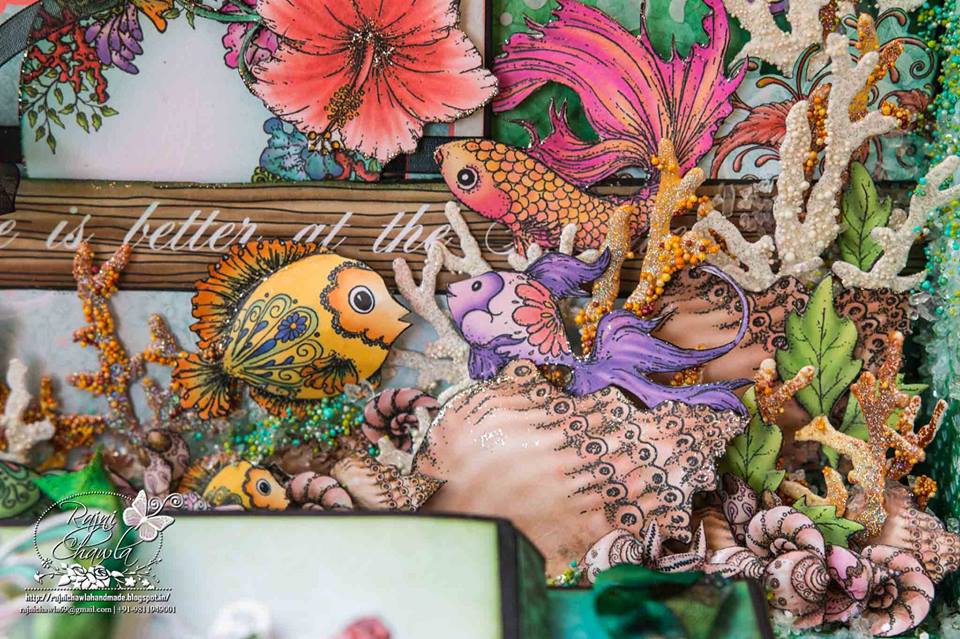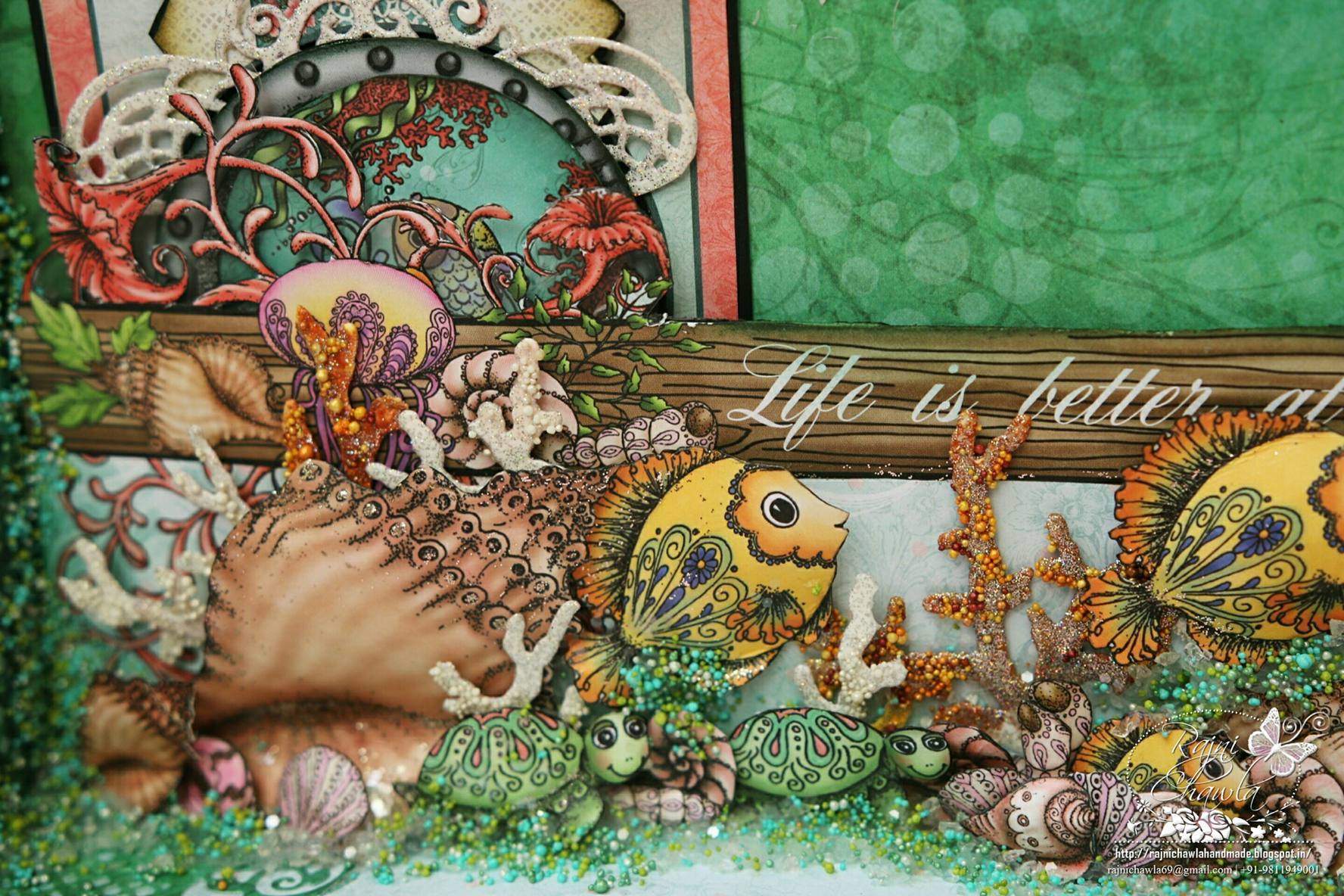 A beautifully cut Octopus using Under the Sea Coral Die. I have used Fleur Border and Pocket Die on the corners.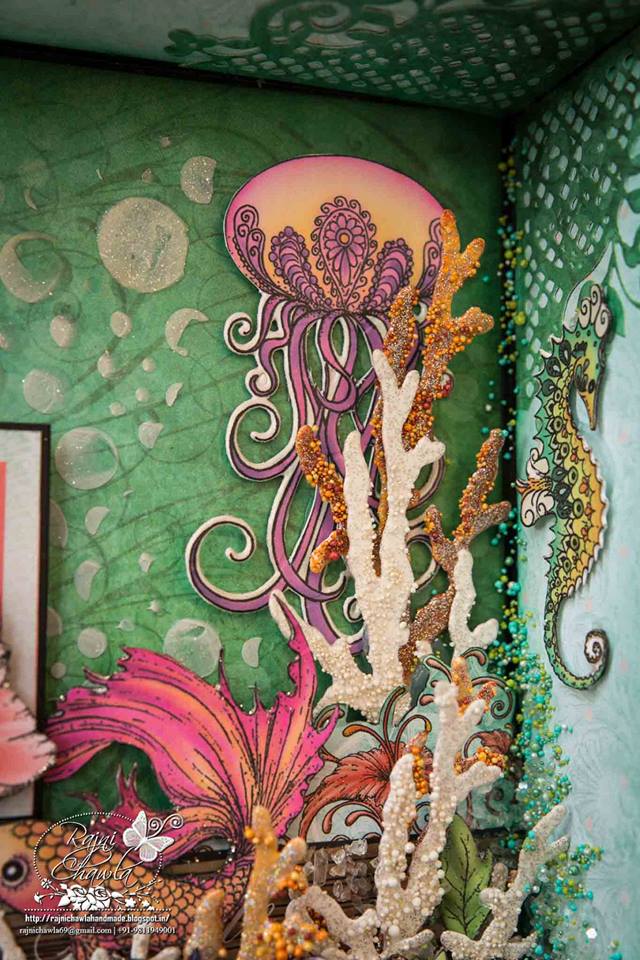 On to the album now!!
The size pf the album is 10 inches by 5 3/4 inch. Since I wanted to add lots of folds and extra embellishments inside the album I followed Heartfelt Creations Pocket and Flip fold inserts Pocket A and customized my own 2 pieces keeping an extra hinge of half an inch between all the folds.  The album is decorated using panels from the same collection.
Instructions for the construction of album:
The size pf the album is 10 inches by 5 3/4 inches Since I wanted to add lots of folds and extra embellishments inside the album I followed Heartfelt Creations Pocket and Flip fold inserts Pocket A and customized my own 2 pieces keeping an extra hinge of half an inch between all the folds.
You will need one piece of black chip board measuring 10″ x 5 3/4″ for the base. For the rest, you can use anything, chip board or thick black stock. I prefer using chipboard as it makes the album more sturdy. If using chipboard, you will need 2 pcs of 5′ x 5 3/4′ (one each for right and left panels), 4 pcs of 3 3/4′ X 5 3/4′ (2 pcs each for both right and left panels),4 pcs of 2 ½'' x  5 ¾'' (2 pcs each for both right and left panels)  and 10 pcs of hinges with black cardstock measuring 1 ½' x 5 ¾' neatly scored at  ½'' and 1'' ( 5 pcs each for right and left panel. Now separate all the pieces for both panels. Adhere red tacky tape on both the outer sides of all the hinges. Take out releasing paper of one side of the hinge and stick to the left side of chipboard piece that we have cut for the base and the other side of the hinge to 5′ x 5 3/4′. Now stick another hinge to the same piece on the same side and stick 3 3/4′ X 5 3/4′ . Again attach a hinge to the same and stick the second piece of 3 3/4′ X 5 3/4′. Continue using rest of the 2 pcs measuring 2 ½'' x  5 ¾'' in the same way. If it seems little confusing do check the picture of an opened album on my blog or take the reference of HC Flip fold inserts Pocket A.
All the inside pages of the album are decorated using panels from the same collection.  I have heat embossed cutouts from Spellbinder's Wonky Rectangles, HC Layered Elegant Swirl Die and HC Ornate Border and Pocket Die to create pockets and photo mats for the album. The top Most panel is decorated using fussy-cut hibiscus from the same collection, heat embossed HC Layered Elegant Swirl Die.
Here is the top view of the album showing all the folds. Lots of pockets and tags are added to hold pictures and messages. Most of all the pages are embellished with fussy cut hibiscus flowers.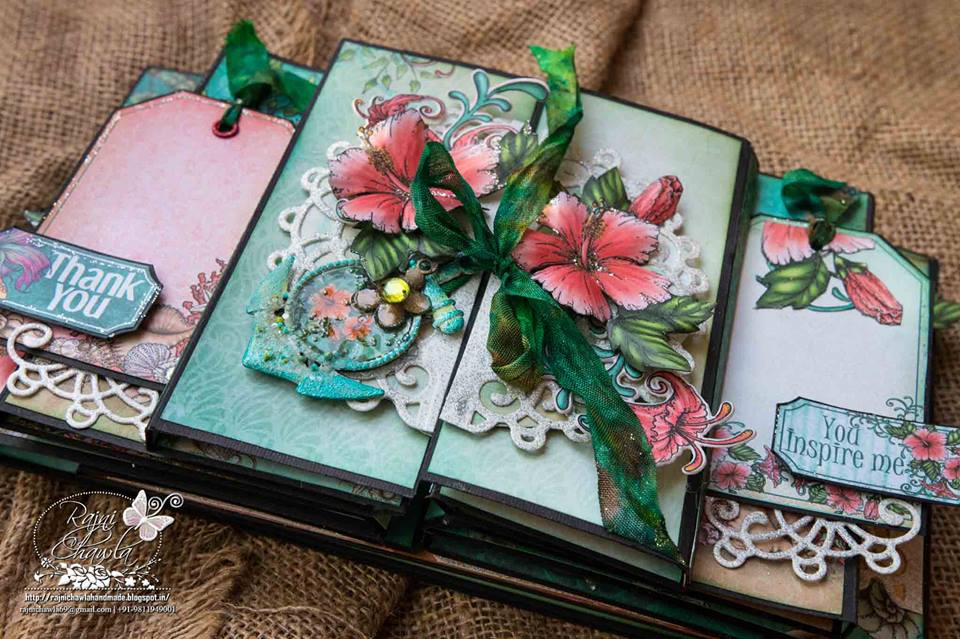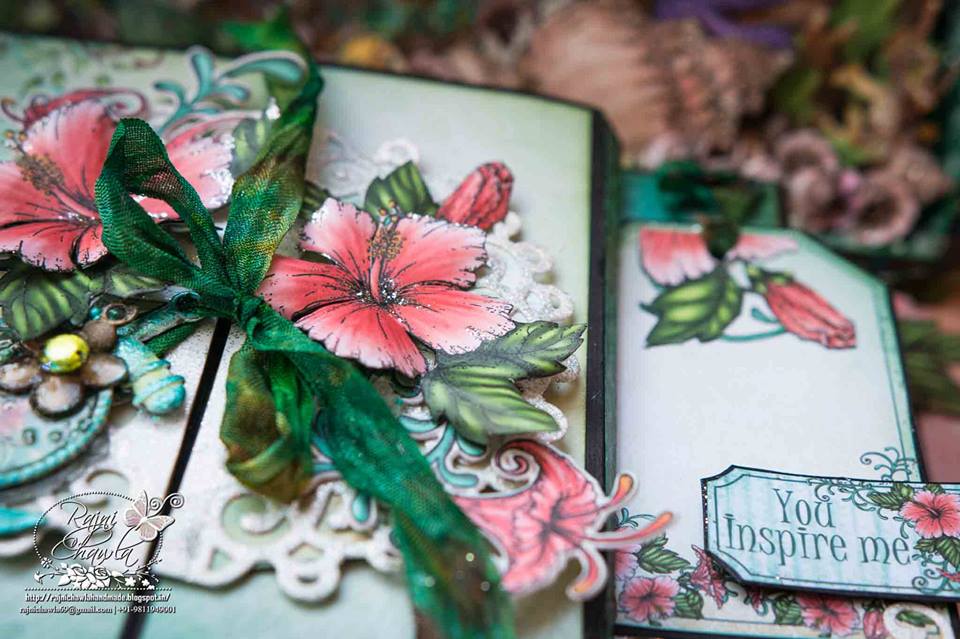 Here is the picture showing how the album opens. It's a  step fold album. Lots of flip folds are there on inside pages.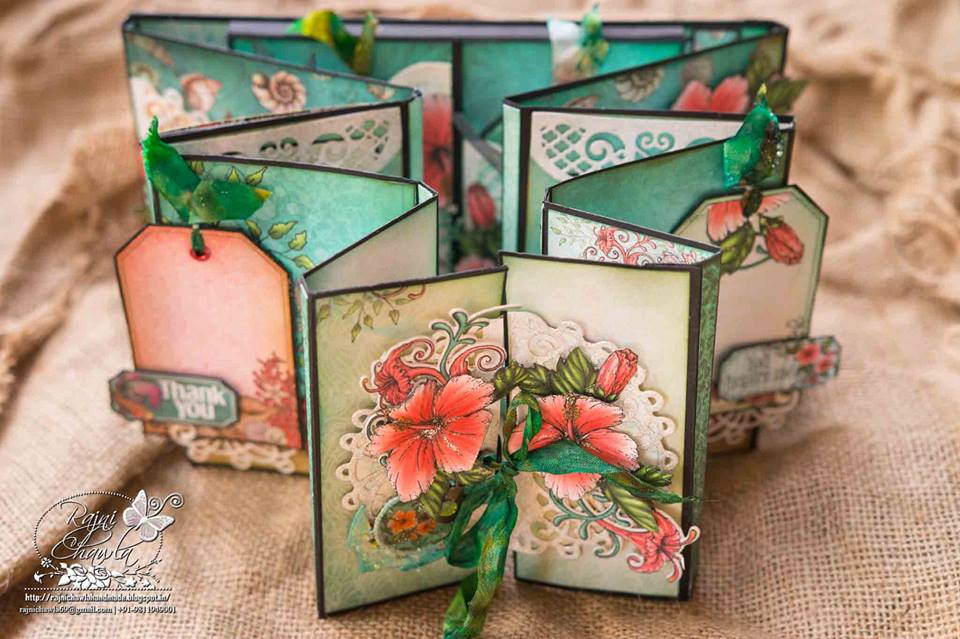 FEW OF THE INSIDE FOLDS :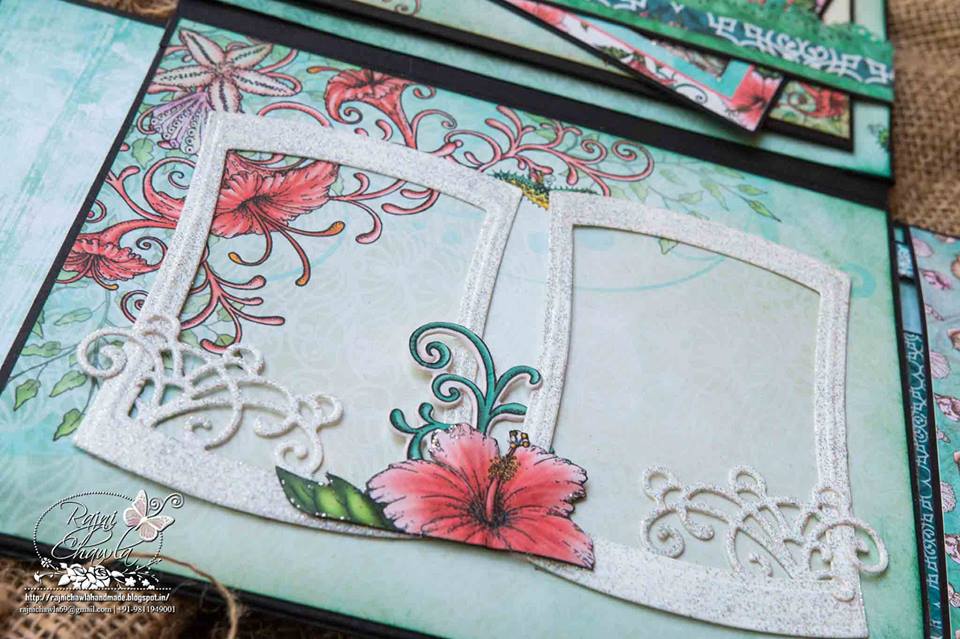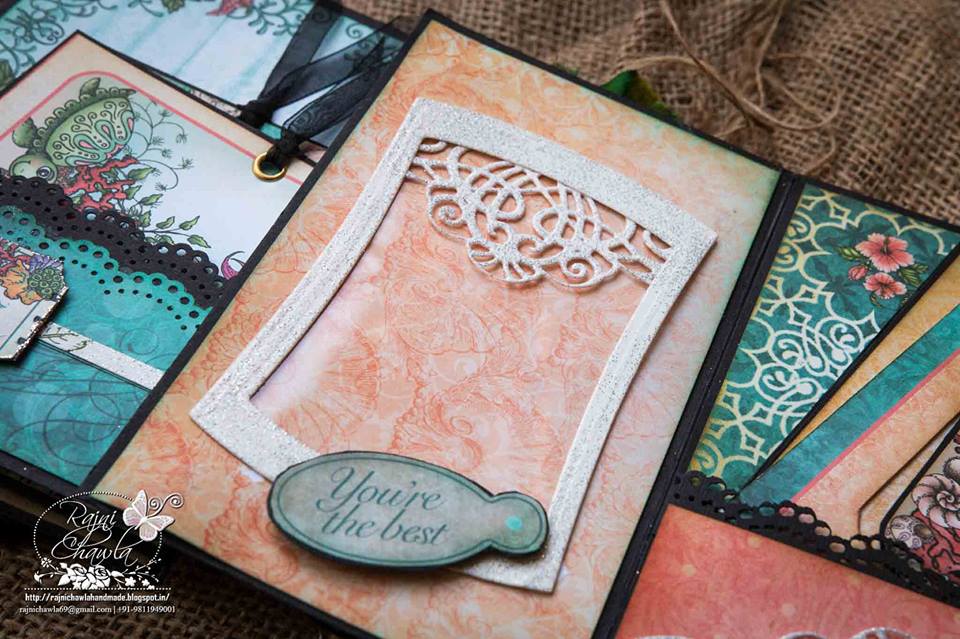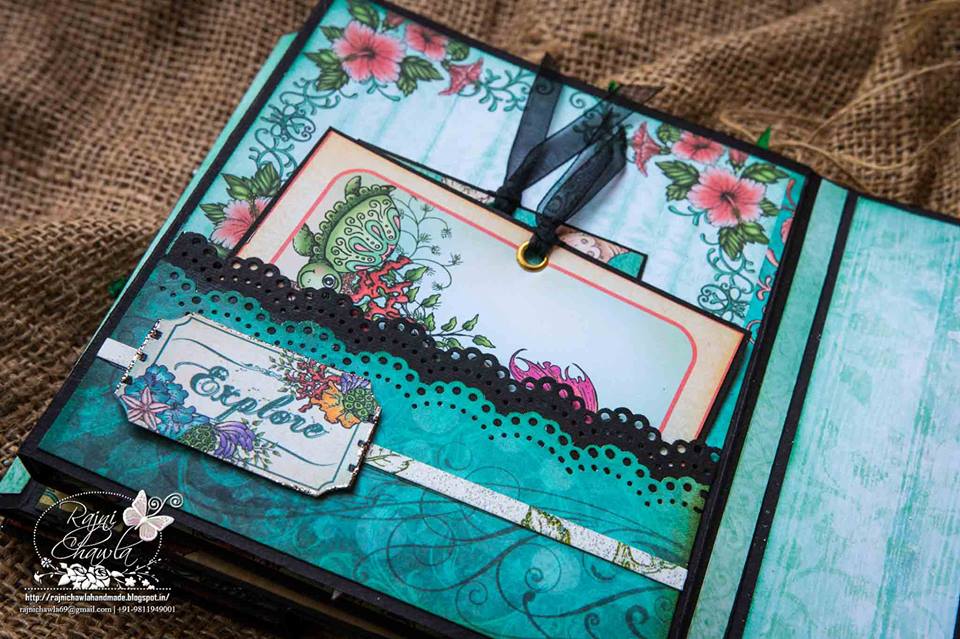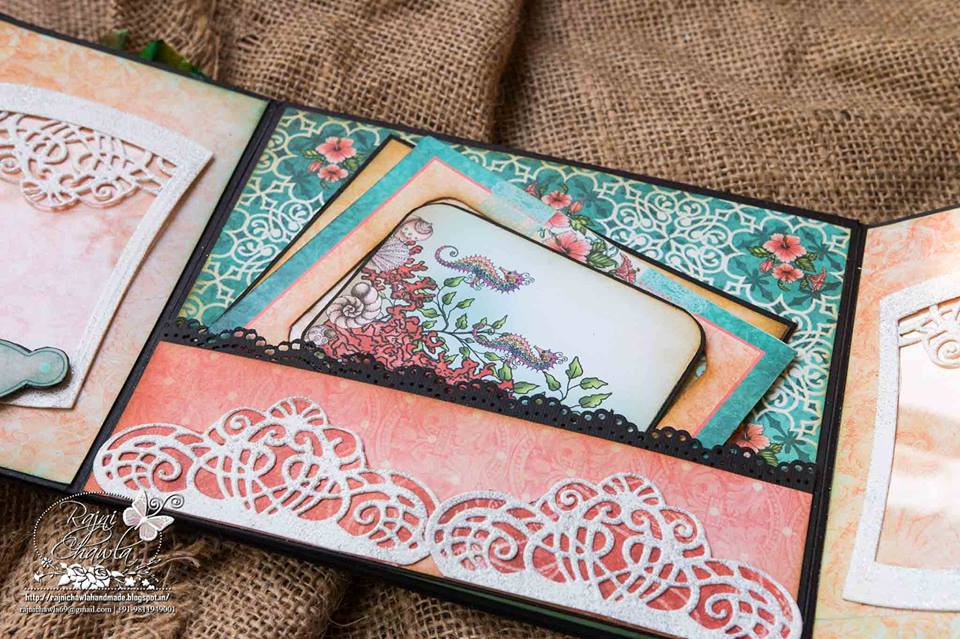 All tags and photo mats out…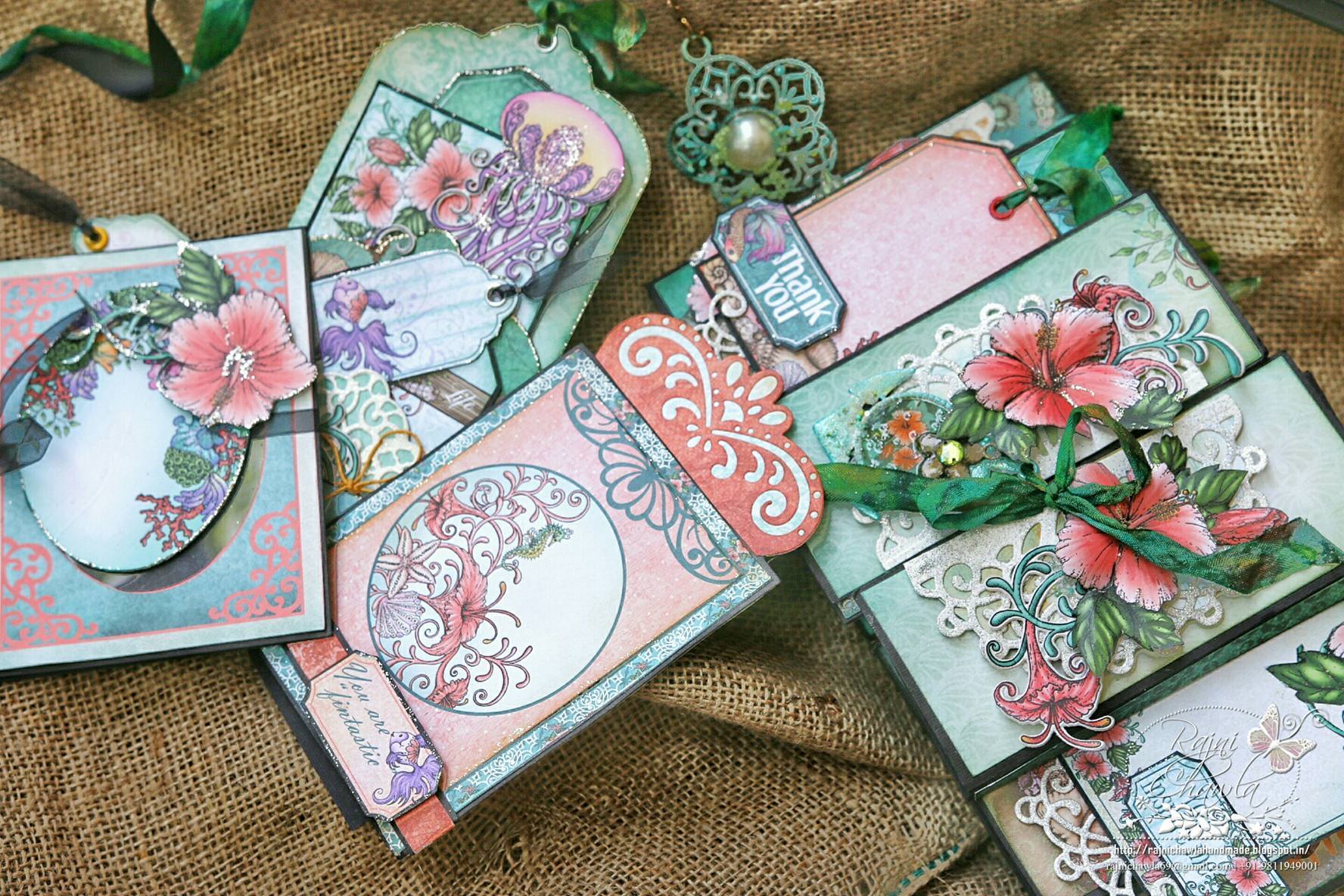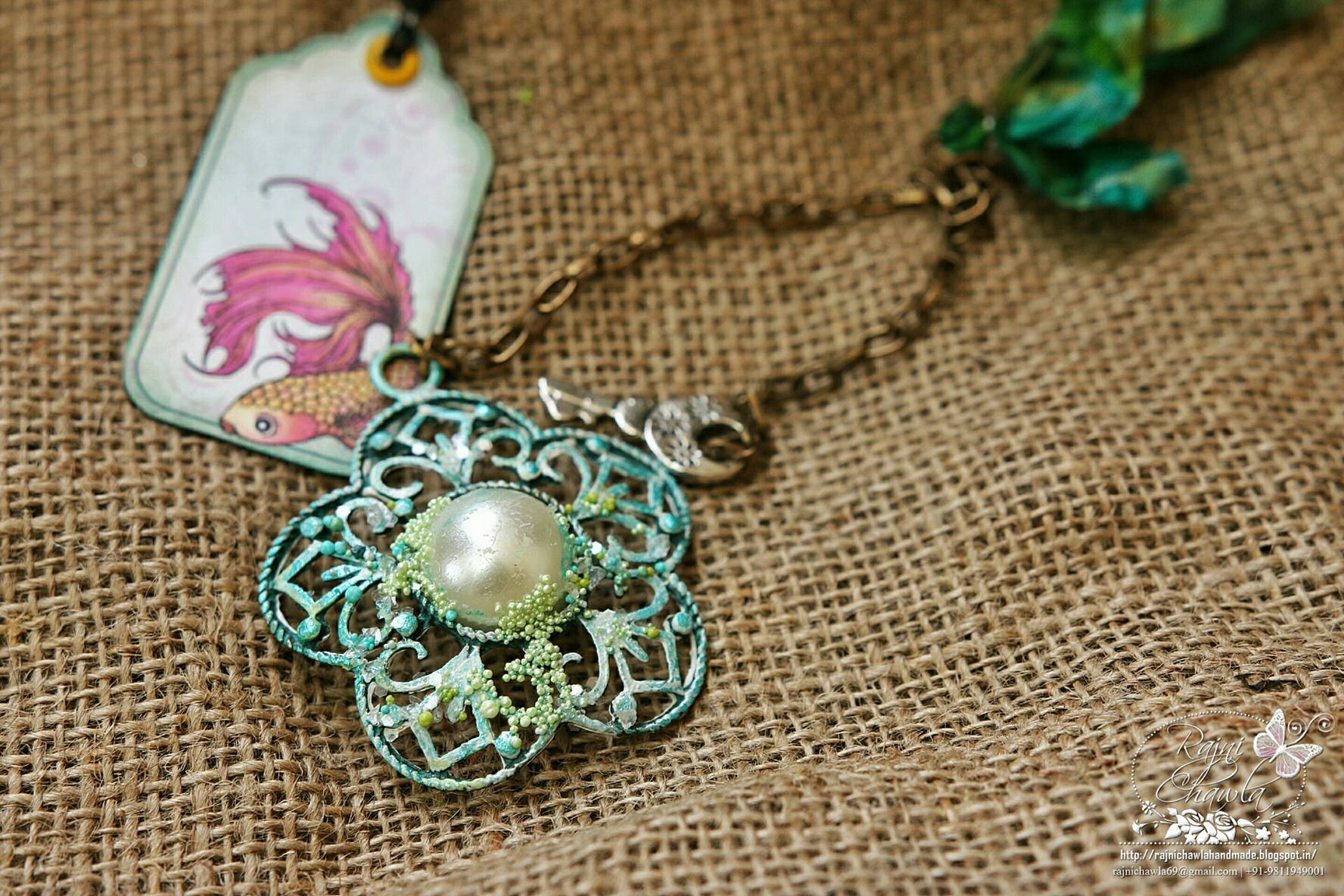 So…thats all for today's super lengthy  project.
I will never forget the experience of creating this project….how much worried I was to finish this project. It was very difficult for me to sit on the bed with continuous watering eyes and my both feet lifted up on pillows and working on a small bed table and calling for each little thing from my daughter. Just a small thought in my mind that this project is reaching a person whom I admire the most, kept me going. Big thanks to both my  kids who supported and helped me for each and every little thing and the good wishes that I got from all my well wishers.
Hope you enjoyed looking at all details, the way I enjoyed creating it.
Thanks for stopping by.