Good morning crafty friends….
Its inspiration Wednesday for Heartfelt Creations again. Today I have a card using Blushing Rose stems with mix media backgrounds.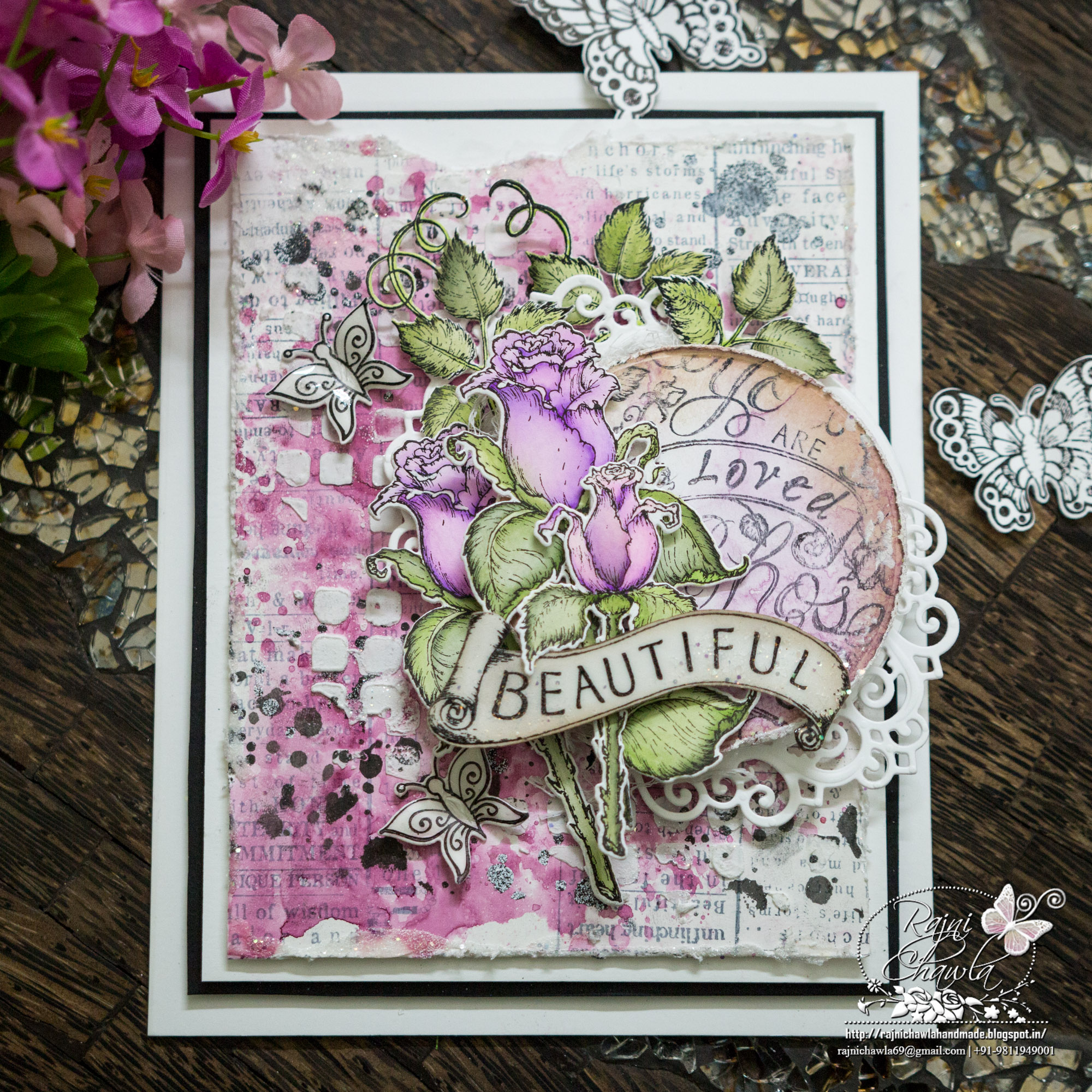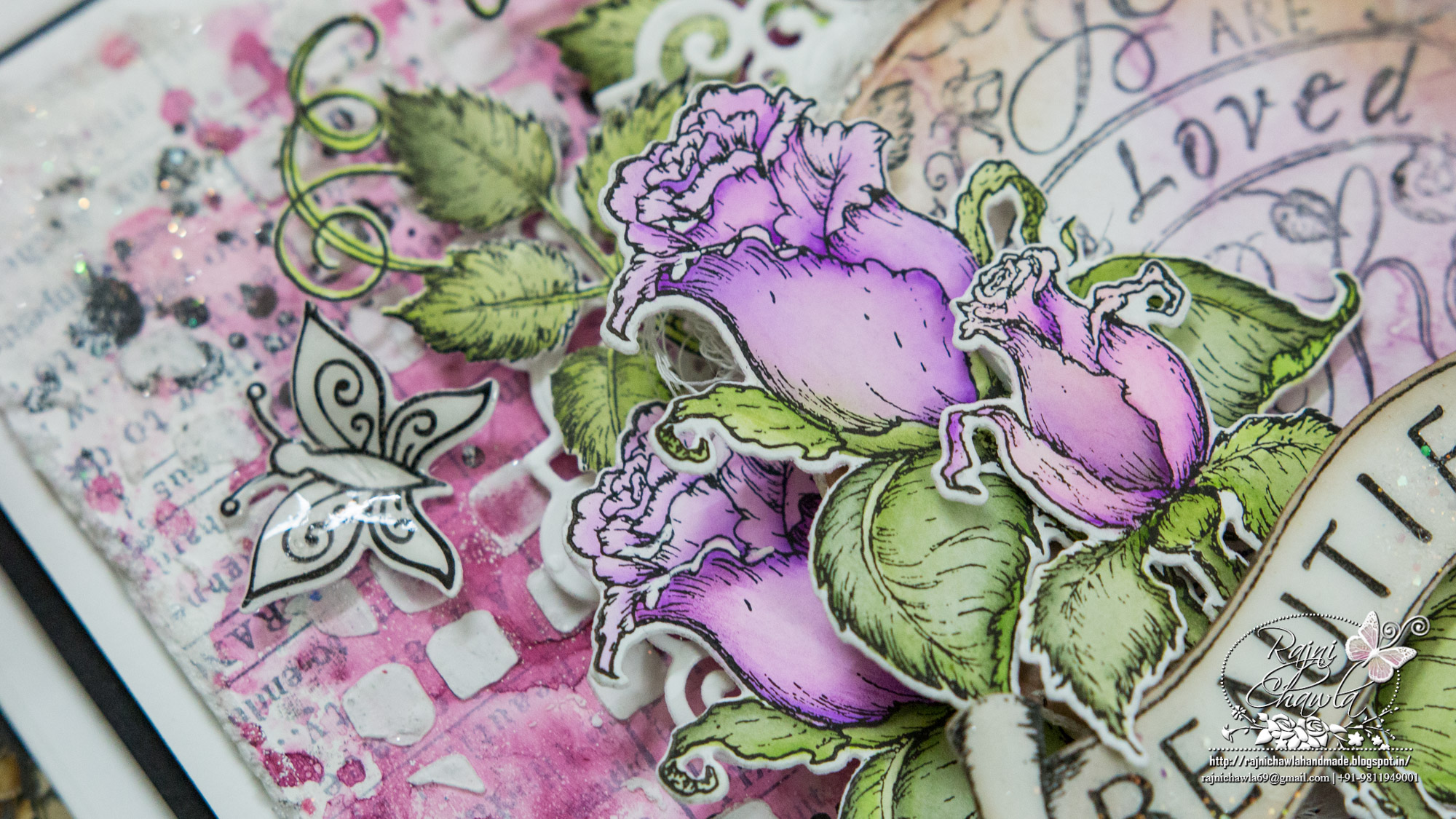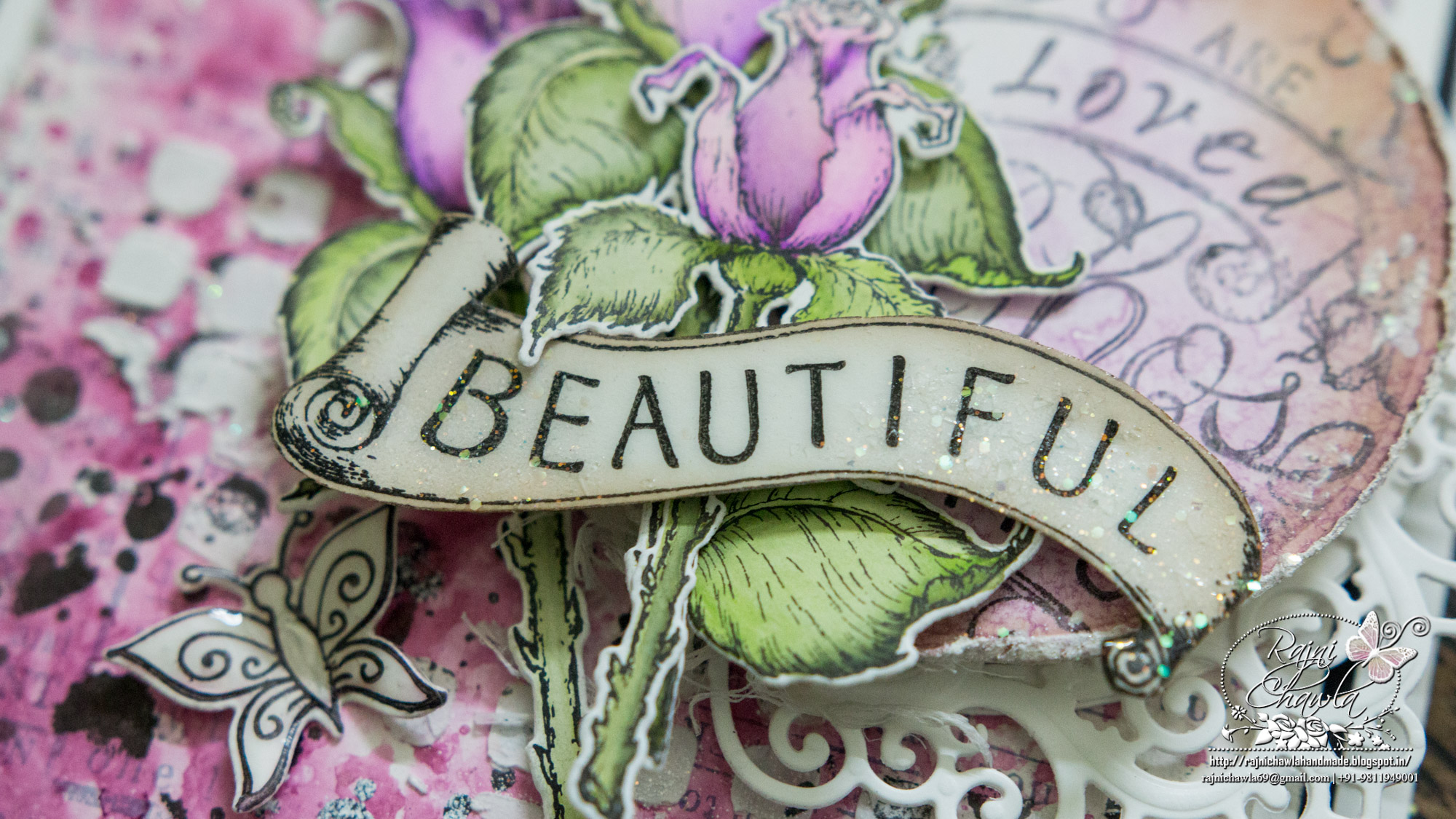 Products from Heartfelt Creations:
Blushing Rose Swirls Die HCD1-7114
Blushing Rose Stem Die HCD1-7113
Blushing Rose Background Cling Stamp Set HCPC-3757
Blushing Rose Stem Cling Stamp Set HCPC-3755
Butterfly Medley Die HCD1-759
Butterfly Medley Cling Stamp Set HCPC-3650
Everyday Hero Newsprint Cling Stamp Set HCPC-3665
Raindrops on Roses Die HCD1-743
Other Products Used: Smooth White Cardstock, Black Cardstock, Black Archival, Classic Circle Die, White Gesso, Texture Paste, Heat Gun, Mini Mister, Prima Grungy Grid Stencil, Seedless Preserves, Black Gesso, Splatter Brush, Multimedium matt, foam dots, Crystal Clear and Frosty Powder, Zig Colors 081, 082, 200, 025, 041, 047, 093.
Instructions: The top mixed media panel measures 5′ by 6 1/2 '. Stamp randomly the Everyday Hero News Print Stamp Set using Black Archival Ink. give a soft coat of white Gesso and heat set. Create few layers of Seedless Preserves Distress Ink by Smooshing it on the craft mat. Once happy with the background, add little textures using texture paste and Prima Grid Grunge Stencil. When the texture is still wet, add frosting powder and heat set. Distress all the sides with scissors. Brush all the sides with multi-medium matte and dust frosting powder and crystal clear. Heat set and mat the panel on white cardstock keeping lower panel little larger by 1/8th of an inch. Next, mat black cardstock and stick the whole panel on card base measuring 6′ by 7 1/2'. Cut a circle base and stamp the Blushing Rose Background Stamp. Distress the circle using Seedless preserves and Brushed Corduroy. Add crystal Clear on edges using Multi Medium Matt. Stamp and cut 2 pieces of Big Blushing Rose Stem one piece of small bud and paint them using Zig Clear Brush Markers. Stamp and cut one piece of Blushing Rose Die Swirl die and Paint using Zig Markers. Once all the elements are ready, assemble the card as shown. The sentiment is cut from Blushing Rose Background Die and glazed with Clear UTEE . To enhance the card bit more further, adhere two glazed Butterflies.