Good Morning all…
Once again I m back with Wednesday showcase for Heartfelt Creations. Hope you have all enjoyed the inspirations shared by all design team members last week using their latest release which is a perfect buy for all pet lovers. we are all having fun sharing pictures with our fur babies on facebook too. Also, past few months the entire Heartfelt team was working on the completely new line of products that are launching for the first time ever on Black Friday, November 25th! So, mark your calenders not to miss this next week. 
Now on to my card!!
Here is my another take on Pampered Pooch Collection.  I love creating backgrounds so for my today's card I created a simple background using the stamps from the same collection.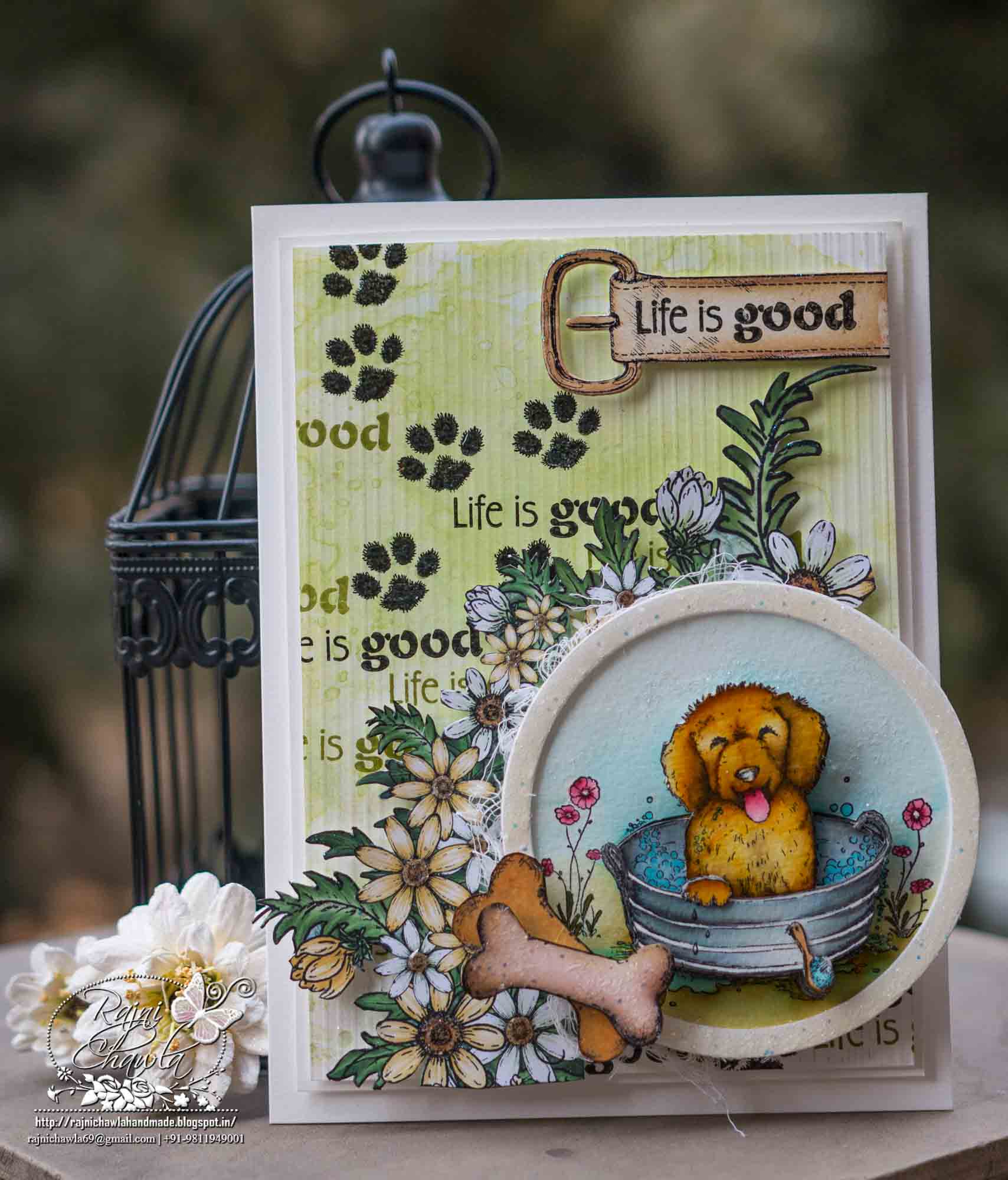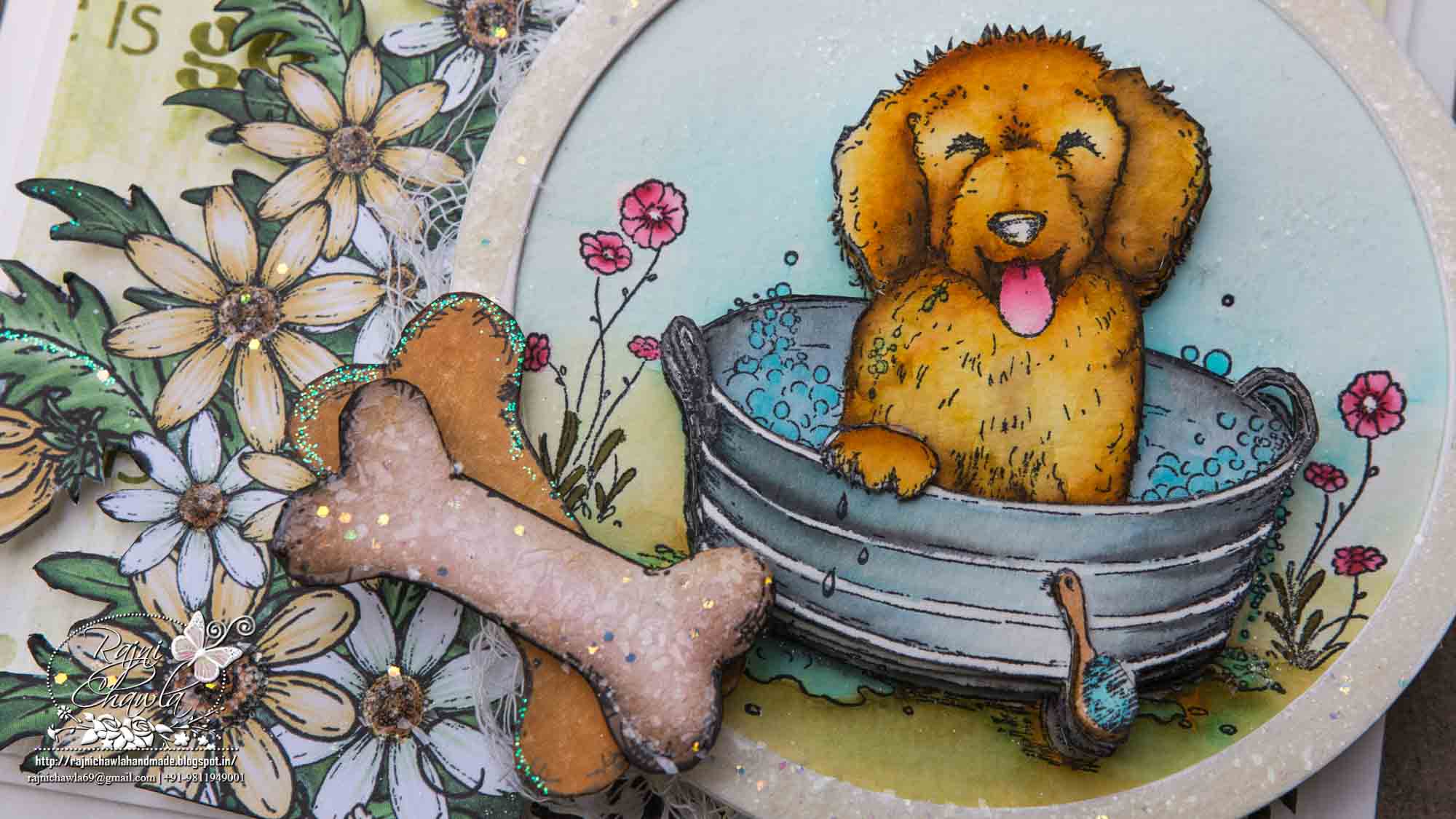 Products from Heartfelt Creations
Paw-fect Pooches Die HCD1-7116
Paw-fect Pooches Cling Stamp Set HCPC-3760
Pampered Pooch Cling Stamp Set HCPC-3762
Pampered Pooch Pals Cling Stamp Set HCPC-3759
Pampered Pooch Pals Die HCD1-7115
You're Paw-fect Cling Stamp Set HCPC-3761
Pampered Pooch Paper Collection HCDP1-272
Others Products used: Distress ink, Cracked Pistachio and Vintage Photo, mini mister, smooth white card stock, Archival inks- Black and Olive Green, Glossy accent, foam dots, scoreboard, fussy cutting scissors, water color paper, Zig clean clear markers- 003, 025, 041, 044, 091, 092, 038,060,061, 062, 072, classic circle die by spellbinders, Crystal Clear glitter.
Instructions: The ready sidefold card measures, 6″ by 8 ".   The first mat is from white card stock which is a 1/4th inch less than the card base from all the four sides. The top most mat is 1/8 th of an inch smaller than the first mat. To prepare, simply smush the Cracked Pistachio on the craft sheet, mist with water and lift the color. Build few layers drying in between each layer. once satisfied with the background, stamp the paws image from You're Paw-fect Cling Stamp Set and the sentiment- Life is Good from Pampered Pooch Cling Stamp Set, randomly using black archival inks. Also, stamp the sentiment with olive green archival here and there. Now score the panel at 1/8 th of an inch each time. The flowers are fussy cut from the designer paper from the same collection. Belt piece is used as a main banner for the sentiment  and is from Pampered Pooch Pals Cling Stamp Set and stamped with black archival, die cut using its coordinating die and then distressed with vintage photo distress ink. For the main element of the card stamp the image from Pampered Pooch Cling Stamp Set using black archival ink on water color paper multiple times. Visualize the image and paint all the images separately. Take scenic background as the first image, inside of the tub as second, dog as the third, front of the tub as fourth image and front leg and hair brush as fifth layers. All the layers are painted using Zig Clean Clear Markers and given dimensions using foam tapes. Cut the frame from white cardstock and adhere around the main image. Once all the elements are ready, assemble the card as shown. add a little glitter to the frame , glossy accent to the paws and painted bones to finish the card.