Good Morning All…
Welcome back to another inspiration Wednesday for HeatfeltCreation's Monkeying Around Collection. Hope you are having fun crafting with HC latest release.
What do you do when you are left with beautiful scrap papers ?? I often miss using them if I keep them aside for the future use. When I was creating the tunnel album, I was left with beautiful circle cut outs from the Monkeying Around Collection. I thought of using them and created the door hanging which I am sharing it today.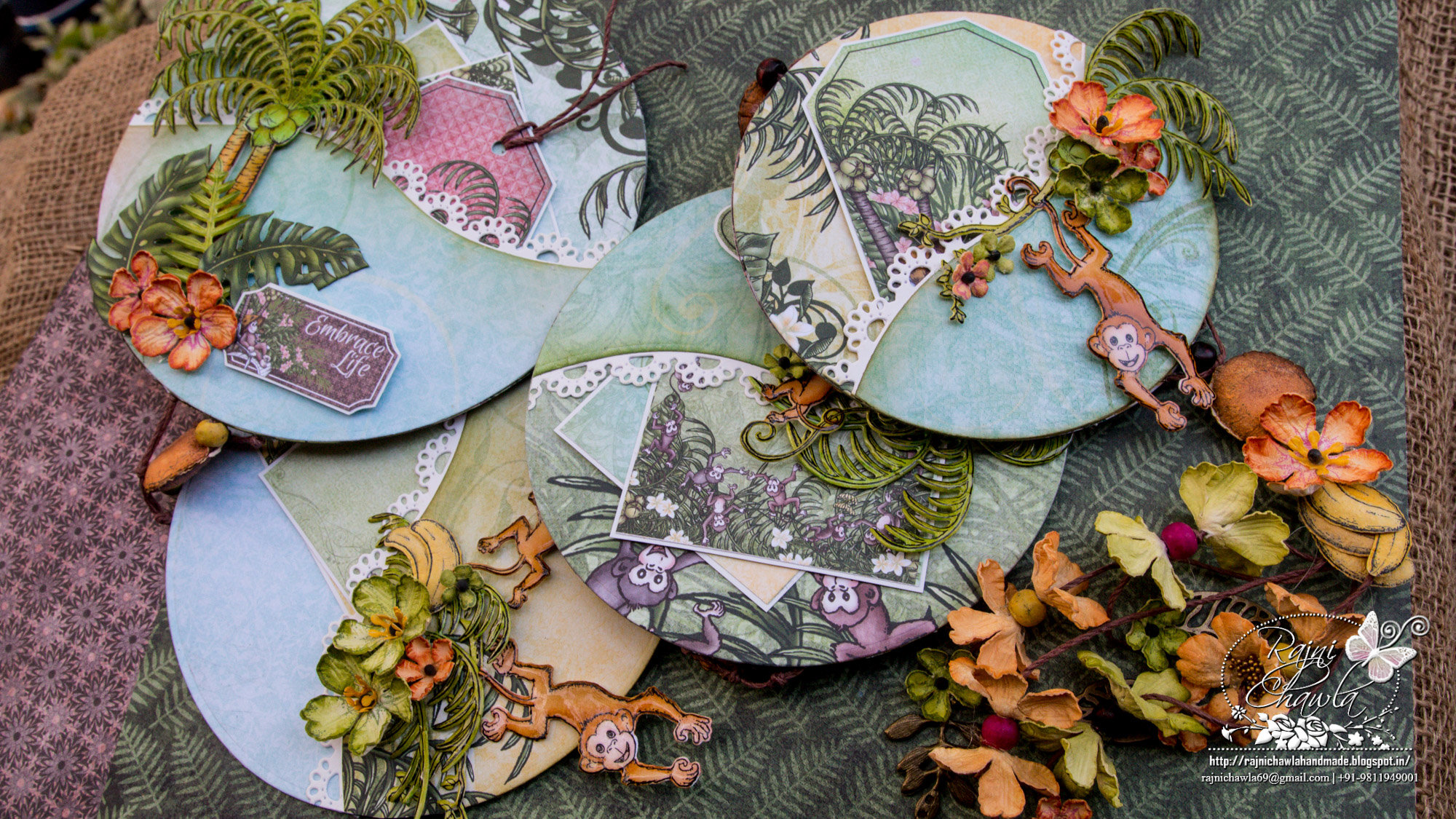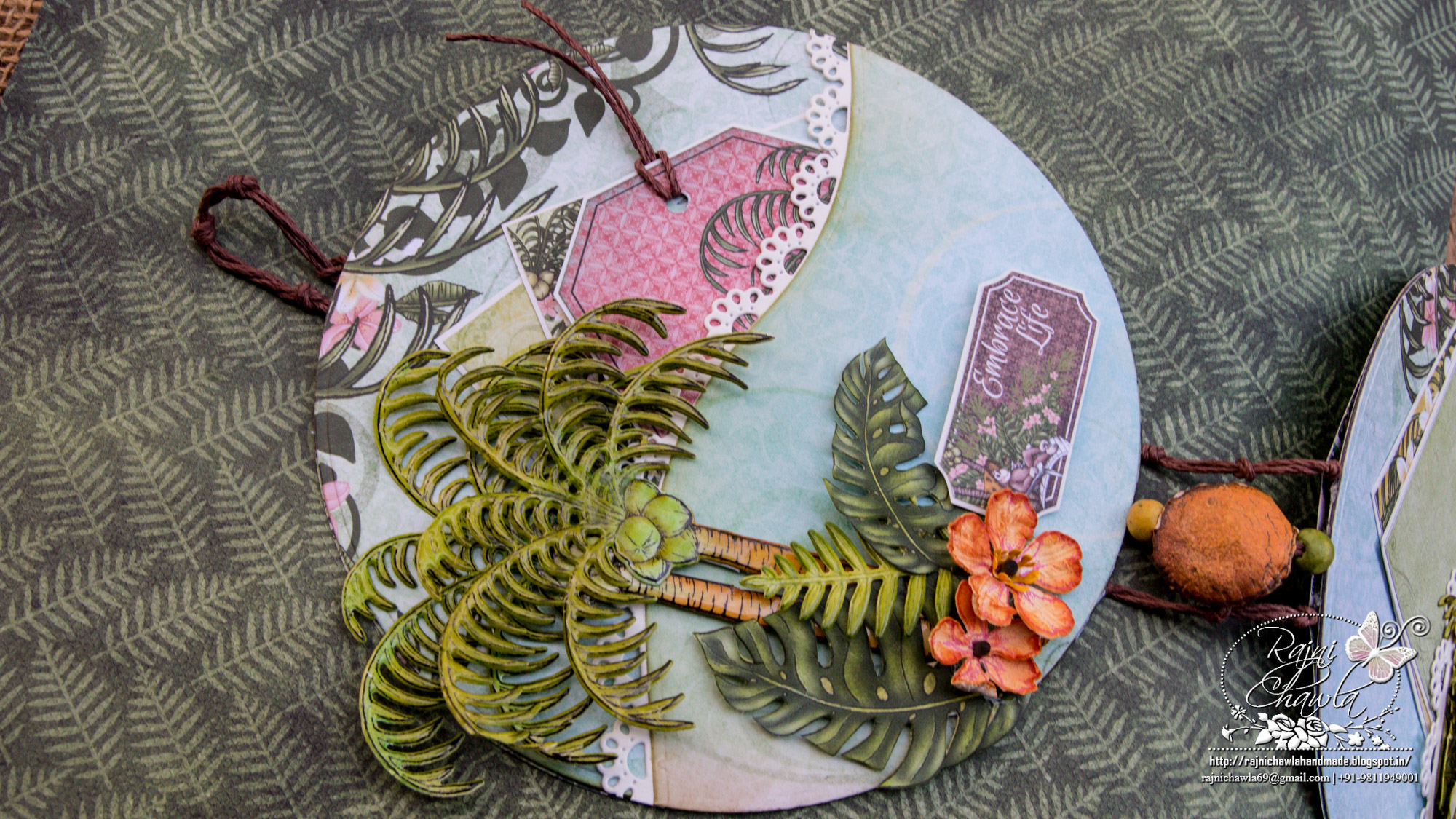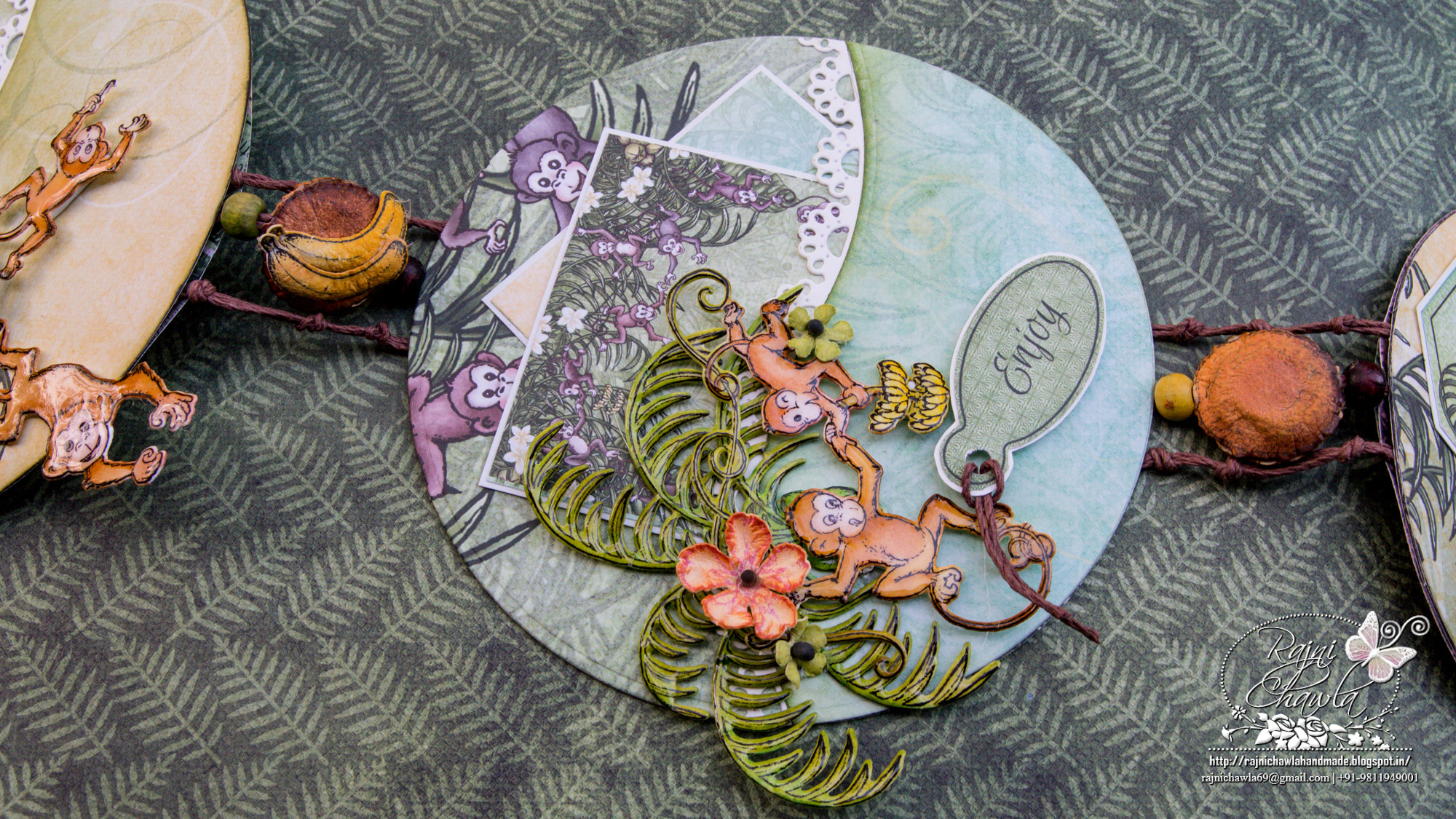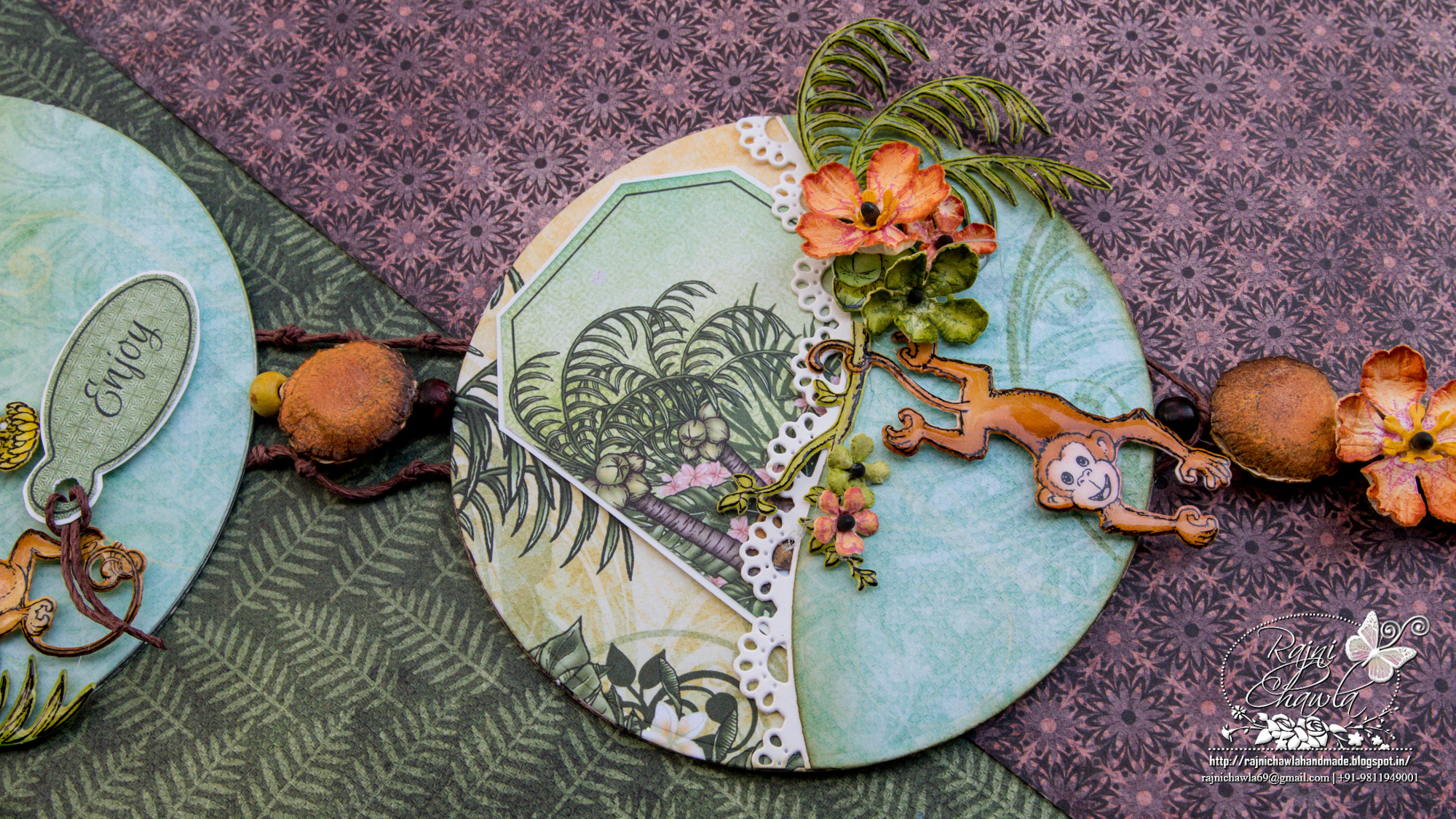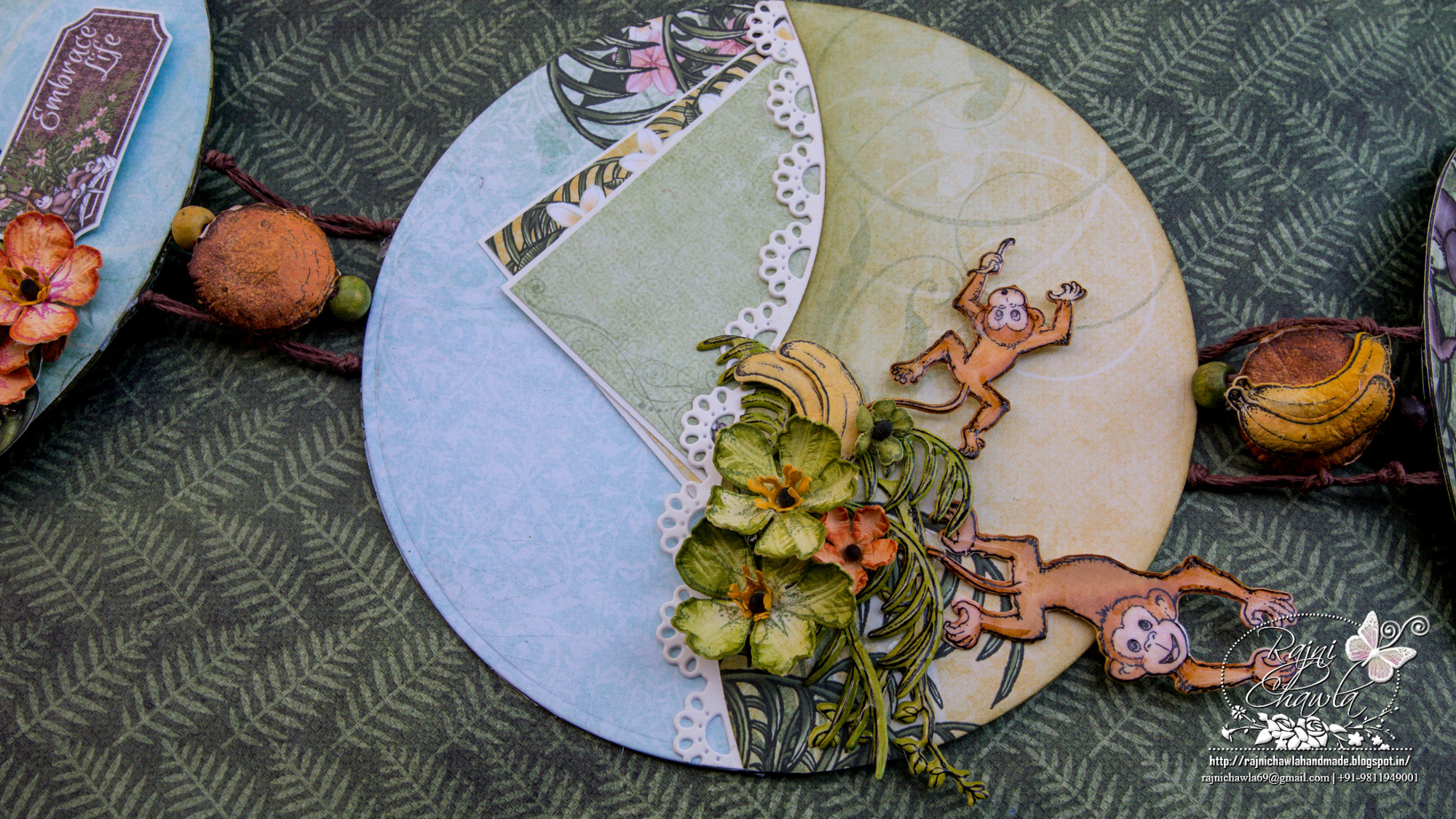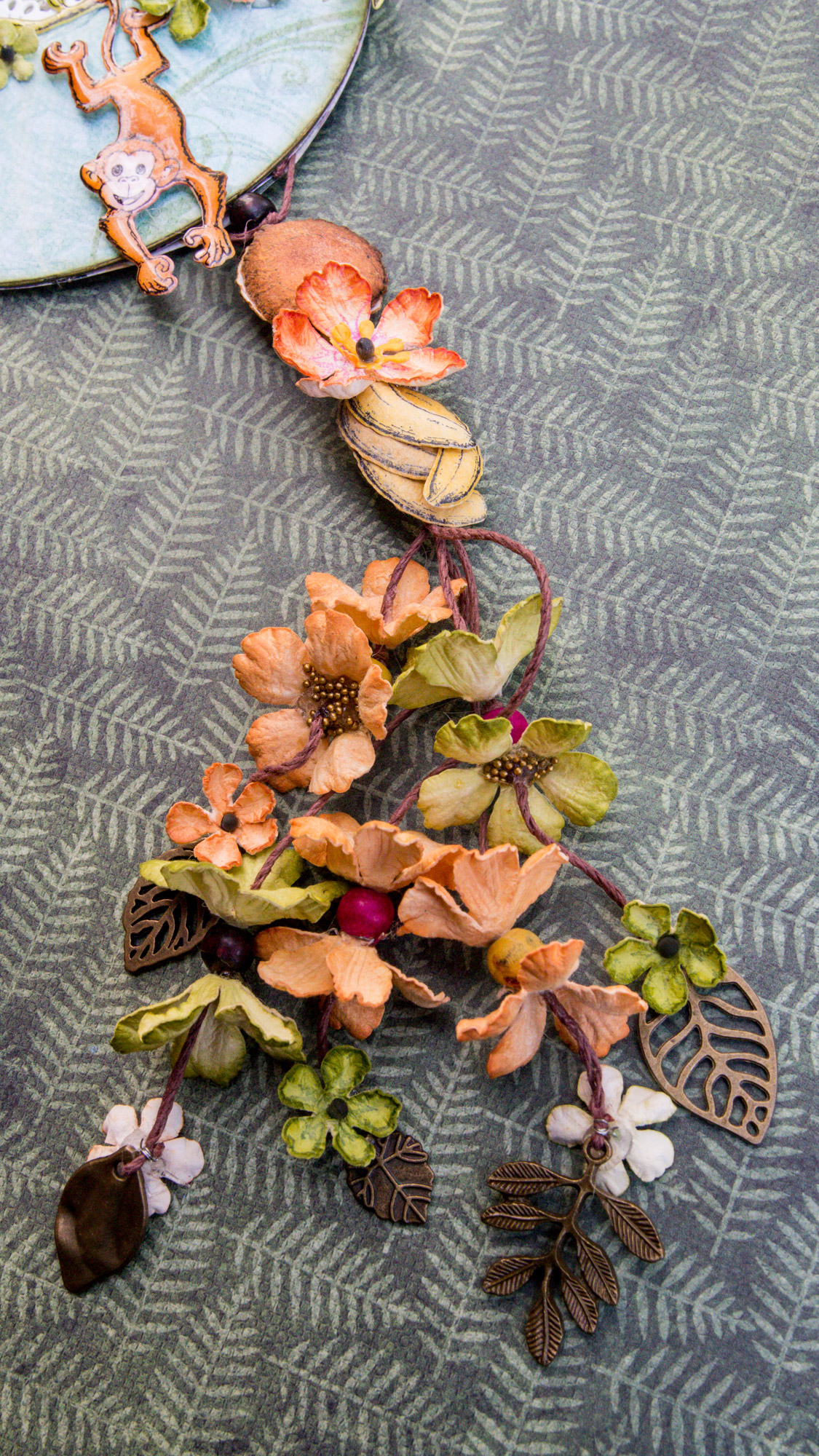 Products from Heartfelt Creations;
Monkeying Around Paper Collection HCDP1-276
Monkey Antics Die HCD1-7134
Monkeying Around Die HCD1-7133
Palm Tree & Monkeys Die HCD1-7132
Monkey Antics Cling Stamp Set HCPC-3779
Monkeying Around Cling Stamp Set HCPC-3778
Palm Tree & Monkeys Cling Stamp Set HCPC-3777
Fleur Border Basics Die HCD1-7120
Wildwood Florals Cling Stamp Set HCPC-3769
Wildwood Florals Die HCD1-7125
Designer Dries Clear Adhesive, 159723
Deluxe Flower Shaping Kit, HCST1-401
Other Products Used: Spellbinders Grand circle die, Distress Inks- Vintage Photo, Peeled Paint, Black chipboard, twine, Hot Glue, Beads, Archival Ink Orange Blossom, Leaf Green, Fern Green, Sunflower Yellow, Black, Plum, Metal Charms, Foam dots.
Instructions: I created this projects by using the circle scrap die cuts that were left creating the Tunnel Album, I shared last week. If you missed checking it, you can check it HERE( http://rajnichawla.com/debuting-monkeying-around-heartfelt-creations/ ). Choose pattern paper from the Monkeying around collection for the back and front of all the circle cut outs. Stick them on the front side and keep the ones cut for back aside for later use. Also, choose the pattern paper to create circular pockets using Fleur Border Die. Paste a white decorative edge on the inside of each circular panel. Create few tags and photo mats from the same paper collection. All the panels are attached from the back using twine with the help of hot glue. In between all the panels, a small foldable joint is created by pasting two embossed coconuts and few embossed bananas back to back keeping the twine in the center and gluing using hot glue. To make it look fancier, I added beads in between. Cover the backs of all panels with designer paper. On the top panel make a loop and attach it to the back of the panel. On the smallest panel attach a hanging created using flower, beads, embossed bananas and coconuts. I kept the project all without glitter and tried giving it a raw look. For embellishing stamp multiple images of a palm tree with Library Green archival ink and color it using Fern Green and Olive Green. Coconuts have been stamped with Coffee brown archival and colored using vintage photo. Bananas are stamped using Coffee Archival and painted using Sunflower Archival ink. Coconuts and Bananas are softly embossed using Deluxe Flower Shaping Kit. Stamp multiple flowers from Wildwood Floral Stamp set with Plum and paint them using Tea rose archival. Shape the flowers using deluxe flower shaping kit. Cut few images from Designer paper using their coordinating dies to make extra embellishments. Stamp few images of hanging monkeys and paint them using Zig Clear Brush Markers. The shades used are..061, 061, 062, 067 and 220. Once all the embellishments are ready, assemble the door hanging creating a monkeying around scene on all the panels.