Good Morning Friends…
Once again it's a new release day at Heartfelt Creations. Thier March release, Cherry Blossom Retreat Collection is up for sales. Beautiful gardens filled with warm rays of sunshine, skies of blue, and trees filled with fragrant cherry blossoms make for the perfect retreat setting, where daydreaming can abound and the stress of everyday life just seems to melt away! Breathing deeply and enjoying the sweetness in the air becomes second nature, as you take in your enchanting surroundings…a decorative wishing well with beautiful vining florals, a whimsical wooden bridge leading to places imagined only in daydreams, and a darling collection of hand carved bird houses that your "tweet" friends serenading you from above call home. Let your imagination wander, and enjoy life at a slower pace, taking time to smell the delicate cherry blossoms with the new Cherry Blossom Retreat Collection from Heartfelt Creations! Enjoy a walk through a refreshing paper collection filled with beautiful springtime hues…grass like greens, pretty blossom pinks, clear sky blues, and charming corals, all encompassed in dreamy petite plaids, dainty polka dots, and elegant lace like accents. An inviting collection of cling stamp sets, along with coordinating dies, await to bring your very own garden oasis to life, filled with elegant garden benches, alluring wishing wells, and sweet springtime songbirds. A delightful assortment of varying sized cherry blossom petals, along with a coordinating dimensional shaping mold, allow for quick and easy assembling of gorgeous, delicate cherry blossoms perfect for all of your spring themed creations! So, join us as we bring a hint of spring to craft rooms everywhere…it's the perfect day for a crafty daydream with the new Cherry Blossom Retreat Collection!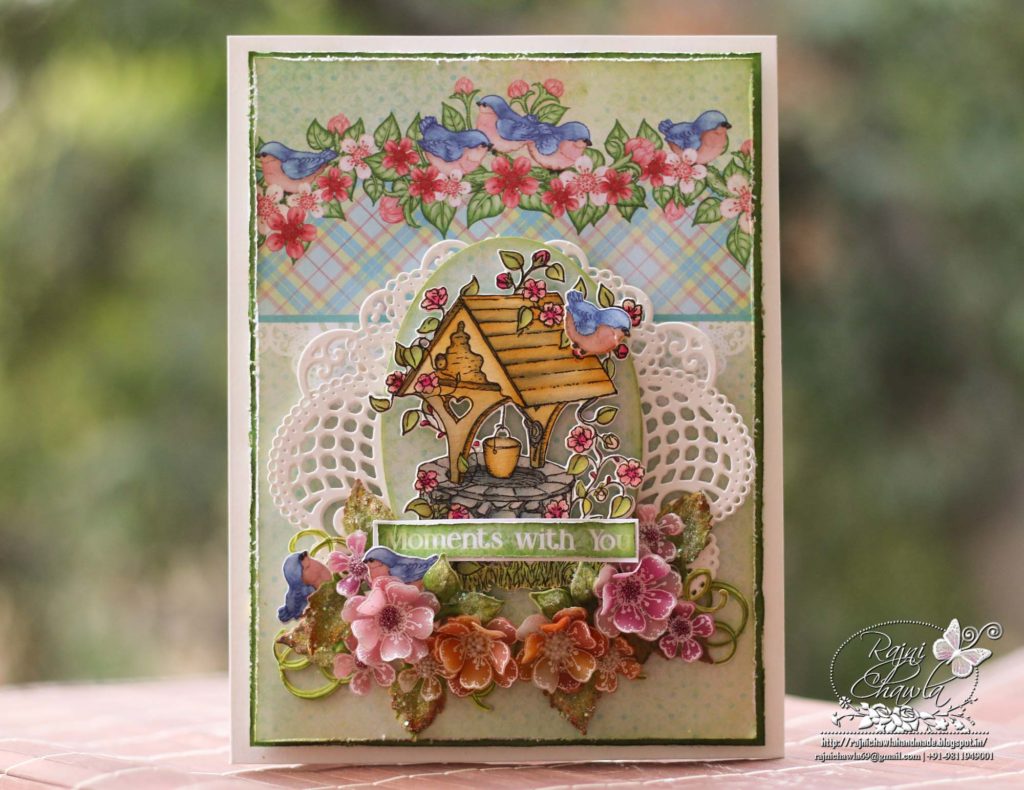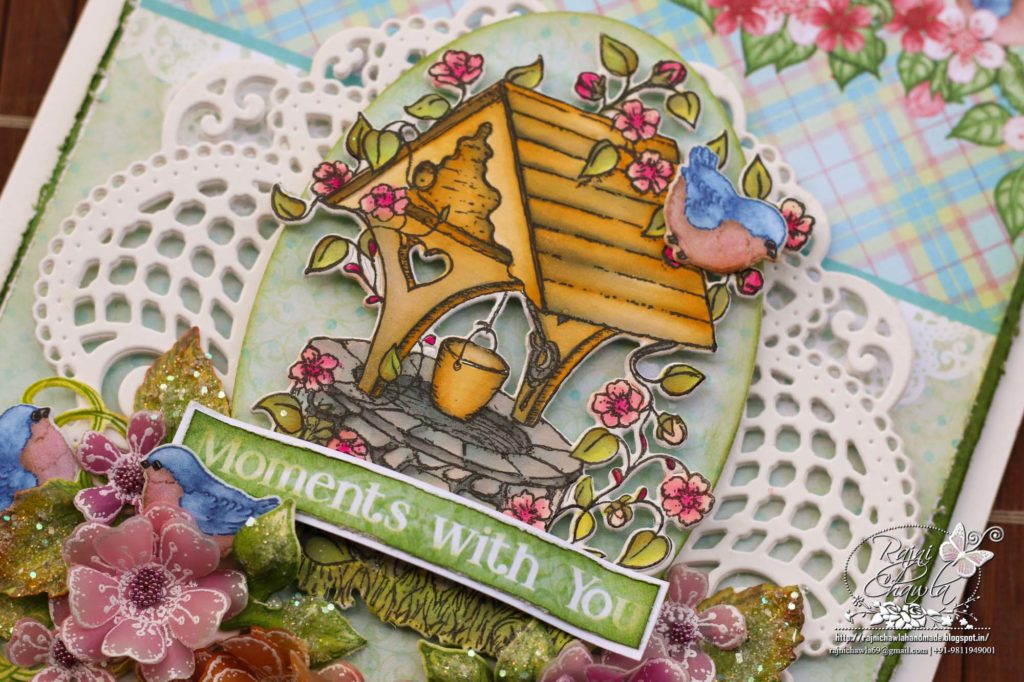 Supplies from Heartfelt Creations:
HCD1-7230 Tweet Cherry Blossoms Die
HCD1-7231 Cherry Blossom Retreat Die
HCD1-7232 Wishing Well Oasis Die
HCD1-7233 Daydreams Bridge Die
HCPC-3866 Tweet Cherry Blossoms Cling Stamp Set
HCPC-3867 Cherry Blossom Retreat Cling Stamp Set
HCPC-3868 Wishing Well Oasis Cling Stamp Set
HCPC-3869 Haven of Daydreams Cling Stamp Set
HCDP1-2100 Cherry Blossom Retreat Paper Collection
HCD1-7110 Classic Rose Die
HCPC-3752 Classic Rose Cling Stamp Set
HCD1-7157 Eyelet Oval & Basics Large Die
EP100 Opaque Embossing Powder – White
478455 Zig Clean Color Real Brush Markers – 36 Pack
409311 Color In Watercolor Brush – Fine
18002 Rajni Chawla's Vellum Flowerite – 10 Sheets
RACP468 Ranger Archival Ink Pad – Jet Black
RACP482 Ranger Archival Ink Pad – Olive
RACP436 Ranger Archival Ink Pad – Leaf Green
RAHT Heat It Craft Tool
CB80 ColorBox Pigment Ink Pad – Frost White
Other Supplies Used: Smooth white cardstock, Paper Distressing tool, Funnel Tray, Die Cutting Machine, Scoreboard, Peeled Paint Distress Ink
Videos Referred:
For more tips on creating with the Cherry Blossom Retreat collection, watch the tutorial at https://youtu.be/OaA2da5H-E0.
Instructions: To create a side fold card measuring 6″ by 7 1/2″, take a cardstock 12″ by 7 1/2″ and score it at 6″ on the longer side. Fold and crease it neatly. Choose a paper from Cherry Blossom Retreat Collection and cut it 5 1/2″ by 6 1/2″ and distress all the edges with peeled paint and further distress it using paper distressing tool. Layer it on the dark green pattern paper and further layer it on the ready cardstock.
Stamp the image from Wishing Well Oasis Cling Stamp Set with black archival ink on white cardstock and then cut them using their coordinating dies. Color the image using Zig Clean Clear Brush Markers and stack 2 extra die cuts for strength and dimensions. Cut the largest oval using Eyelet Oval & Basics Large Die and layer the image on oval white die cut using foam dots.
Cut the 2 die cuts from Daydreams Bridge Die and slit it from the center. Layer it on the ready card base as shown and adhere the painted panel in the center.
For Vellum Cherry Blossoms, stamp the florals from Tweet Cherry Blossoms Die with frosting white color box ink on vellum sheet and heat emboss it using white heat embossing powder. Next die cut the flowers and color them using distress oxides., Spiced Marmalade and Seddless Preserves. Shape them on the needle tool , glue 2 flowers os same size to form acomplete flower.and add flower centers. Stamp the leafy vines from Classic Rose Stamp Set with Olive Green Archival ink and cut them using its coordinating die. Color them using leaf green and Olive green and shape them using Rose Shaping Mold.
Once all the elements are ready, assemble the card as shown and finish the card by adding sentiment from the paper collection and by adding Rajni Chawla's Crystal clear glitter to the flowers and leaves using adhesive that dries clear.