Good Evening all…
Today, I am on Papericious blog. Papericious is celebrating its 2nd Birthday this month and they have organized lots of fun games and  challenges to celebrate  through out this month. To continue the celebrations and festivities, this month challenge is all about Birthdays!
Hop on to their blog to find about more details about the challenge.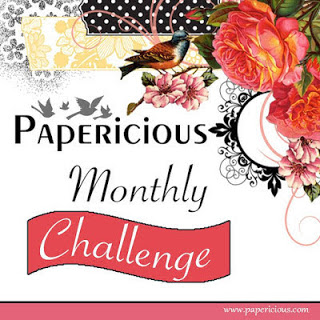 I created a mix media Birthday Card for Paperecious. The various textures are first formed using stips from Perfect Affair paper pack. Tone down the color with white gesso and build layers of blue shades.Once happy with the background, I stamped it randomly with grunge stamps and splattered diluted white and black gesso. To embellish the card, I have created layers using fussy cut images from the paper pack, Papericious chippies, and DCAM Tag die cut outs and also added some sparkling frosty look with frosting powder. The sentiment is from Mft label Love.