Good Morning Friends…
Back again with Wednesday inspiration using Heartfelt Creation's Cherry Blossom Retreat Collection. I have a top fold window card using the same and Papericious Vellum.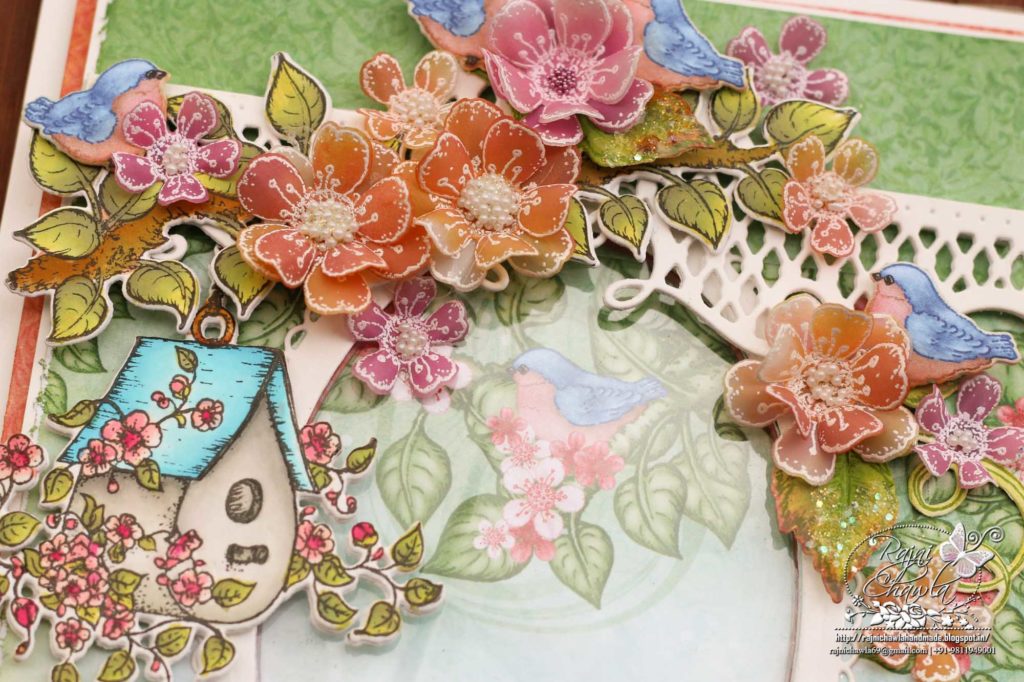 Supplies from Heartfelt Creations:
HCD1-7230 Tweet Cherry Blossoms Die
HCD1-7231 Cherry Blossom Retreat Die
HCPC-3866 Tweet Cherry Blossoms Cling Stamp Set
HCPC-3867 Cherry Blossom Retreat Cling Stamp Set
HCDP1-2100 Cherry Blossom Retreat Paper Collection
HCD1-7212 Petite Pocket Accents Die
HCD1-7110 Classic Rose Die
HCPC-3752 Classic Rose Cling Stamp Set
HCD1-7157 Eyelet Oval & Basics Large Die
EP100 Opaque Embossing Powder – White
478455 Zig Clean Color Real Brush Markers – 36 Pack
409311 Color In Watercolor Brush – Fine
18002 Rajni Chawla's Vellum Flowerite – 10 Sheets
RACP468 Ranger Archival Ink Pad – Jet Black
RACP482 Ranger Archival Ink Pad – Olive
RACP436 Ranger Archival Ink Pad – Leaf Green
RAHT Heat It Craft Tool
CB80 ColorBox Pigment Ink Pad – Frost White
Other Supplies Needed: Smooth white cardstock, Paper Distressing tool, Funnel Tray, Die Cutting Machine, Scoreboard, Peeled Paint Distress Ink, Peeled Paint and seedless Preserves and Spiced Marmalde distress oxides.
Videos Referred:
For more tips on creating with the Cherry Blossom Retreat collection, watch the tutorial at https://youtu.be/OaA2da5H-E0.
Instructions: The ready top fold card from white card stock measures 6′ by 7 1/2″. To create the top panel, choose a green color paper from the designer paper collection and cut 2 pieces measuring 2″ by 5″ and a scienic paper measuring 2 1/2″ by 5″. Layer this paper using foam tapes keeping one piece of green pattern paper on top and the other on the bottom side as shown in the picture. Layer the complete panel on white cardstock making a border of 1/16″ of an inch on all the four sides.
Cut an oval frame from a white smooth white cardstock by nesting outer 2 dies from Eyelet Oval and Basic Large Die. Glue the frame as shown by adding dimensions using foam dots. Next, glue the white die cuts from Petite Pocket Accents Die, covering the frame as shown in the picture.
Stamp the images from Cherry Blossom Retreat Cling Stamp Set with black archival ink on white cardstock and color them using Zig Clean Clear Markers. Next, cut the painted images using their coordinating dies. Stacjk an extra die cut for extra strength.
For Vellum Cherry Blossoms, stamp the florals from Tweet Cherry Blossoms Die with frosting white color box ink on vellum sheet and heat emboss it using white heat embossing powder. Next die cut the flowers and color them using distress oxides., Spiced Marmalade and Seedless Preserves. Shape them on the needle tool, glue 2 flowers os same size to form a complete flower. and add flower centers. Stamp the leafy vines from Classic Rose Stamp Set with Olive Green Archival ink and cut them using its coordinating die. Color them using leaf green and Olive green and shape them using Rose Shaping Mold.
Once all the elements are ready, assemble the card as shown and finish the card by adding a sentiment from the paper collection and by adding Rajni Chawla's Crystal clear glitter to the flowers and leaves using an adhesive that dries clear. Also add die cut birds from the paper collection as an extra accent.