Good Morning friends…
Welcome back to Wednesday Inspiration for Heartfelt Creations. Past 3 months I have been designing Christmas Projects for Heartfelt Creations. Today I tried back some Lilies and created a card. I loved how it turned out.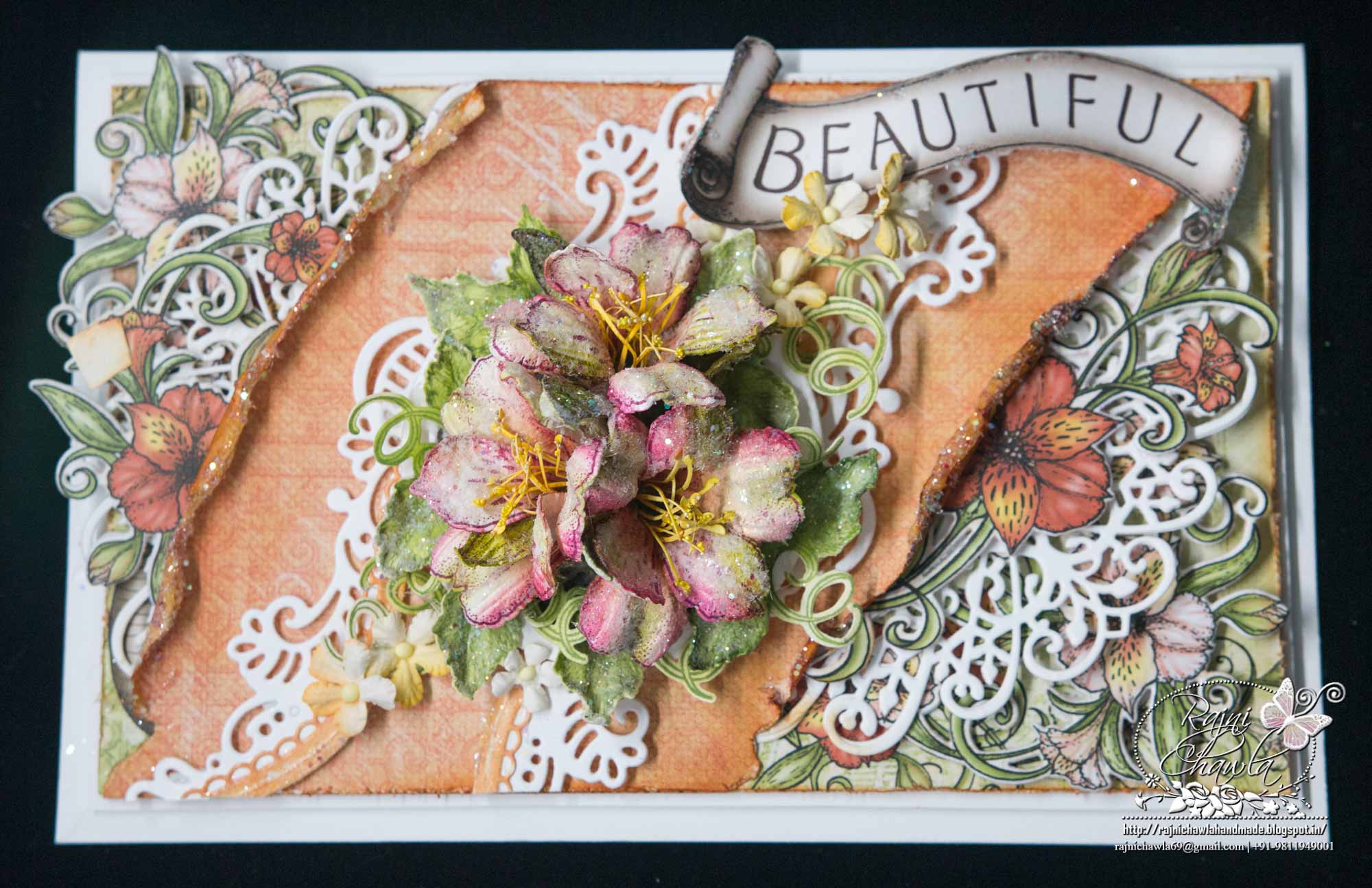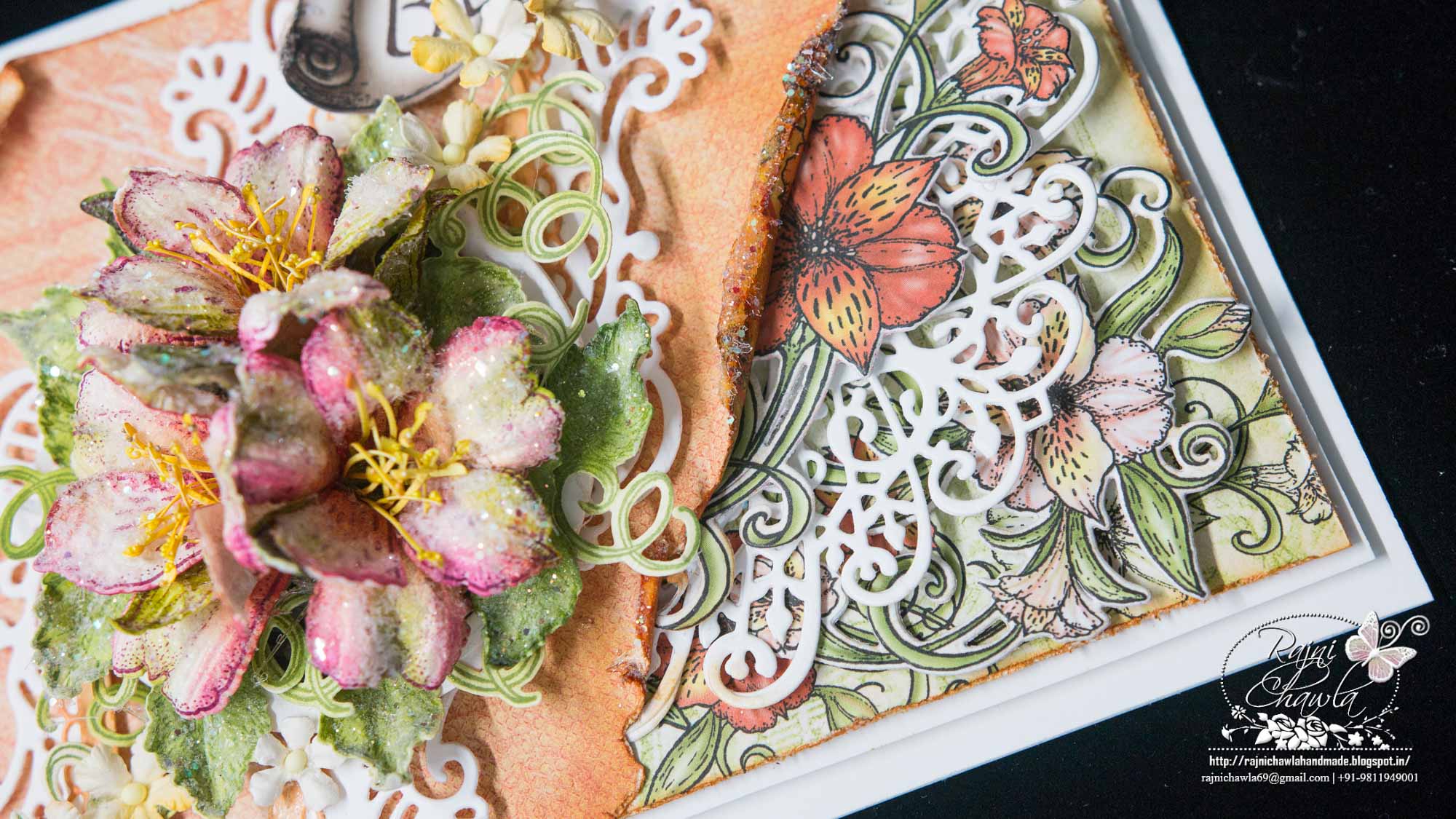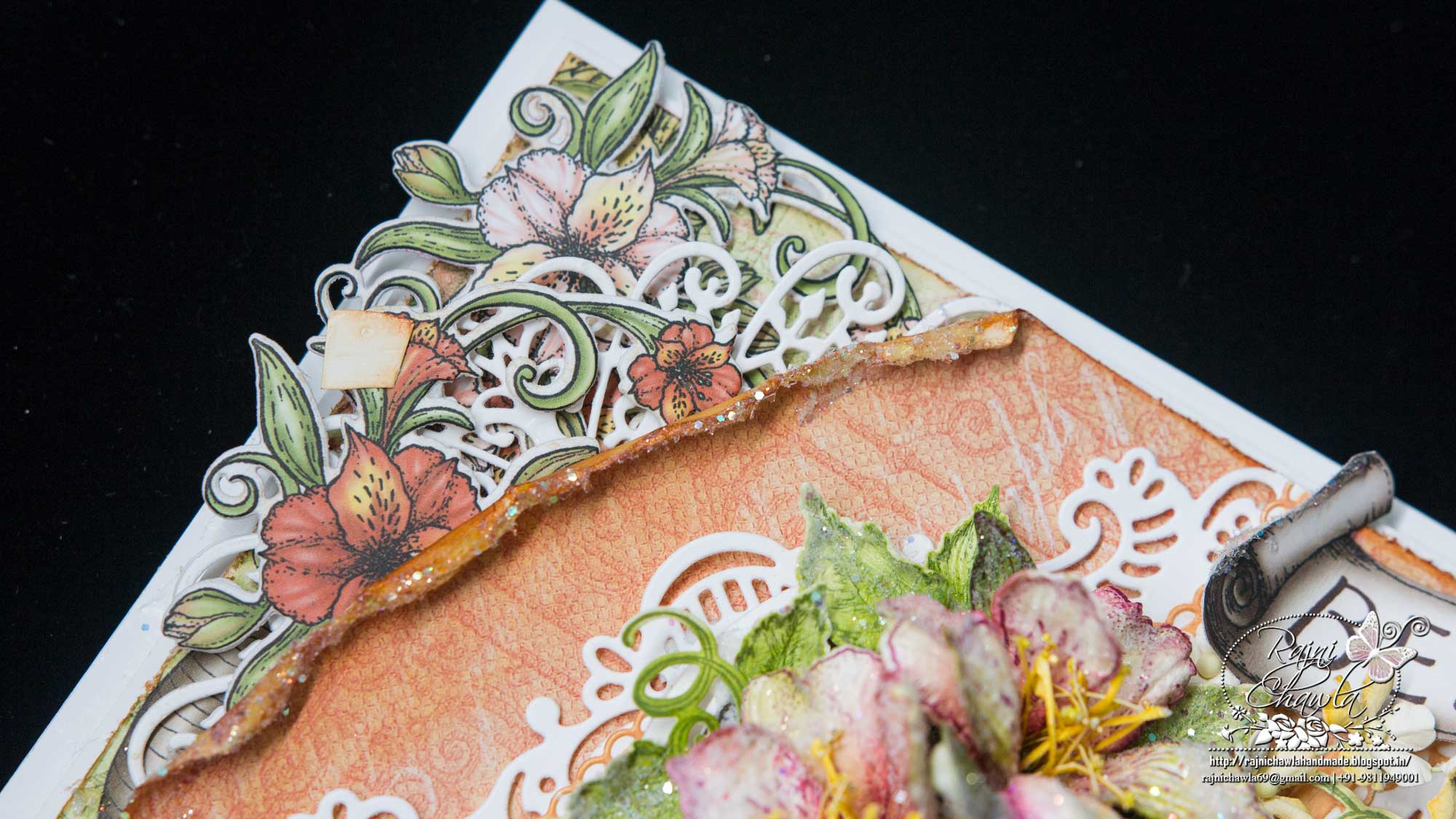 Products from Heartfelt Creations:
Sunrise Lily Paper Collection HCDP1-263
Sunrise Lily Swirls Die HCD1-788
Sunrise Lily Cling Stamp Set HCPC-3720
Sunrise Lily Die HCD1-787
Decorative Medallion Die HCD1-7144
Delicate Border Basics Die HCD1-7118
Classic Border Basics Die HCD1-7119
Classic Rose Die HCD1-7110
Classic Rose Cling Stamp Set HCPC-3752
Rajni Chawla's Frosting Powder PGM15016
Rajni Chawla's Crystal Clear PGM15015
Stack and Store Daubers-Pack of 30 HCDA2-450
Go Man Go Prills ANC818
Designer Dries Clear Adhesive 159723
Deluxe Flower Shaping Kit HCST1-401
Other Products Used: Archival inks Plum, Leaf green, Fern Green, Magenta Hue, Library Green, Spiced Marmalade Distress Ink, Foam tape
Instructions: The ready top fold card measure 8″ by 51/2 ". Choose the pattern paper and tear diagonally as shown. Layer it on another piece of pattern paper. Arrange 2 white die cuts of Decorative Medallion die under the top layer as shown. Also, cut the images from the designer paper collection using their coordinating dies and arrange them on both the sides of the card. Cut 2 pieces of white decorative borders from Classic Border die and 2 pieces using Basic Border Dies. Distress the die cut using Spiced Marmalade and arrange them diagonally on the top panel.
For flowers, stamp the Lilies with Plum archival ink, cut them using coordinating dies and paint them using Magenta Hue and Fern Green archival ink. Shape the flowers using Deluxe Flower Shaping Kit. Leaves from Classic Rose Collection are stamped with Library Green, painted using Leaf Green and Fern Green and shaped using Deluxe Flower Shaping Kit. Add prills on the stamens and add little Frosting Powder and Crystal Clear. Assemble the card as shown and finish the card by adding a sentiment from Classic Rose Collection.