Good Morning all….
It's Heartfelt inspiration day again. Continuing with Burst of Spring Collection, I have a simple, yet beautiful card to share. I have mainly focused on the detailed painting of the stamped images and the background which I created using the small diamond die from their latest Lacy Daimond Die Set. It's so versatile. I love love creating this backdrop for my card.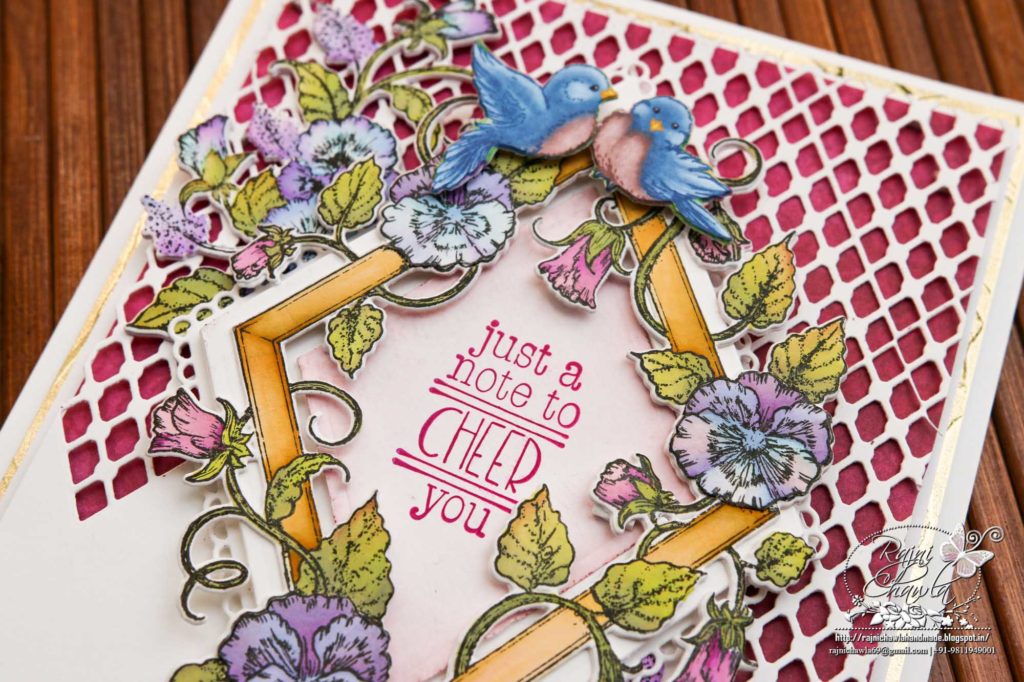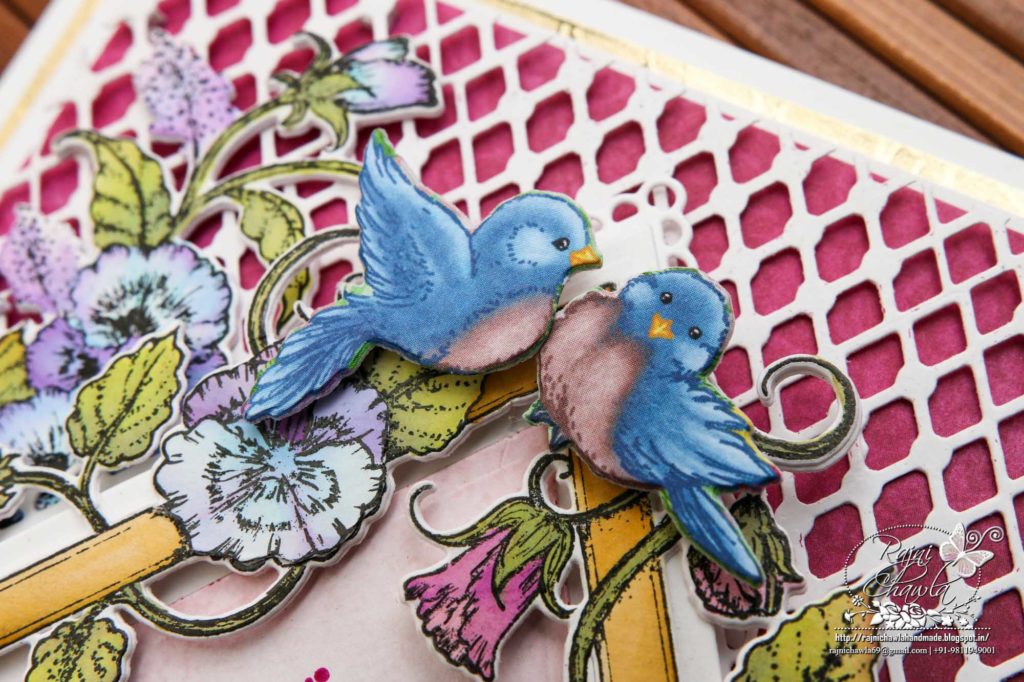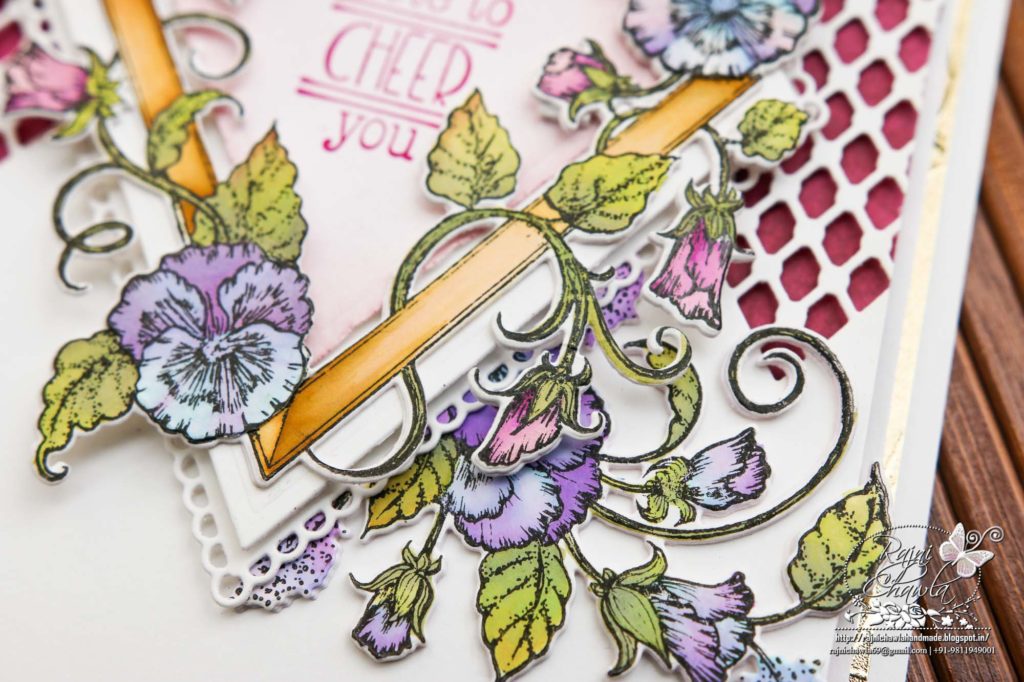 Supplies from Heartfelt Creations:
HCD1-7224 Delicate Pansy Spray Die
HCD1-7225 Petite Pansy Frame Die
HCPC-3864 Delicate Pansy Spray Cling Stamp Set
HCPC-3865 Petite Pansy Frame Cling Stamp Set
HCDP1-299 Burst of Spring Paper Collection 
HCD1-7226 Diamond Basics Die
HCD1-7227 Eyelet Diamond Die
HCD1-7228 Lacy Diamond Die
HCDP1-287 Lush Lilac Paper Collection
HCD1-7168 Songs of Spring Die
478455 Zig Clean Color Real Brush Markers – 36 Pack
409311 Color In Watercolor Brush – Fine
TSSZ82 StazOn Ink Pad – Fuchsia Pink
RACP468 Ranger Archival Ink Pad – Jet Black
Other Supplies Used: Smooth white cardstock, Foam Dots, Golden Mirror sheet, Die Cutting machine and Scorboard.
Videos Referred:
For more tips on creating with the Burst of Spring collection, watch the tutorial at https://youtu.be/_8WJPTKIUlQ.
Instructions: The ready side fold card from smooth white cardstock measures 6′ by 7 1/2′. To create the top panel, cut a piece of white cardstock measuring 5″ by 6 1/2″. Create an all over background using the small diamond die from the set of Lacy Diamond Die, using it multiple times. Once happy with the background layer the panel on dark pink pattern paper from the paper collection. Further add a layer of white cardstock 1/16′ larger on all the sides. Also create an extra layer by adding golden mirror sheet to the panel. Finally glue the panel to the ready card base.
Stamp the images from Petite Pansy Frame Cling Stamp Set and Delicate Pansy Spray Cling Stamp Set on smooth white cardstock using black archival ink. Cut the images using its coordinating dies and color them using Zig Clean Clear Markers.
Using Diamond Basic Die and Lacy Diamond Die, cut a frame from white cardstock and layer it on the card panel as shown.
Using Songs of Spring Die, cut a pair of birds from the Lush Lilac paper collection and a pair of birds from the white cardstock. Glue the. together to add little strength. Layer these chirping birds as shown. Also snip already colored image in two halves that we created using Delicate Pansy Spray Cling Stamp Set. Arrange the image as an extra accent to the panel on left up corner and right bottom corner as shown. Finish the card by stamping sentiment from the Cheerful Note Sentiments Cling Stamp Set
to finish the card.