Good morning friends….
Once again it's that time of the month when, we at Heartfel Creations bring you new collection. Today, we are debuting their May release, Backyard Blossom Collection.
Summer brings with it the excitement of a new gardening season, lounging in the open expanse of the backyard and enjoying the beauty of favorite perennial blossoms dancing gently in the warm summer breeze! Among those returning favorites are the attractive, butterfly loving coneflower! Bright and colorful, these pretty flowers come dressed in a wide variety of hues and quietly display their domed centers and soft delicate petals against the backdrops of ornamental grasses and other decorative backyard plantings! Come along with us as we welcome back the summer season with a walk through the Backyard Blossoms Collection by Heartfelt Creations! Brilliantly hued, and filled with a good dose of summer sunshine, the fabulous paper collection showcases happy shades of bright yellows, pretty pinks, luscious lavenders and glorious greens and showcases lovely lace like patterns, elegant swirls and bountiful coneflower blossoms! Included in this jubilant and cheerful assembling are three exquisitely illustrated cling stamps sets with coordinating dies ideal for all of your summer themed paper craft creations! From large coneflower images, ornamental grasses, to smaller backyard blossom accents, these dynamic illustrations are ideal for creating your very own dimensional flower gardens as focal points on card fronts or as accents on scrapbook layouts! So grab your lounge chair, slather on the sunscreen and join us as we kick back and relax in the backyard enjoying our favorite backyard blossoms!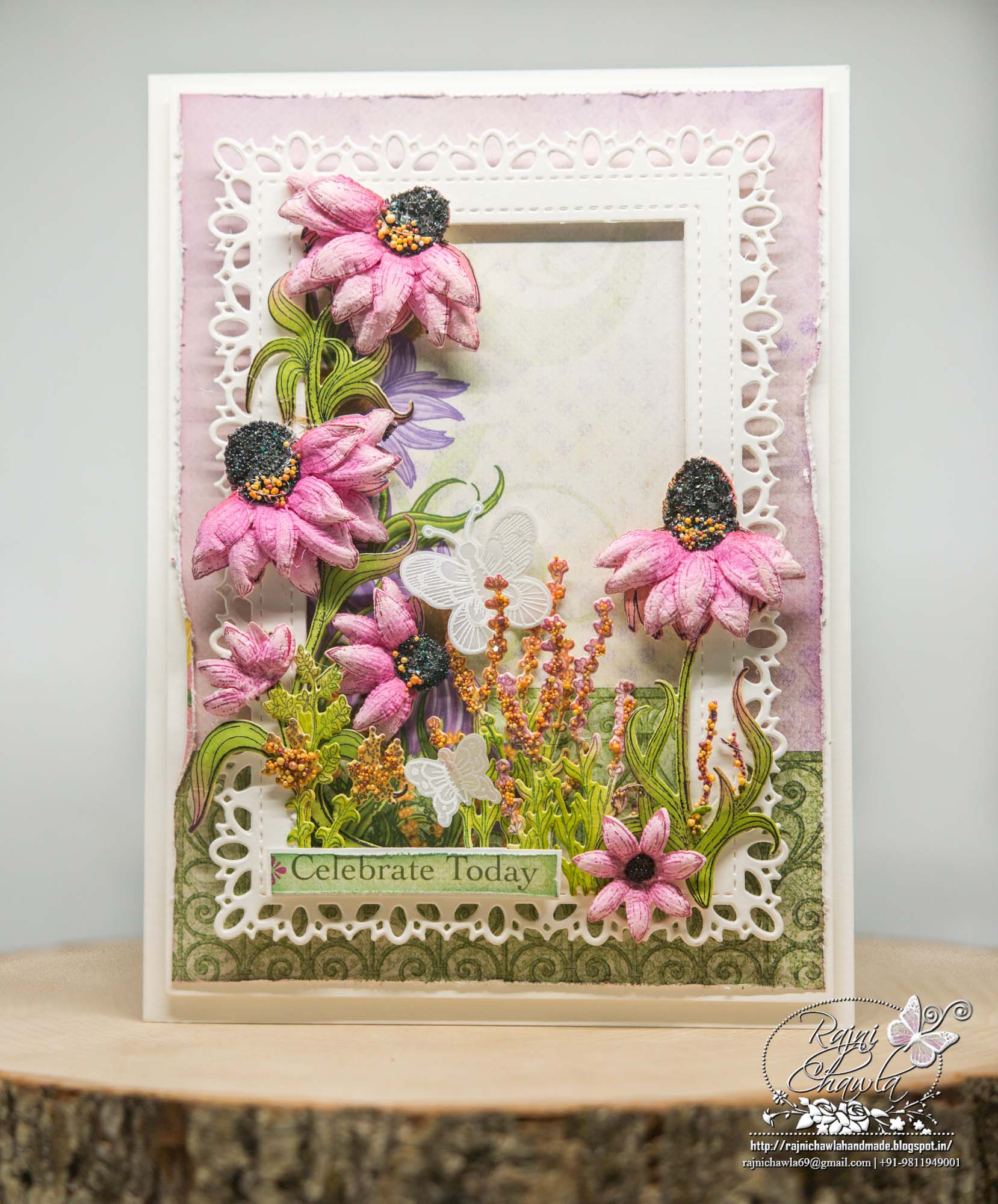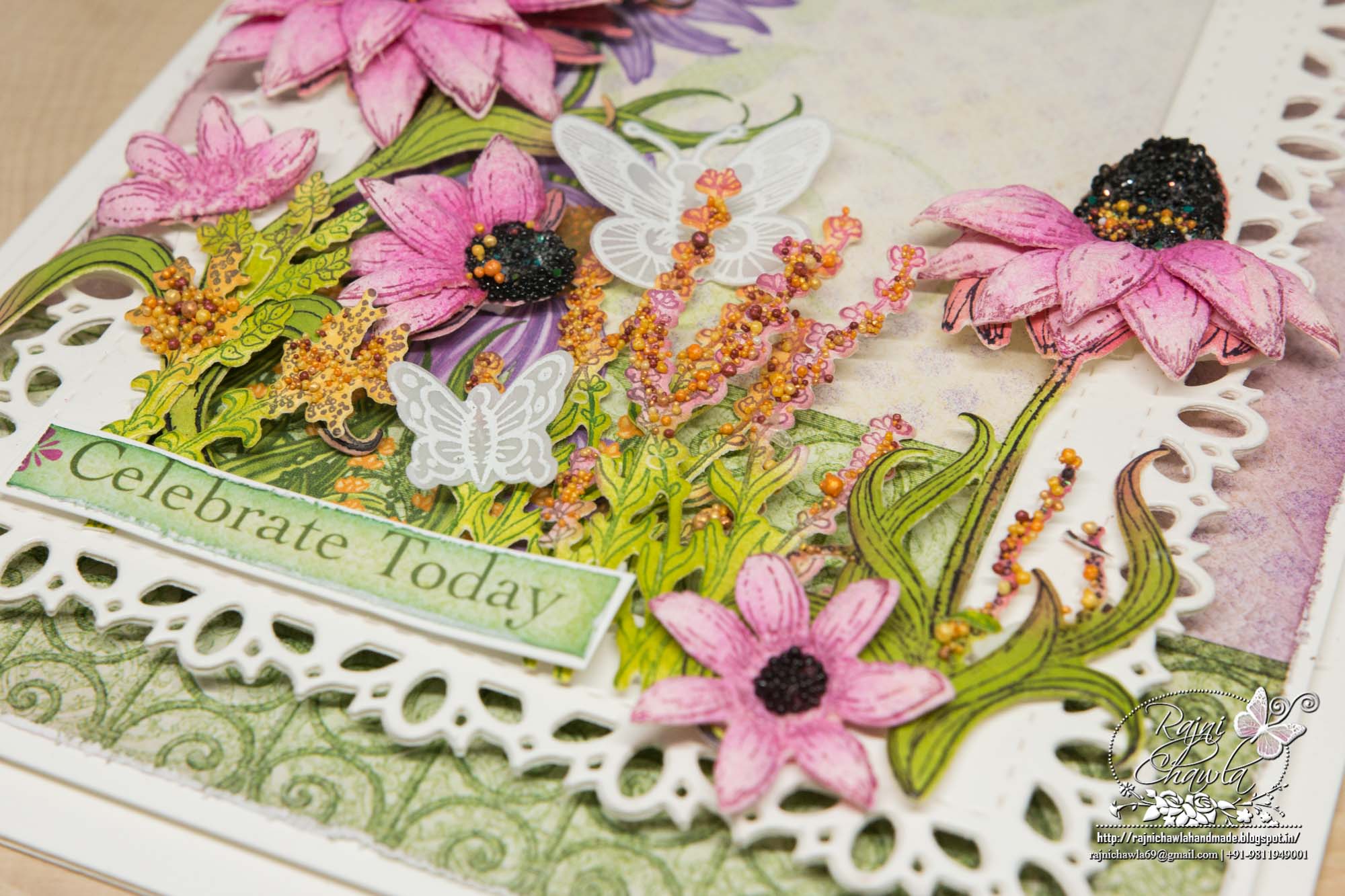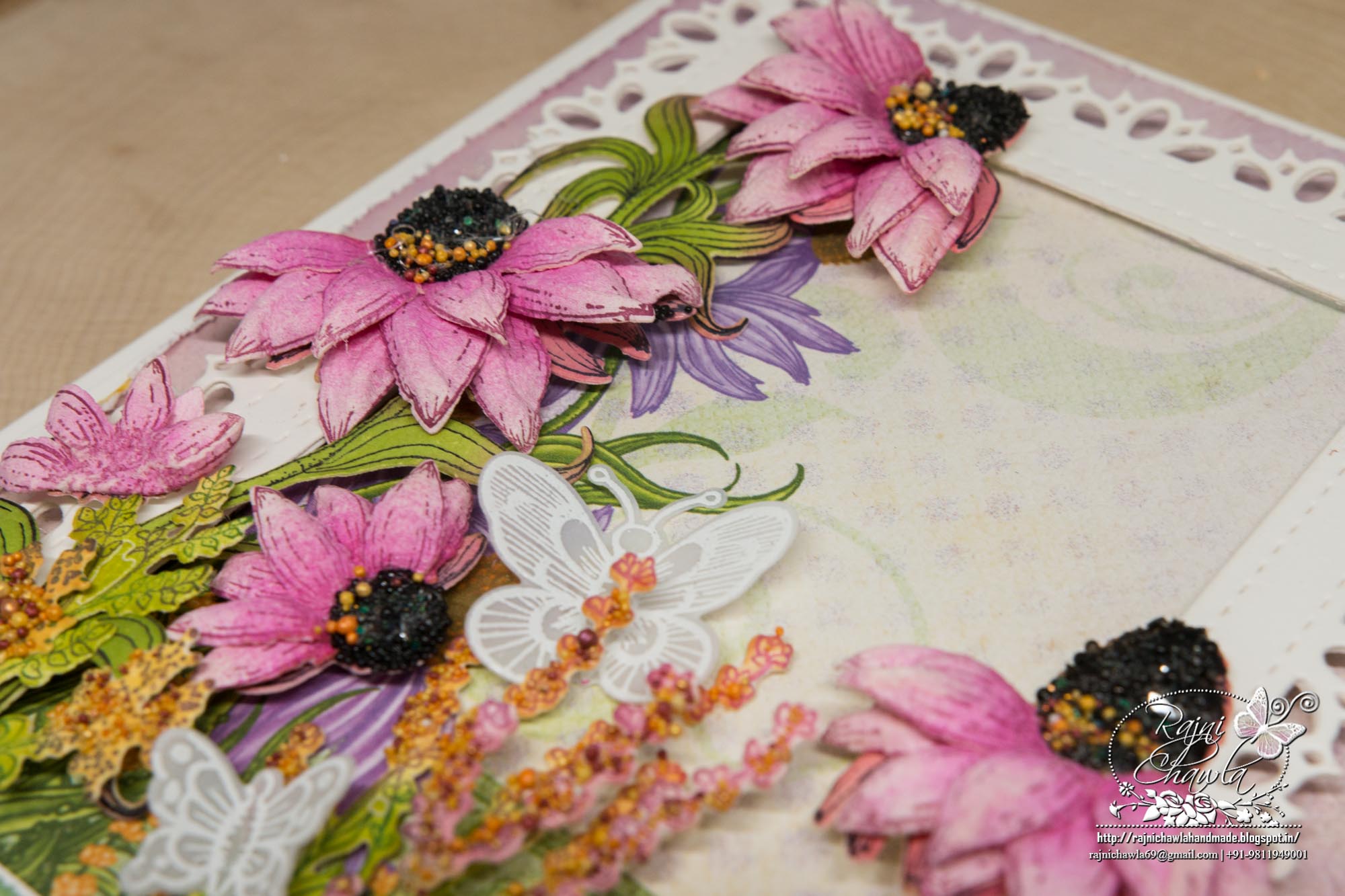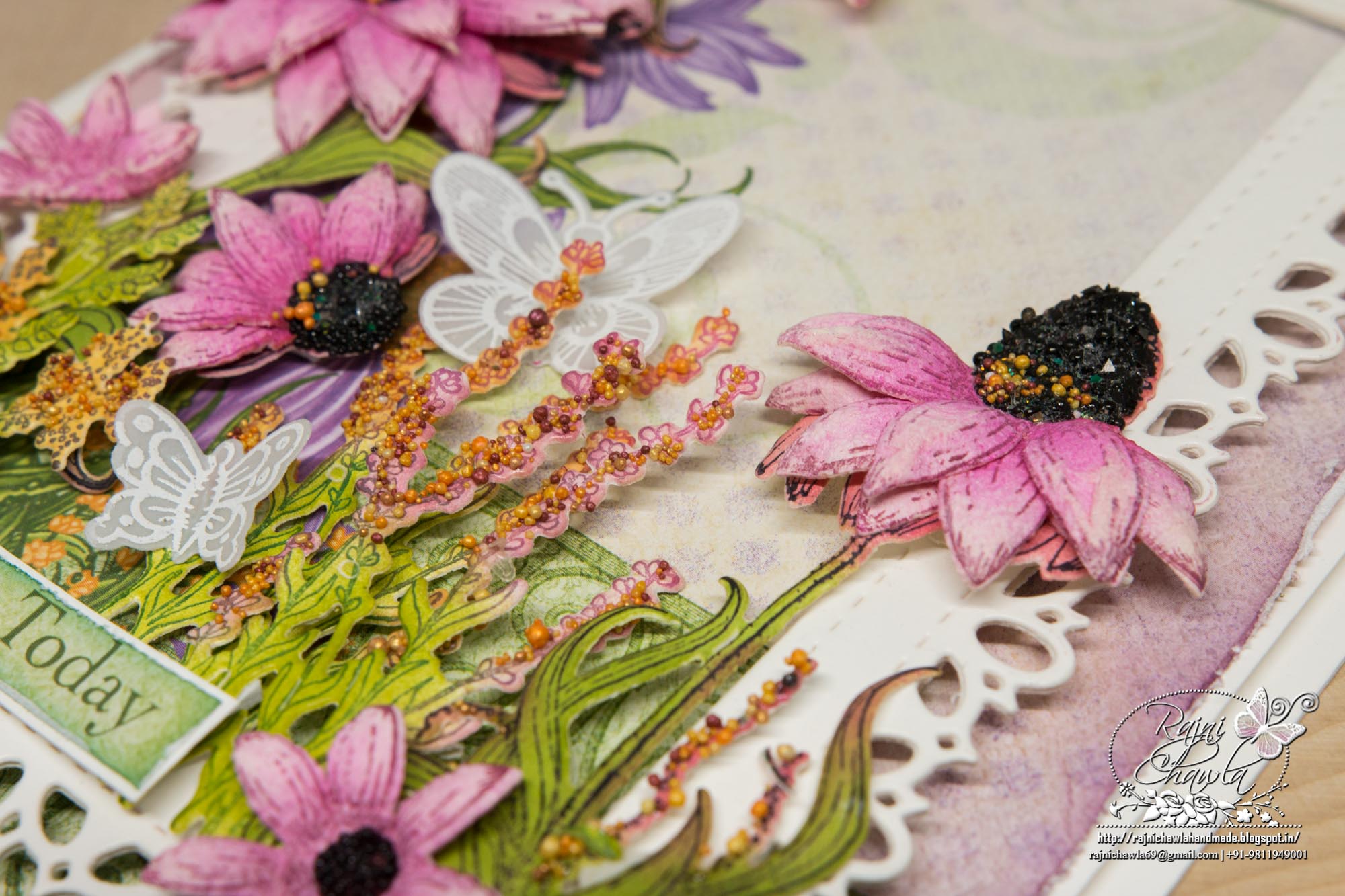 Supplies from Heartfelt Creations:
HCD1-7180 Blossoming Coneflower Die
HCD1-7181 Backyard Blossoms Die
HCD1-7182 Garden's Edge Coneflower Die
HCPC-3826 Blossoming Coneflower Cling Stamp Set
HCPC-3827 Backyard Blossoms Cling Stamp Set
HCPC-3828 Garden's Edge Coneflower Cling Stamp Set
HCDP1-290 Backyard Blossoms Paper Collection
HCD2-7191 Intricate Swirl Frames Die
HCD1-753 Classic Sunflower Die
HCPC-3626 Classic Sunflower Cling Stamp Set
HCD1-759 Butterfly Medley Die
HCPC-3650 Butterfly Medley Cling Stamp Set
RACP499 Ranger Archival Ink Pad – Plum
RACP614 Ranger Archival Ink Pad – Magenta Hue
RACP638 Ranger Archival Ink Pad – Rose Madder
RACP962 Ranger Archival Ink Pad – Fern Green
RACP436 Ranger Archival Ink Pad – Leaf Green
RPEJ685 Embossing Powder – White
Deluxe Flower Shaping Kit
HCST1-401Designer Dries Clear Adhesive
ANC850 Spring Bling Prills – 12 Pack
Other Supplies used: Papericious Vellum, Crystal Clear Powder, Versamark Ink, Heat Tool., Foam Dots.
Videos Referred: For more tips on creating with the Frame a Card Leafy Borders, watch the tutorial at https://youtu.be/K_1152Kd2Ls.
For more tips on creating with the Backyard Blossoms collection, watch the tutorial at https://youtu.be/swO34-n1HNc.
Instructions; The ready side fold card measures 6″ by 8″. For top panel choose the paper from Backyard Blossom Paper Collection and cut the size measuring 5 1/2″ by 7 1/2″. Distress the edges with the help of a distressing tool or sharp scissors. Glue it on a white cardstock,1/8th of an inch larger than the distressed panel and further layer it on the card base.
Cut a frame by stacking Intricate Swirl Frames Die from white cardstock. Layer it on the ready card panel.
Stamp 2-3 images from Backyard Blossoms Cling Stamp Set and Garden's Edge Coneflower Cling Stamp Set on white cardstock and cut them using their coordinating dies. Once cut, paint them using Leaf Green, Fern Green Archival, and Rose Madder. With the help of sponge, apply adhesive that dries clear and sprinkle prills. Dust extras and leave it to dry.
For Coneflowers: Stamp images from Blossoming Coneflower Cling Stamp Set and Backyard Blossoms Cling Stamp Set and Garden's Edge Coneflower Cling Stamp Set with black archival ink and color them using Fern Green and Leaf Green Archival inks. Next, stamp n cut few images of flowers from Classic Sunflower stamp n die set and color them using Rose madder and Magenta Hue. Shape the flowers using Deluxe Flower Shaping kit. Cut the petals in half and layer them together to create a half flower. Now glue these flowers on the colored coneflowers and trim extra stamped image that is hanging out.Add a glossy accent to the cone center and add black color prills.Dust extras and set them aside for drying.
Vellum Butterflies: Stamp the images from Butterfly Madley Cling stamp set with Versamark on Papericious Vellum sheet and sprinkle White heat embossing powder. Heat set it with the heat tool and cut them using its coordinating die. Once all the elements are ready, assemble the card as shown, giving some dimensions to all the embellishments. Add Crystal Clear glitter to further enhance the card and add a sentiment from the paper collection to complete the card.