Good Morning all!!
There's nothing better than sharing time with your four legged fur baby, soaking in the adoration found in their bright eyes, the love displayed through their wagging tails and those endless supplies of slobbery kisses!  Whether you're enjoying the antics of a young energy filled and mischievous puppy or the relaxed and laid back company of an older furry friend, you are sure to fall in love with the new Pampered Pooch Collection by Heartfelt Creations!  This newest paper collection is filled with adorable fun loving illustrations of heartwarming pooches, their favorite treats, and pretty floral touches all set against beautiful shades of denim blues, grassy greens, chocolate browns and crisp creams.  The four captivating cling stamp sets include charming illustrations of man's best friends at play, sitting pretty and even causing just a slight paw-full of trouble.  These adorable images have been coupled with a multitude of sentiments perfect for so many different occasions and are ideal for the young and the young at heart!  Cute dimensional pooch-themed embellishments such as doggie bone shaped treats, paw prints, collars and of course a collection of fun-loving furry friends themselves are easy to achieve when pairing the coordinating cling stamps and die combinations. So relax, get creative and celebrate great memories of canine friends both past and present, create a little something special for that puppy adoring friend who's going through a "ruff" time, or simply lay back and bask in the joy of life as our wet nosed, fur-covered friends do as we share with you the Pampered Pooch Collection…drool not included!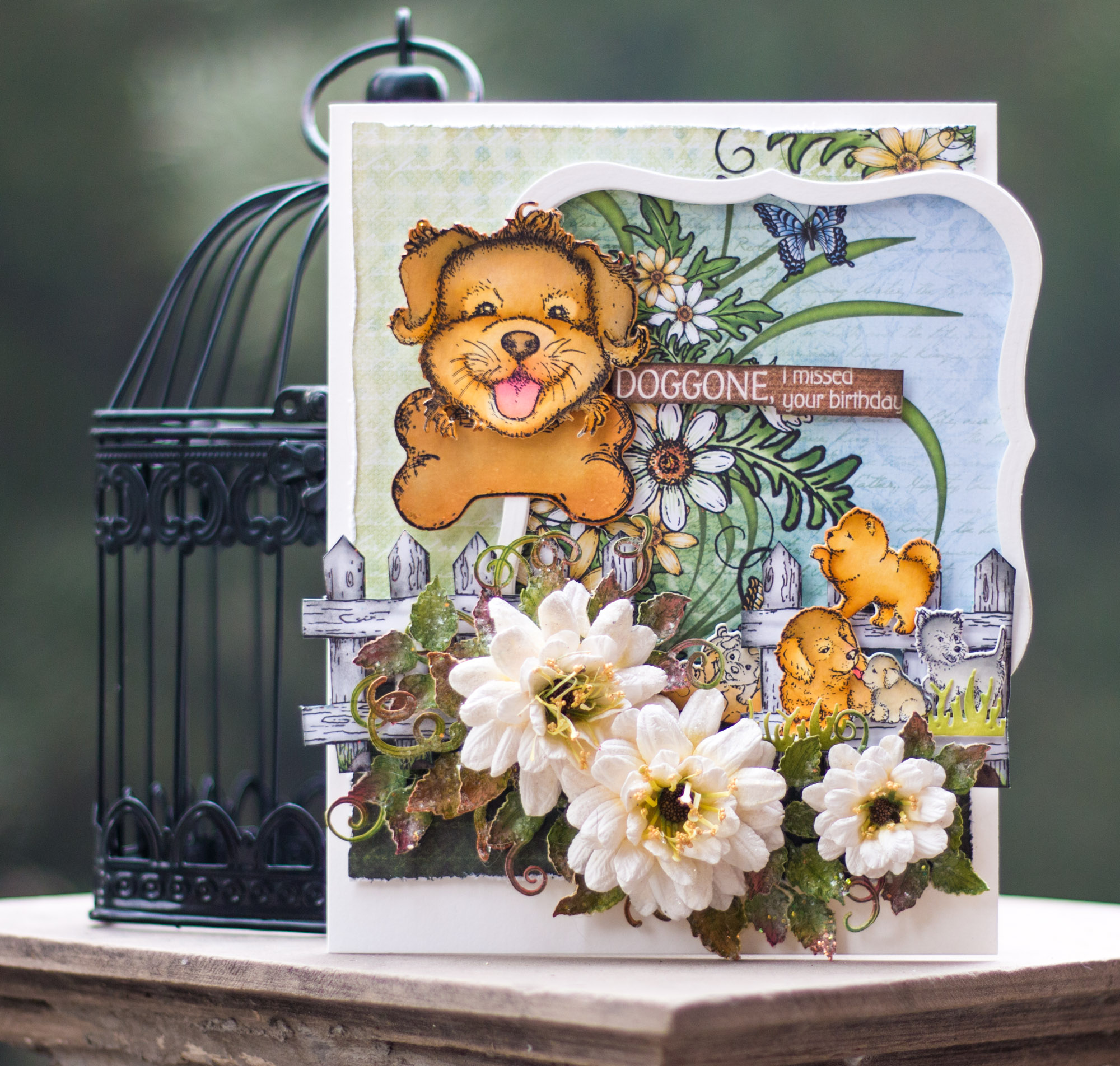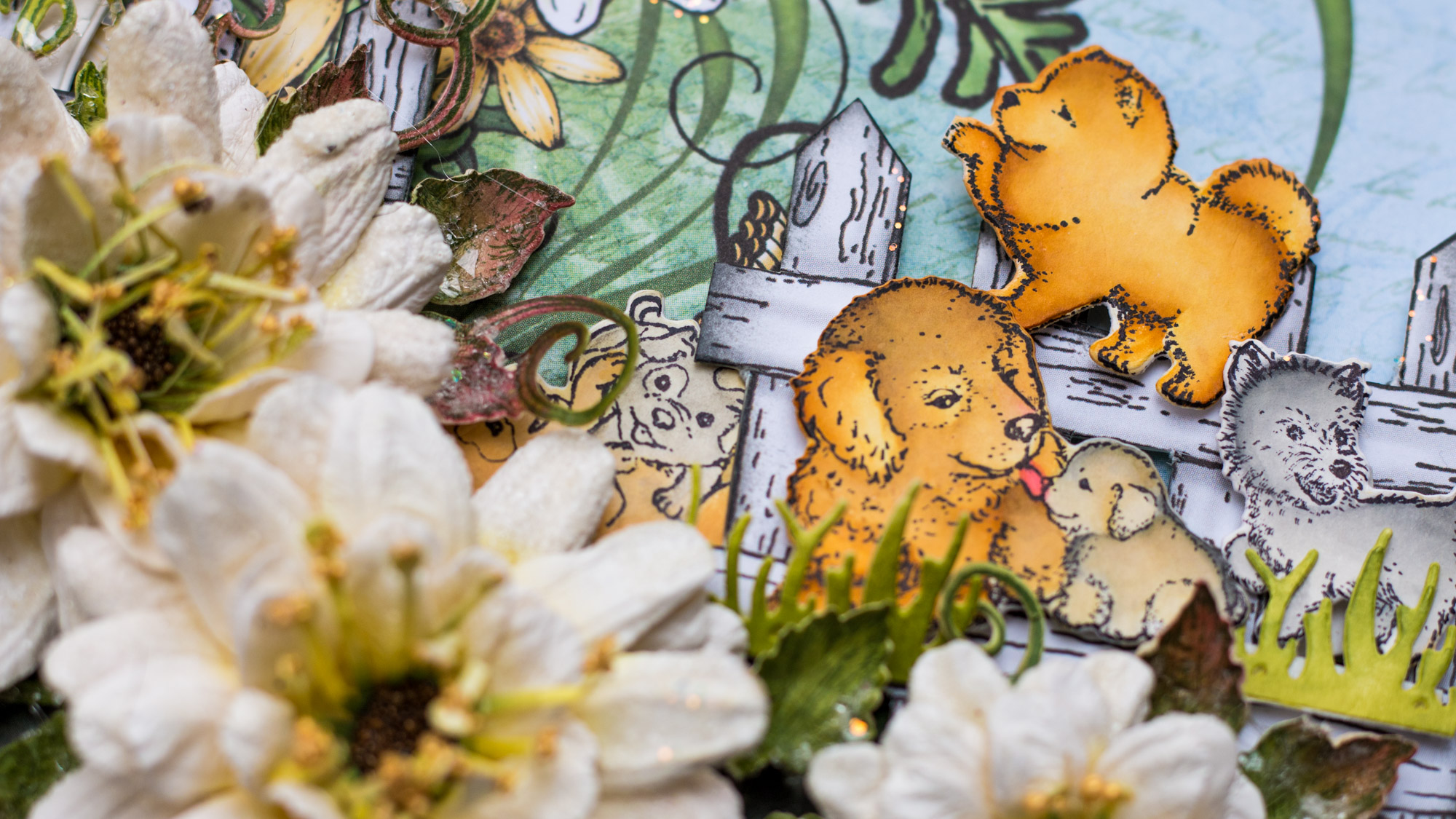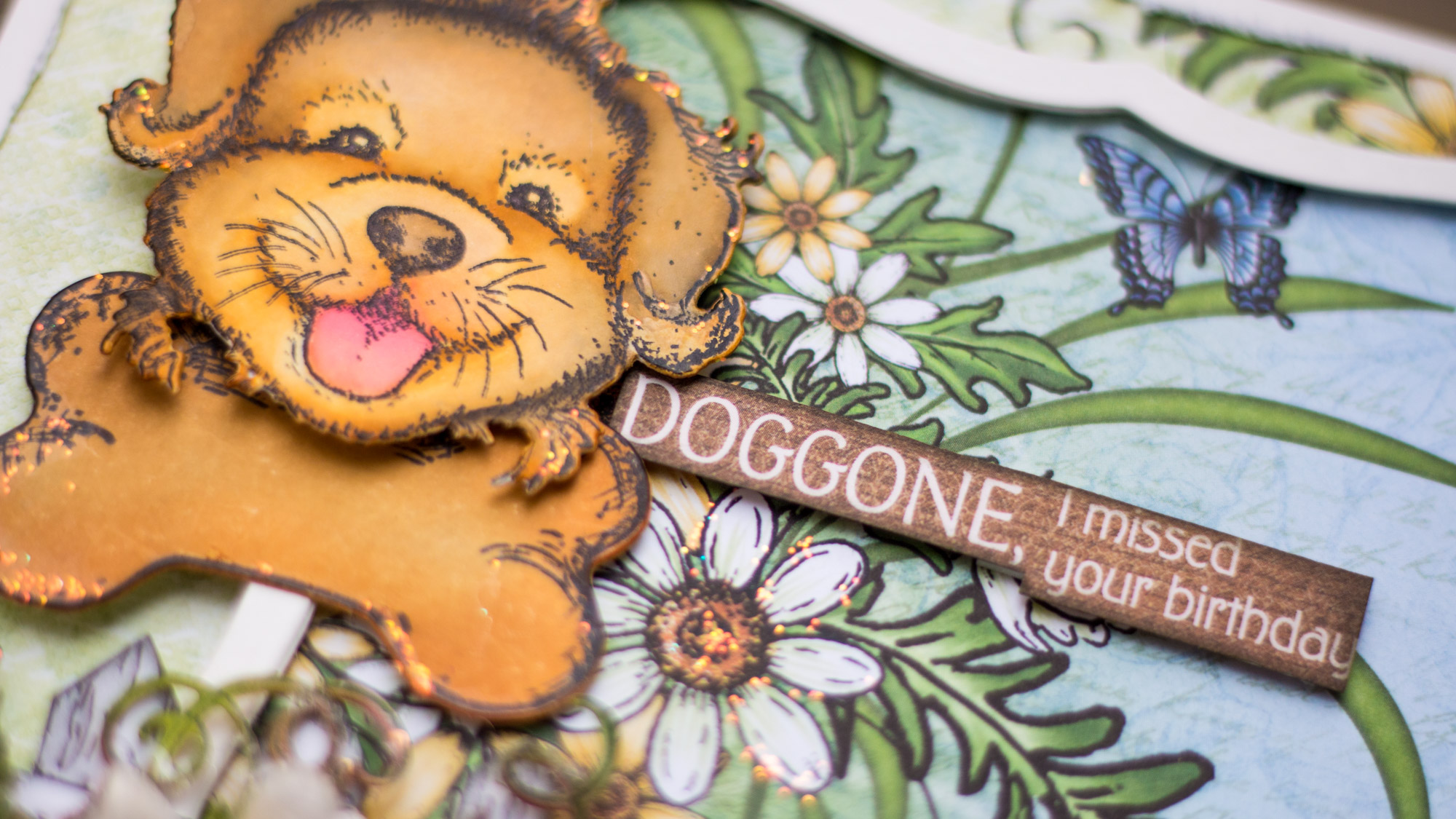 Products From Heartfelt Creations: 
Paw-fect Pooches Die (HCD1-7116)
You're Paw-fect Cling Stamp Set (HCPC-3761)
Pampered Pooch Cling Stamp Set (HCPC-3762)
Pampered Pooch Paper Collection (HCDP1-272)
Delightful Daisy Die HCD1-760
Classic Rose Die HCD1-7110
Classic Rose Cling Stamp Set HCPC-3752
Classic Rose Vines Cling Stamp Set HCPC-3753
Classic Rose Vines Die HCD1-7111
Sunrise Lily Die HCD1-787
Gift Box and Mini Snowflakes Die HCD1-7109
Deluxe Flower Shaping Kit HCST1-401
Go Man Go Prills ANC818
Designer Dries Clear Adhesive 159723
ColorBox Fluid Chalk Ink Pad – Harvest 71082
Double Dots 100pc. -3D Foam Circles DDOTS
Other Products used: Smoothe white cardstock, Zig Clean Clear Brush Markers, Fussy Cutting Scissors, Archival Inks… Leaf Green, Olive Green and Plum and black, Crystal Clear Glitter.
Instructions: The ready side-fold card measures 8 !/4 " by 61/4 ". The first layered mat is with designer paper from Pamperedared Pooch Collection. For the window I have cut a frame using  the second and third die of Spellbinders Grand Label 1. Layer a floral pattern paper from the same collection to the window. To embellish the card I have stamped images from Pampered Pooch Cling Stamp Set (HCPC-3762) with black Archival ink on smooth white card stock and painted using Zig Clean Clear Brush Markers. The colors used are 061, 062, 091, 092 and 025. The images are then cut using their coordinating die set. The fence is fussy cut from the Pampered Pooch designer Paper Collection. The flowers are made using Delightful Daisy die.and painted using Sunflower ink from Archivals. The pollens of the flowers are made using the stamen die from Sunrise Lily Die Set  HCD1-787 and painted using Sunflower and Olive Green shade of Archival inks. the leaves and vines are painted with Leaf Green, Olive Green and Plum of Archival. Follow Emma Lou's Tutorial for shaping flowers and leaves. Once all the elements are ready assemble the card as shown. All the elements are layered using Glue dots and the sentiment is fussy cut from Pampered Pooch Collection Designer Paper.