Good Morning Friends….
Welcome back to my blog again!!
It's a new release Wednesday today and we all at Heartfelt Creations are debuting another fabulous collection by the company. It's Winter's Eve Collection. Celebrate the more simple side of the holiday season, and add a touch of nostalgia and wonder to all of your holidays themed greeting cards, scrapbook layouts and altered art pieces with the new Winter's Eve Collection by Heartfelt Creations. Reminisce Christmas blessings from years gone by with a tranquil collection featuring an array of illustrations bringing back memories of silent nights by candlelight, choir voices resonating from the little church in the wildwood, woodland creatures foraging for food beneath the glistening snow, windows illuminated with the soft glow of a warming fireplace, and beautifully decorated Christmas trees ready to engage the imagination and excitement of little boys and girls eager to see what lies beneath them on Christmas morning! A charming and peaceful paper collection delivering a color palette of icy blues, pine greens, Poinsettia pinks, berry reds and frosty whites filled with decorative elements including delicate swirls, subtle checks, bold stripes, dainty florals and lace like accents will whisk you away to a peaceful winter wonderland overwhelming your heart with the comfort and joy of the season! Three wintry themed cling stamp sets along with coordinating dies bring a further touch of simplicity to the season with bouquets of petite flowers and foliage, an old fashioned sled and a window frame with dimensional box ideal for creating warm and inviting scenes featuring a beautifully illustrated candle arrangement, Christmas tree or glowing fireplace. Three intricate and ornamental dies lend themselves beautifully to creating breathtaking decorative die cuts for accenting all of your winter wishes. Come along with us as we set the scene for a tranquil winter's eve and a happy holiday season!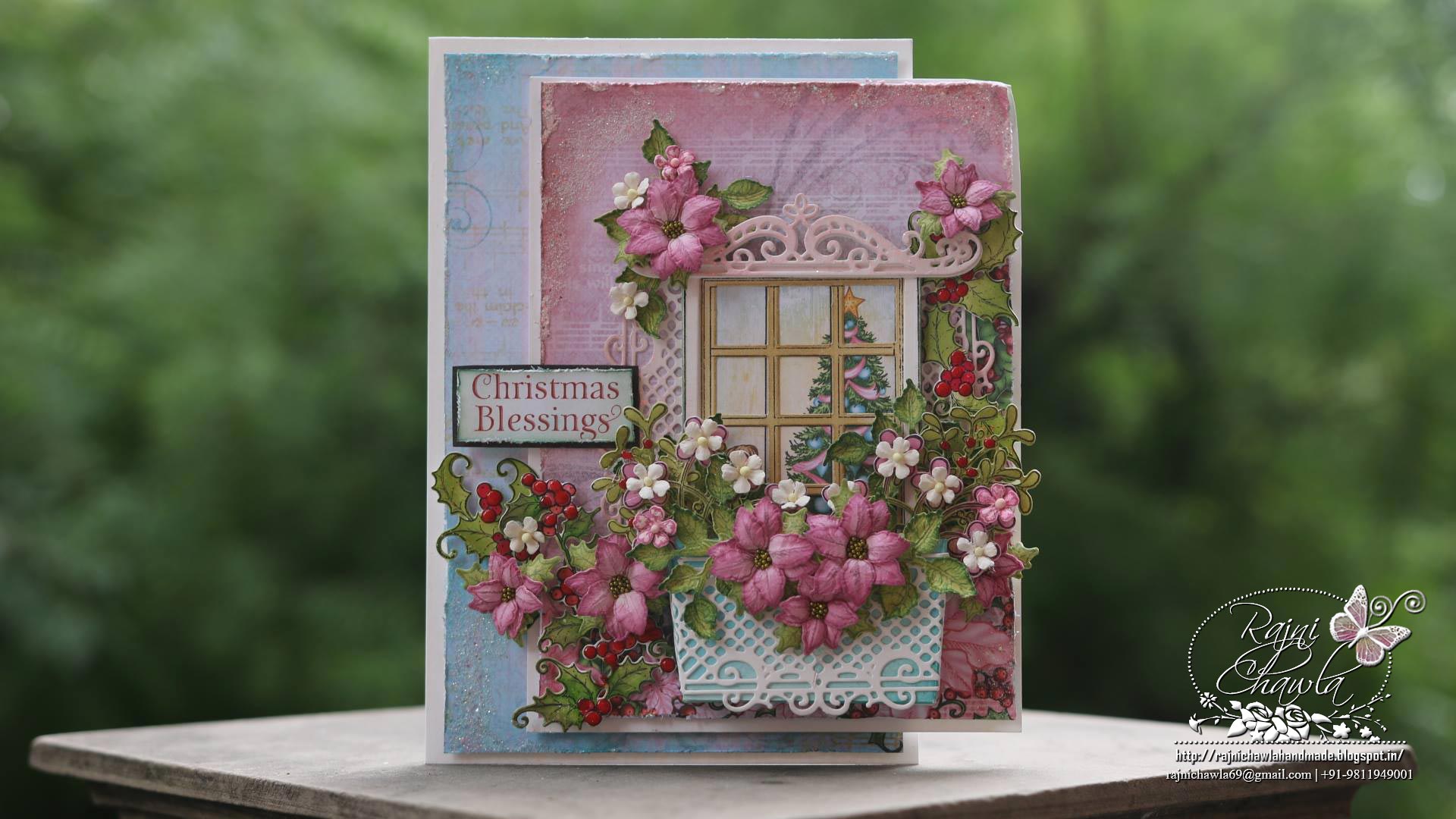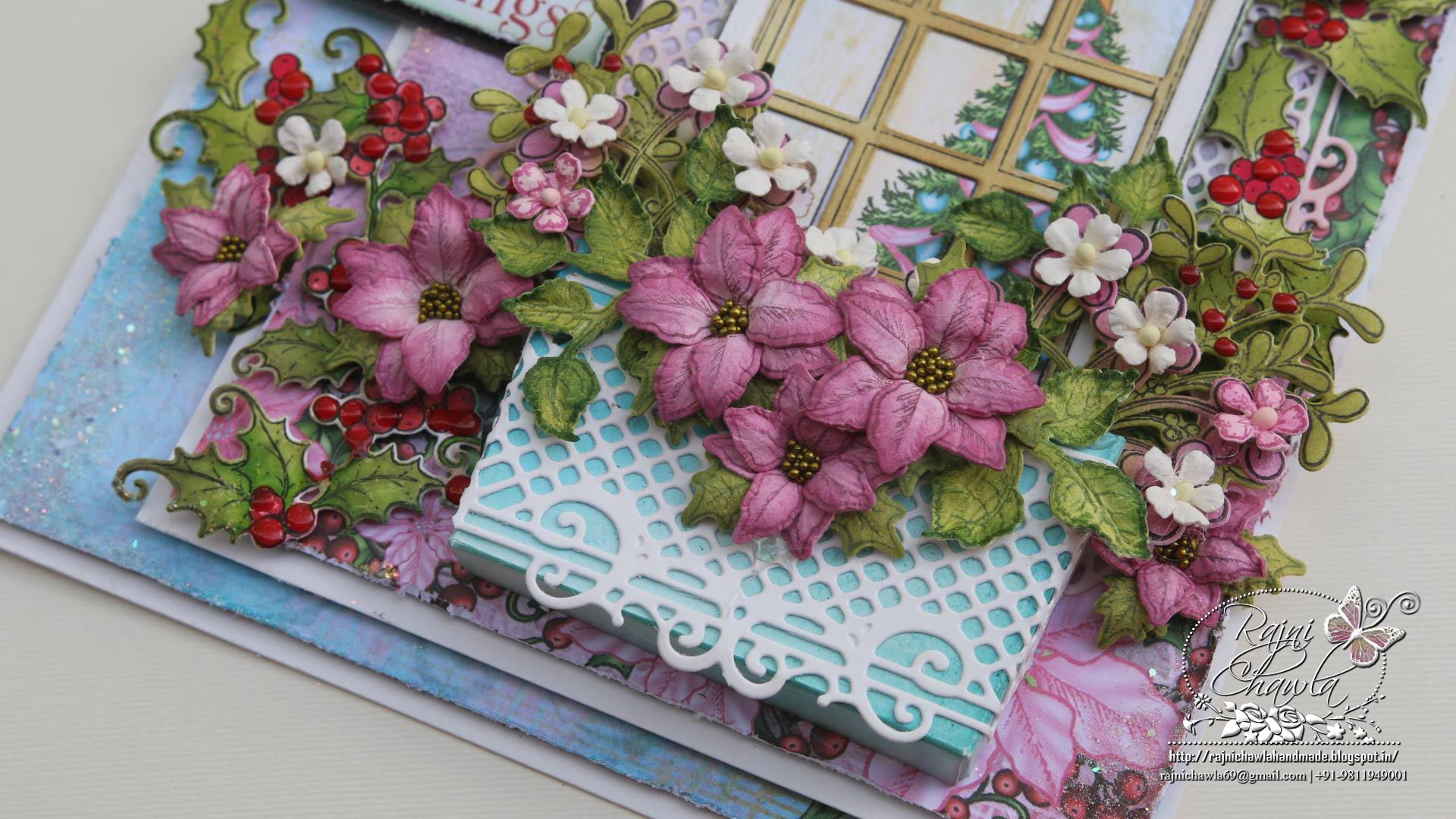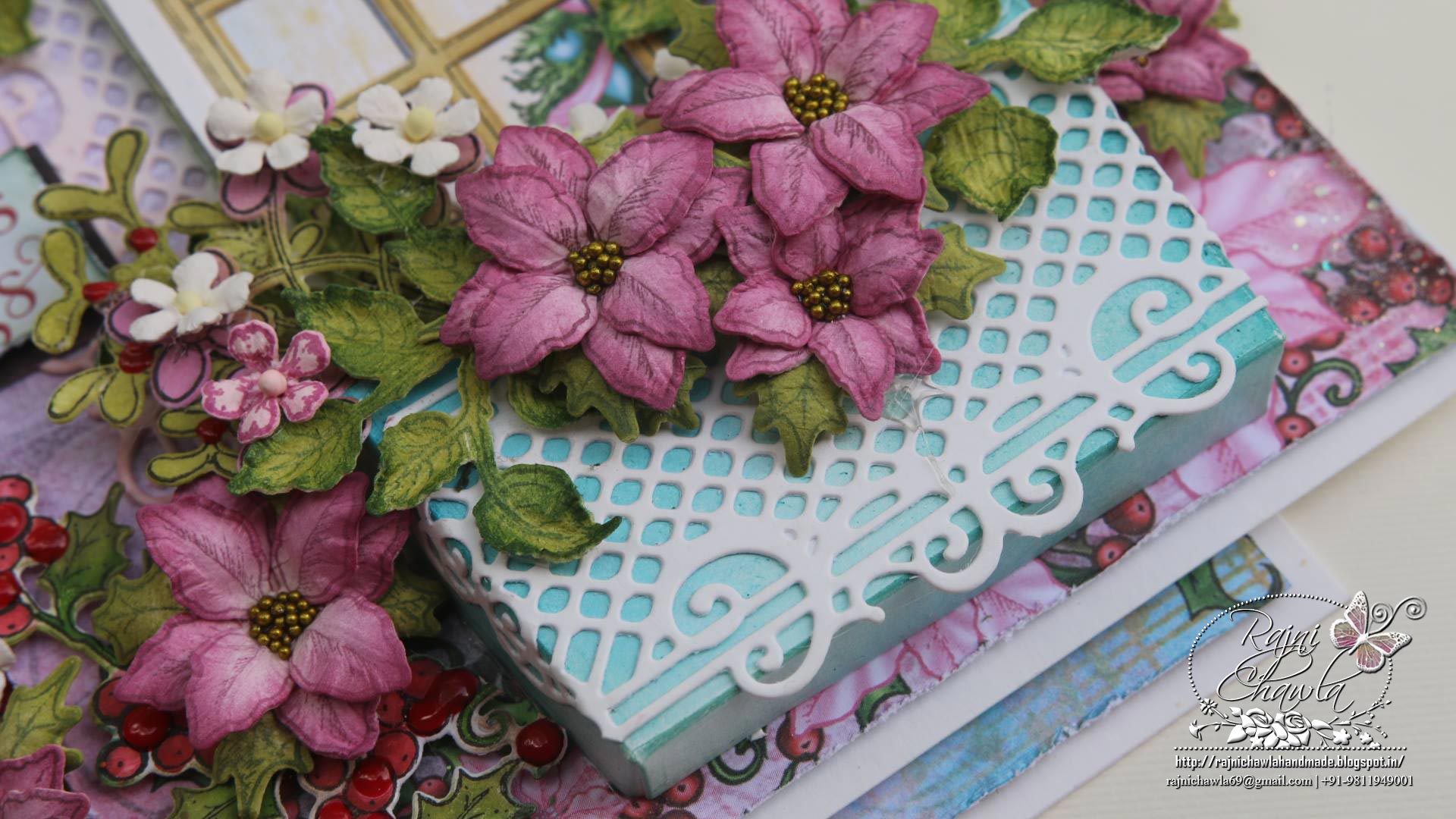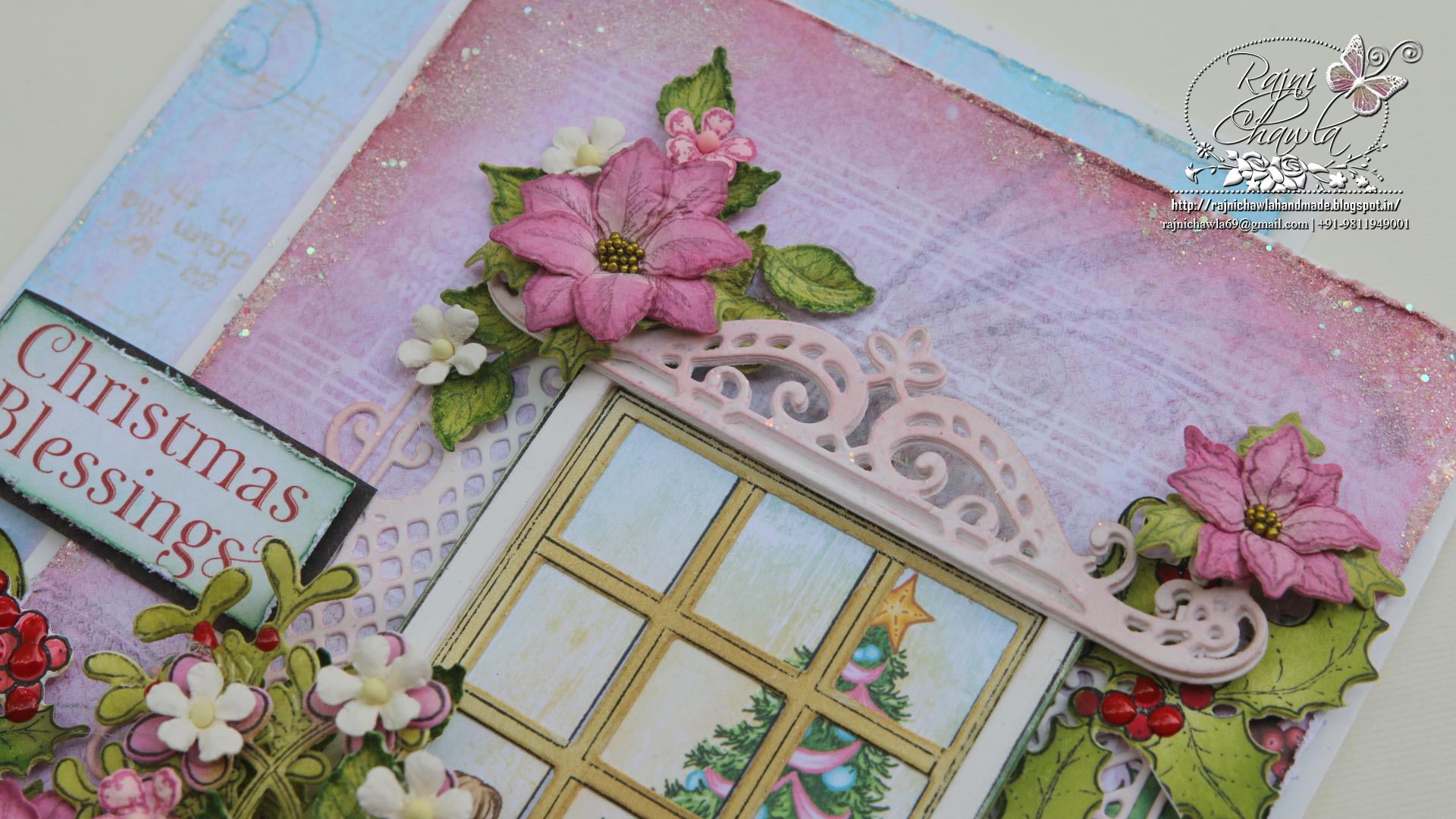 Products from Heartfelt Creations:
HCD1-7148 Window Frame Die
HCD1-7149 Window Box Fillers Die
HCD1-7150 Window Box Elements Die
HCPC -3794 Window Frame Stamp Set
HCPC -3795 Window Box Fillers Stamp Set
HCDP1-281 Winter's Eve Paper Collection
HCD1-7145 Festive Holly & Cardinals Die
HCPC-3791 Festive Holly & Cardinals Cling Stamp Set
HCD1-7106 Celebrate the Season Die
HCD1-7104 Ornate Sleigh and Presents Die
HCPC-3747 Celebrate the Season Cling Stamp Set
HCPC-3745 Ornate Sleigh Cling Stamp Set
HCDA2-450 Stack and Store Daubers-Pack of 30
PGM15015 Rajni Chawla's Crystal Clear
PGM15016 Rajni Chawla's Frosting Powder
HCST1-401 Deluxe Flower Shaping Kit
Other Supplies Used: Black, Leaf Green, Library Green, Plum, Magenta Hue and Carnation Red Archival Inks, Foam tapes, Smooth White Cardstock, Sore board and Die cutting machine, Vintage Photo Distress Ink,
Instructions: Choose a paper from the designer paper collection which has a Christmas Window scene. Cut the paper measuring 5 1/2″ by 6″. Stamp window panes with black archival, using Window Frame Stamp Set and cut it using it's coordinating die. Paint the Image with Vintage Photo Distress InK. Paste the window as shown and cut two layers of the white window frame and layer it using foam tape to create a 3d effect. Cut Window Box Elements in white card stock and lightly distressed them with Worn Lipstick Distress Ink and paste them as shown. For the basket, use the co ordinating die from the HCD1-7150 Window Box Elements Die and the co ordinating paper.Also For the side panels cut the decorative die and attach it to the front of the box. Using archival black ink stamp and die cut multiple pieces from the HCPC -3795 Window Box Fillers Stamp Set, color and shape them using Delux Flower shaping kit. I have used Fern green and olive greens for the stem. The small tiny fillers are from Wildwood Florals Die HCD1-7125. assemble all the elements together as shown.  For bigger flowers, stamp a few Poinsettias from Celebrate the Season Stamp Set and Ornate Sleigh Cling Stamp Set on white paper using Library Green ink, Magenta Hue ink, and Carnation ink and die cut using their coordinating dies. Color them with same inks. Shape them using Deluxe Flower Shaping Kit. Attach the completed panel to a ready 7 1/2′ tall and 51/2′ wide card base. Add a sentiment on the left-hand side and add frosting powder and crystal Clear glitter to finish your card.