Good morning friends…
It's second Wednesday of the month and we at Heartfelt Creations are again back with brand new collevtion for you all. Today we are debuting Tropical Paradise Collection.
Join us as we walk the warm, sandy beaches and the glistening ocean laps at the shoreline and help us bid a warm Aloha to the new Tropical Paradise Collection! Further your equatorial escape with realistically shaped plumeria flowers most commonly known for their inclusion in traditional Hawaiian leis boasting blossoms in pinks, whites, reds and yellows amid their large, leafy foliage. Discover the unique and breathtaking birds that call this exotic place home, from toucans to parrots, flamingos and cockatoos which have all been beautifully illustrated and assembled into three dynamic cling stamp sets and coordinating dies! Filled with bright and vibrant colors, the exquisitely designed paper collection will transport you to a tropical island with its fiery sunset reds, dazzling sunny yellows, deep ocean blues and rich leafy greens! Heartfelt Creations invites you to slip away to utopia with the new Tropical Paradise Collection! Escape to an exotic paradise where the air is warm, lush rainforests are filled with the calls of outlandish birds of paradise, and the day begins and ends with the most spectacular array of colors!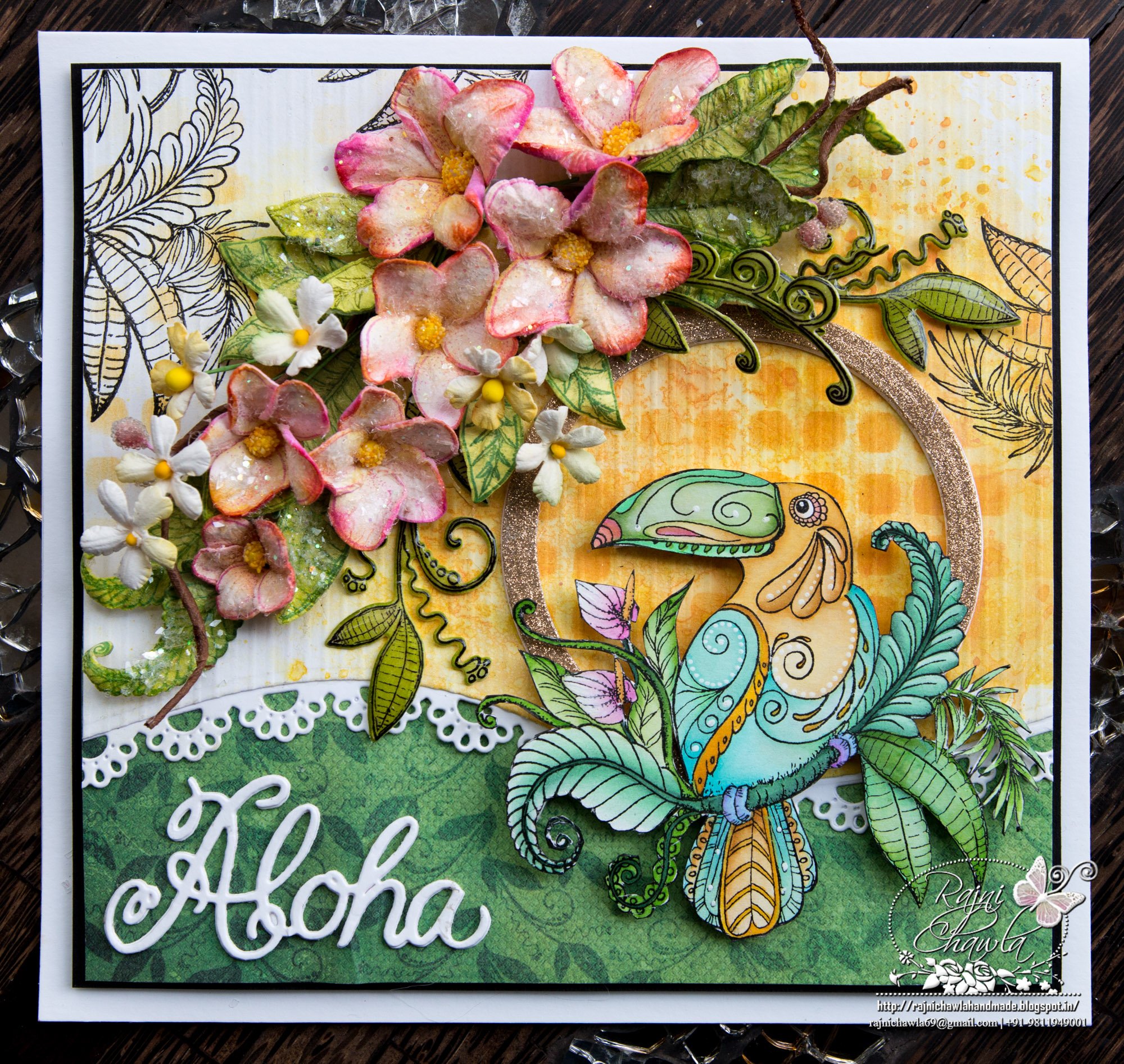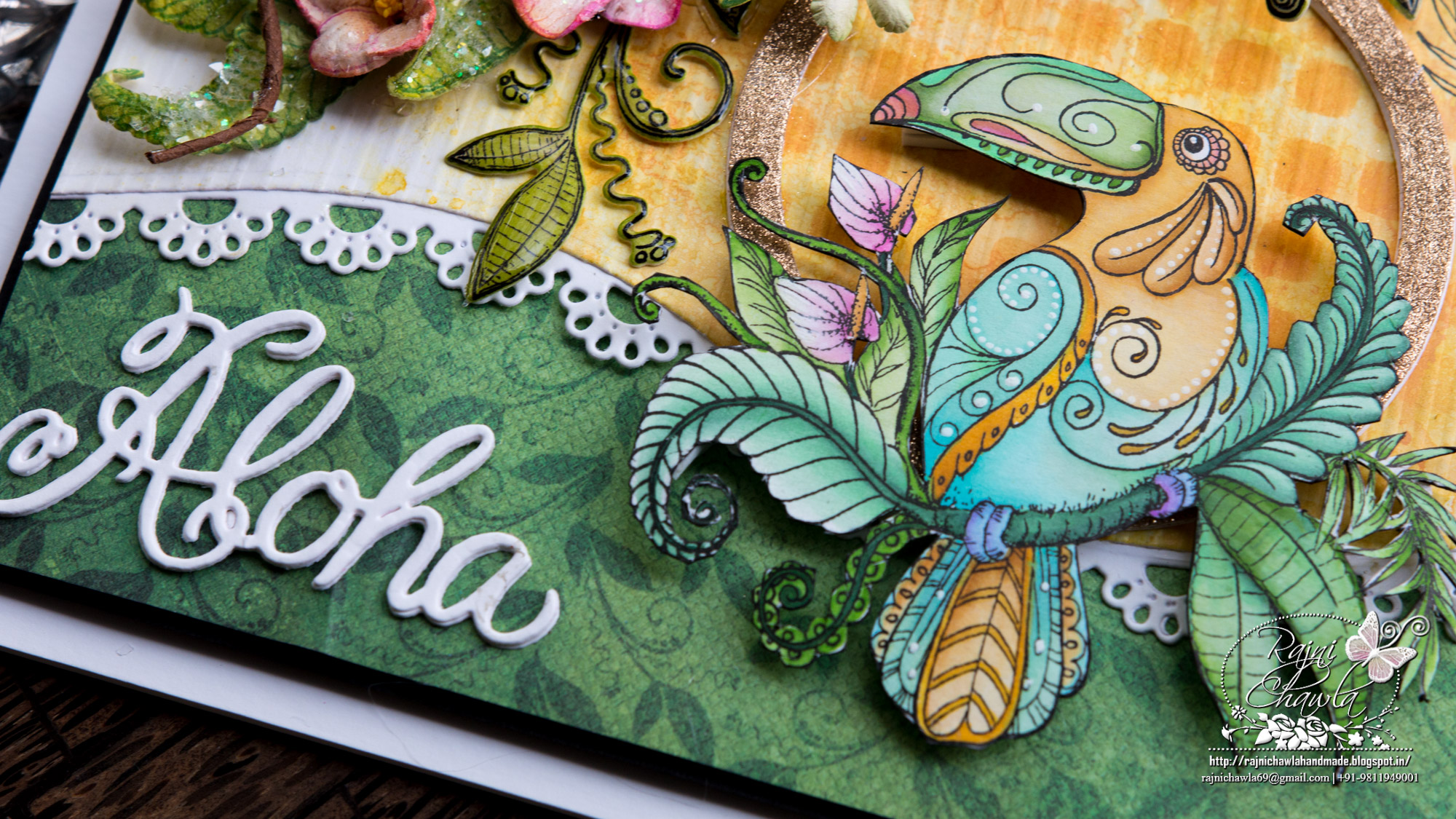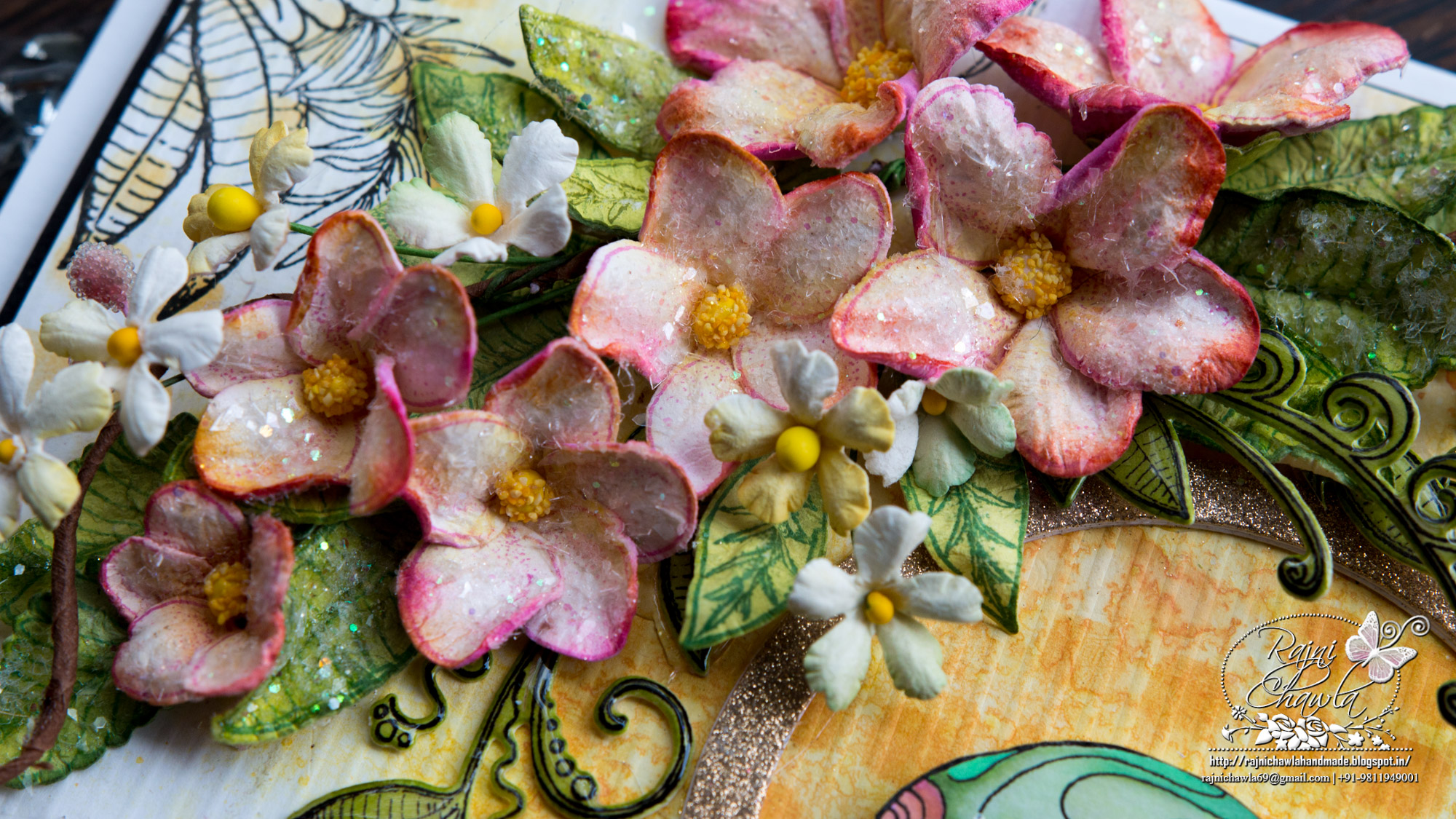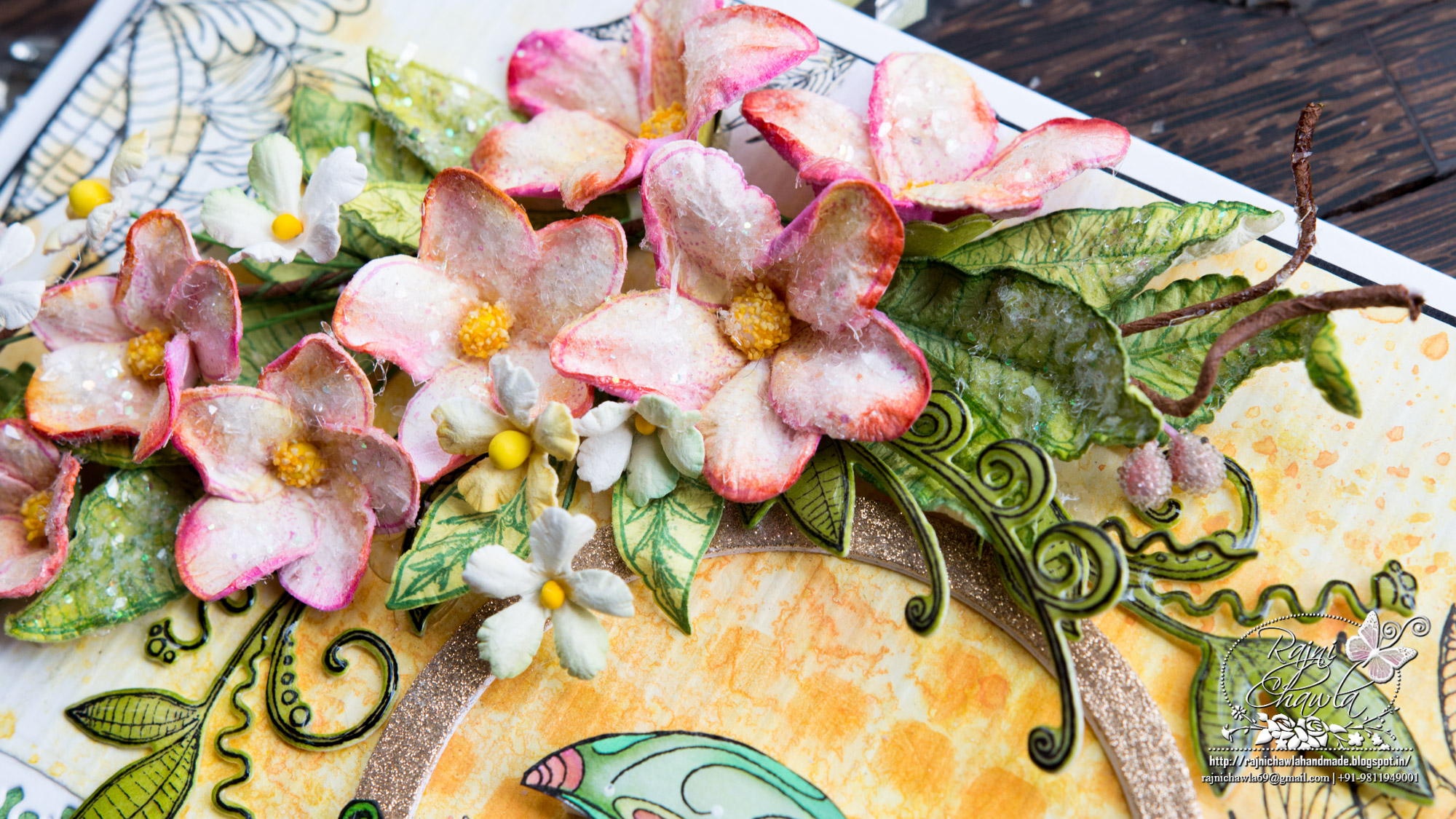 Products from Heartfelt Creations:
HCD1-7135 Tropical Plumeria Die
HCD1-7136 Tropical Cockatoo Die
HCD1-7137 Tropical Paradise Die
HCD1-7138 Tropical Parrots Die
HCPC-3781 Tropical Cockatoo Cling Stamp Set
HCPC-3782 Tropical Plumeria Cling Stamp Set
HCPC-3783 Tropical Paradise Cling Stamp Set
HCPC-3784 Tropical Parrots Cling Stamp Set
HCDP1-277 Tropical Paradise Paper Collection
HCST1-401 Deluxe Flower Shaping Kit
HCD1-7120 Fleur Border Basics Die
HCD1-7125 Wildwood Florals Die
159723 Designer Dries Clear Adhesive
Other Products Used: Cutting machine, Archival inks- Black, Tearose, Magenta Hue, Sunflower, Leaf green, Library Green, Distress ink- Wild Honey, Spiced Marmalade, Prima Grungy Grid Stencil, Zig Clean Clear Markers 041, 042, 045, 031, 032, 050, 052, Koi watercolor brush, Papericious Crystal Clear glitter and Papericious frosting powder, Spellbinder's Classic Circle Die, Elizabeth Craft Glitter golden, Smooth white cardstock, Black cardstock.
Instructions: The Top fold card with smooth white cardstock measures 7″ by 7″. Take a white card stock measuring 6 1/2″ by 4 1/2″ and tape down a Basic Fleur Die on the bottom. Run it through the die cutting machine. To create the background, smush Wild Honey Distress ink on the craft sheet and spritz water. Create a background by pressing the cardstock facing down. Lift and heat set. Once happy with colors add little textures using Prima Grungy Grid Stencil with Spiced Marmalade Distress Ink. Stamp a random pattern with Tropical Perrot Cling Stamp with Black Archival. Now score the pattern at 1/8th of an inch each time. Cut a fancy lace border from white cardstock and adhere to the backside of the ready stamped and inked panel. Now add a pattern paper from the same collection to create the base of stamped panel. The ready panel will now measure 15 cm by 14 cm. Layer it using foam dots to the ready panel on the black cardstock 1/4th cm bigger than the top stamped panel. The focal image is stamped with black archival and painted using Zig Clean Brush Markers. The shades used are 041, 042, 045, 031, 032, 050, 052. I have doodled few white dots with white gel pen to highlight the image. The image is then cut using its coordinating die. For flowers, Stamp multiple images with Magenta Hue Archival and paint them using Tea Rose and Magenta Hue. Shape the with deluxe shaping kit. For Leaves stamp multiple times with Library Green and cut them using its coordinating die. Paint them using leaf green and shape using Deluxe shaping kit. Brush all the leaves and flowers with clear crackle and sprinkle Crystal Clear and Frosty Powder randomly and heat set. The filler flowers are from Wildwood Florals Die. These are simply cut and lightly colored using Sunflower Archival ink and shaped. I have used a wired pollen to add a little stem to the filler flower. 3 swirly leaves are stamped with Library Green archival and painted using Leaf green. Dab it on Versa mark and sprinkle clear UTEE and heat set. A circle frame is cut from Classic circle die. Brush it with the adhesive that dries clear and sprinkles Elizabeth Craft Golden Glitter and dust extra. Burnish it with your fingers to get extra shine. Once all the elements are ready to assemble the card as shown. Lastly cut die cuts from white cardstock using word die and add it to the card on left bottom corner to finish the card.