Good Morning Friends…
Today, we designers at Heartfelt Creations are debuting another fabulous release, Burst Of Spring Collection. Celebrate the highly anticipated arrival of the upcoming spring season with the new Burst of Spring Collection from Heartfelt Creations! A favorite among flower enthusiasts, the delicate pansy flower is often one of the first florets to be added to the freshly worked soil as the glorious garden season arrives. The soft, velvety petals of these cheerful blossoms always invite a quick caress while being transplanted near the front of the garden bed, where they are sure to be admired by all! Awaken your senses dulled from the winter season with an enchanting and deeply hued decorative paper collection filled with sweet and amiable pansy flowers, along with whimsical fluttering butterflies! Beautiful blues, happy yellows and deep purples set the tone for charming pansy clusters and bouquets encompassed in finely illustrated details from lace like accents to intricate brocades! A wonderful compilation of beautifully detailed cling stamp sets and coordinating dies bring an assortment of sprightly pansy floral sprays, perky arrangements, as well as elegant pansy frames, perfect for adding a cheerful springtime feel to all of your handmade greeting cards, layouts and altered art pieces. The coordinating pansy flower stamp, die, and flower shaping mold come together to create several differing sized pansy flowers ideal for creating your very own dimensional pansy bouquets as realistic as those found in the flower bed! So, join together with us in craft rooms everywhere…before the frost is out of the ground and gardening season arrives…as we anticipate and create our very own version of the appearance of spring with the Burst of Spring Collection!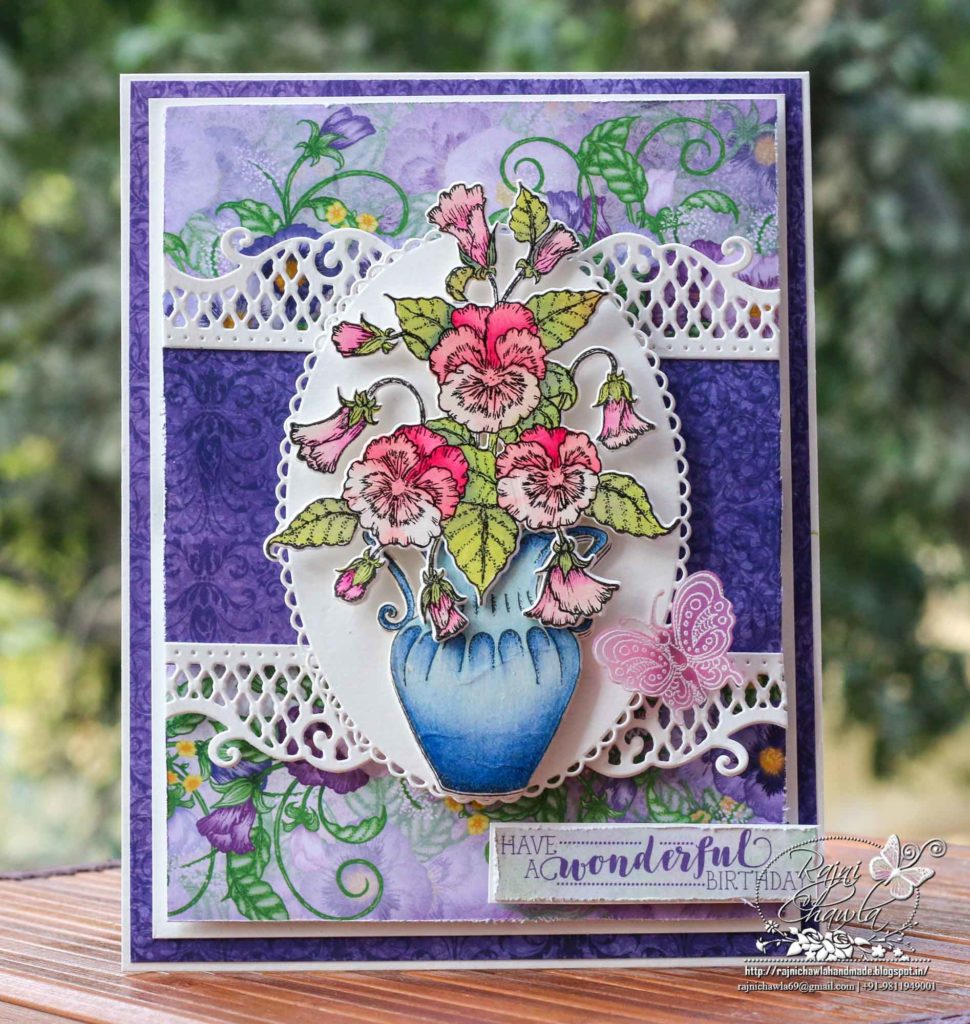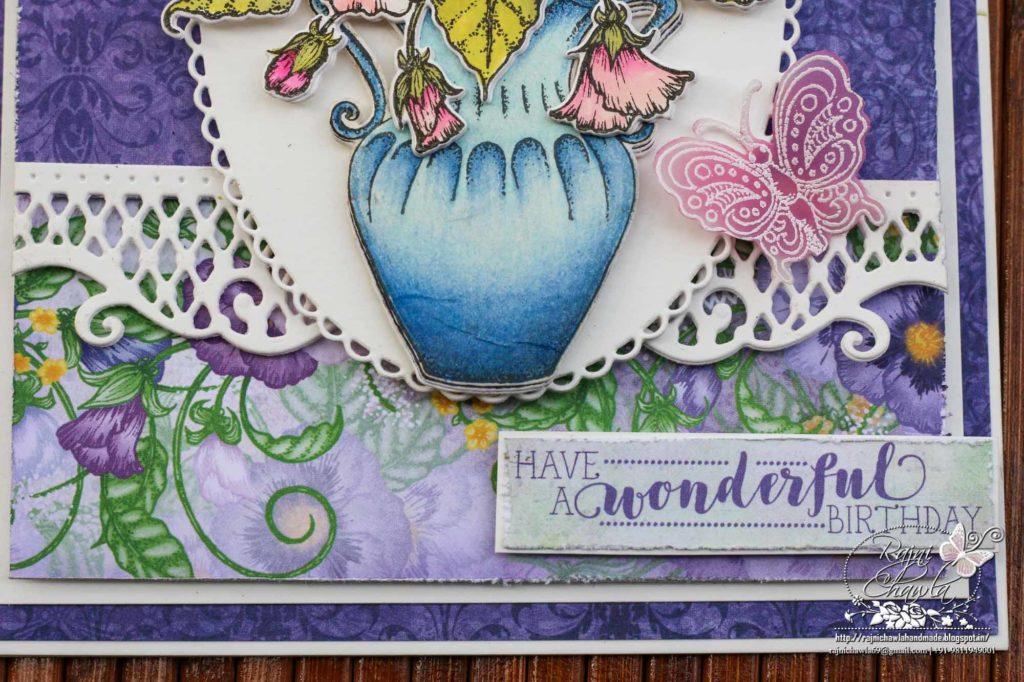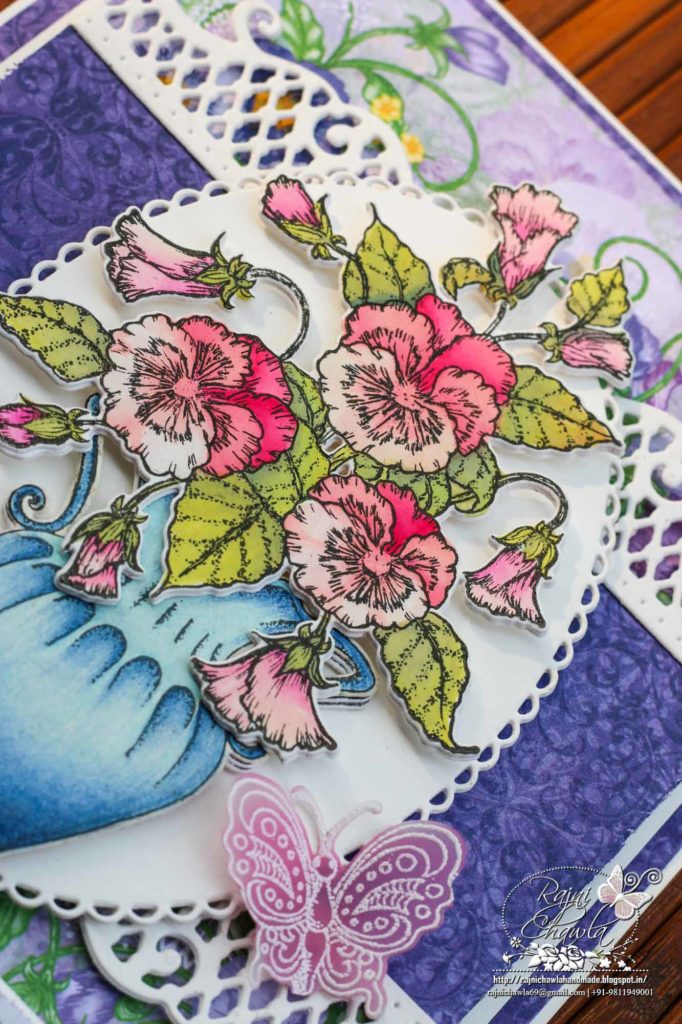 Supplies from Heartfelt Creations:
HCD1-7223 Burst of Spring Die
HCPC-3863 Burst of Spring Cling Stamp Set
HCDP1-299 Burst of Spring Paper Collection
HCD1-7220 Tulip Vase & Fillers Die
HCPC-3860 Tulip Vase & Fillers Cling Stamp Set
HCD1-7212 Petite Pocket Accents Die
HCD1-7157 Eyelet Oval & Basics Large Die
HCD1-7177 Butterfly Dreams Border Die
HCPC-3823 Butterfly Dreams Border Cling Stamp Set
HCPC-3843 Special Birthday Sentiments Cling Stamp Set
18002 Rajni Chawla's Vellum Flowerite – 10 Sheets
409311 Color In Watercolor Brush – Fine
478455 Zig Clean Color Real Brush Markers – 36 Pack
RACP468 Ranger Archival Ink Pad_ Jet Black
RAHT Heat It Craft Tool TSSZ82
StazOn Ink Pad – Fuchsia Pink
HCDA2-450 Stack and Store Daubers-Pack of 30
CB80 ColorBox Pigment Ink Pad – Frost White
RPEJ685 Embossing Powder – White
159723 Designer Dries Clear Adhesive

Other Supplies Used: Smooth white cardstock, Die cutting machine, Scoreboard and foam tape.
Instructions: The ready top fold card from white card stock measures 6′ by 7 1/2″. To create the top panel, choose the paper from designer paper collection and cut 2 pieces measuring 2′ by 5″ and a deep purple paper measuring 2 1/2″ by 5″. Adhere a piece of white die cut from the fancy pocket die from Petite Pocket Accents Die on both the edges of the purple paper. Layer this paper using foam tapes keeping one piece of 2′ by 5″ pattern paper on top and other on the bottom side as shown in the picture. Layer the complete panel on white cardstock measuring 1/16″ of an inch larger on all sides.
Cut white solid die cuts from white cardstock using Eyelet Oval & Basics Large Die and layer it using foam tape on the center on the card panel as shown.
For the focal image, cut the dummy, dress and a cap from the designer paper collection. Stack few die cuts to add extra strength to the images. Layer the image as shown on the card panel. Assemble the card front as shown and finish the card by adding a sentiment from the paper collection.
Stamp the images from Tulip Vase & Fillers Cling Stamp Set and Burst of Spring Cling Stamp Set using black archival ink and paint them using Zig Clean Clear Brush Markers. Die cut the painted images using their coordinating dies. Stack 2-3 extra die cuts to the image to make them sturdy and then adhere them as shown
Stamp the butterfly border from Butterfly Dreams Border stamp set using frost white Color Box ink on vellum cardstock and sprinkle white heat embossing powder. Dust extras and heat set the image using heating tool. Die cut the image using it's coordinating die and separate the butterflies. Add 2 butterflies as an extra accent to the card.