Good Morning Friends…
Thanks for joining on the blog again. Hope you are all done with your Christmas preparations already. Handmade cards and gifts,  delicious foods, cakes and candies, decorations, Christmas carols., family gatherings…..Oh, it's so much fun!!  Grab a cup of your favorite coffee and take out little "ME TIME" and get inspired by today's projects that I am going to share with you using Heartfelt Creations New Black Friday Release.
BY THE SEA …FOLDOUT CARD
Products from Heartfelt Creations:
6″x 6″ Foldout Cards-Black HCCF1-445-1
Fleur Border Basics Die HCD1-7120
Regal Borders and Pockets Die HCD1-779
Under The Sea Paper Collection HCDP1-266
Under The Sea Die HCD1-799
Under The Sea Coral Die HCD1-797
Coral Reef Collage Die HCD1-798
Under the Sea Cling Stamp Set HCPC-3739
Under the Sea Coral Cling Stamp Set HCPC-3737
Designer Dries Clear Adhesive 159723
Other [roducts Used: Black Archival Ink, Black card stock, crystal clear glitters, Foam tape, Zig Clean Clear Brush markers,Die Cutting Machine
Instructructions: Take 6'X6′ Foldout black card and cut all the panels from designer paper from Under the sea collection, using Fleur Border Basic except the last panel. The last panel is extended by 1 inch from extra black cardstock. The pattern paper for back panel is cut using Regal Border Die. All the panels are distressed using Peacock Feather Distress ink and them glued on the  fold out card. For embellishments stamp all the images with black archival ink and paint them using Zig Clean and Clear Brush Markers. The shades used are- C31, C32, C34, C36, O25, O27, O51, O50, O52. For the front shaker, cut the image from pattern paper using Coral Reef Die. Separate the center image with the cutter to form a window. Adhere the center part to circle die cut. Adhere an acetate sheet to top part from behind with tacky tape. Fill the shaker with shaker elements along with the small fussy cut and embossed sea shells. Close the shaker using foam tapes. All the embellishments are then dressed using Crystal Clear Glitter. Once all the embellishments are ready, assemble the card as shown.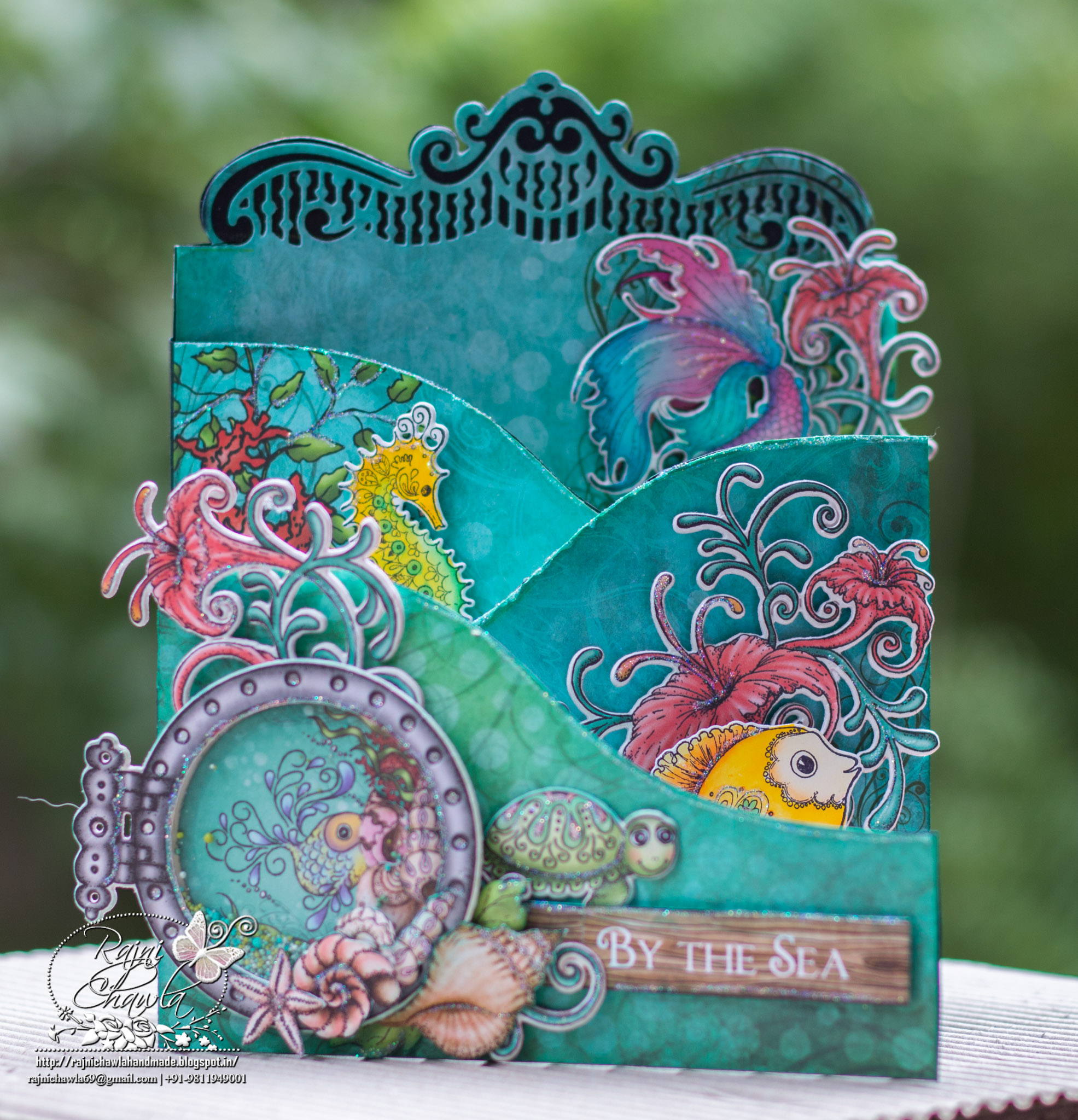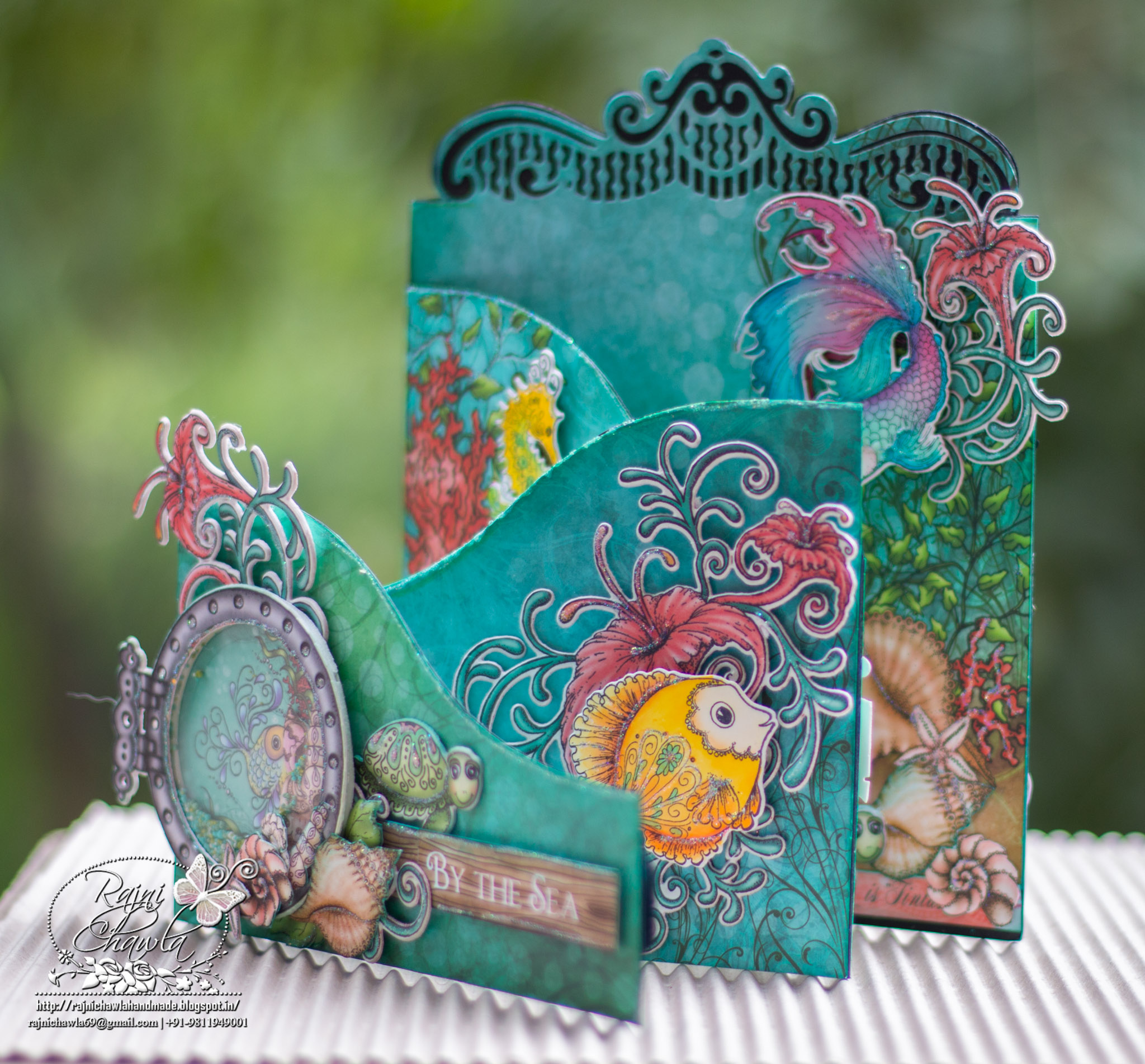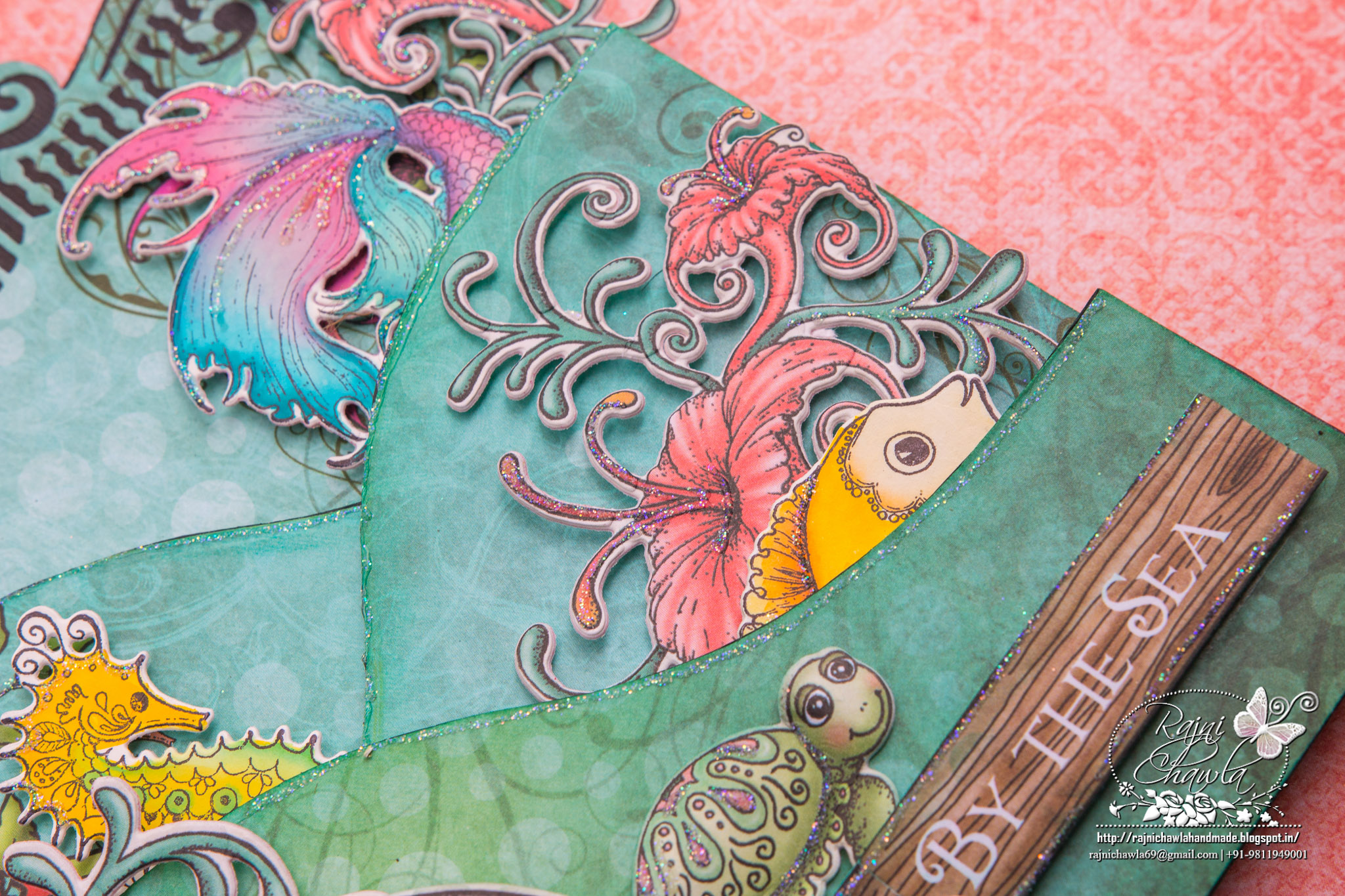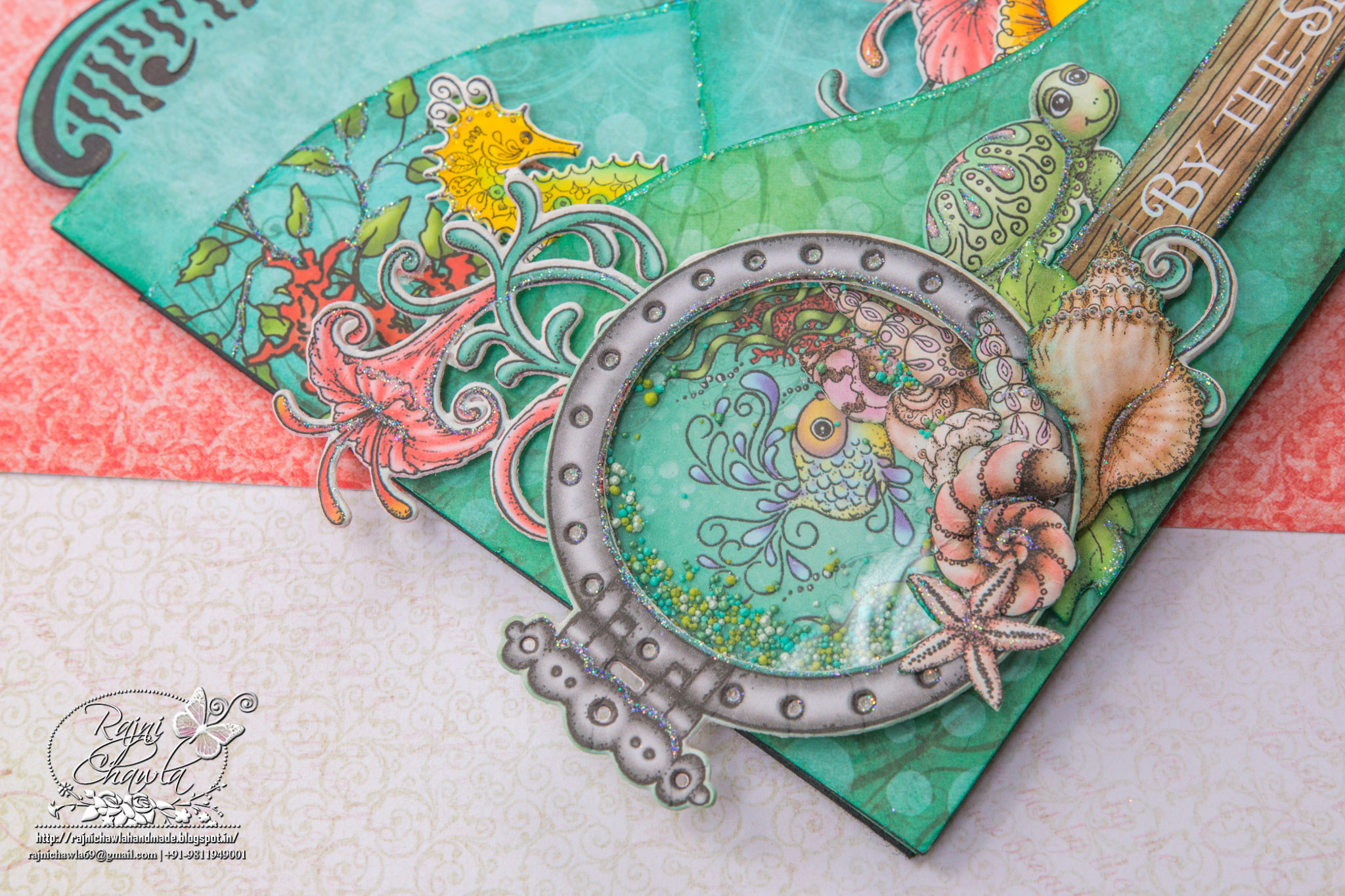 PINK ORCHID FOLDOUT CARD 
Products from Heartfelt Creation
4 1/4″ x 5 1/2″ Foldout Cards-White HCCF1-443-2
Delicate Border Basics Die HCD1-7118
Botanic Orchid Paper Collection HCDP1-267
Botanic Orchid Bouquet Die HCD1-7103
Regal Hummingbird Die HCD1-7102
Botanic Orchid Die HCD1-7101
Botanic Orchid Cling Stamp Set HCPC-3741
Raindrops on Roses Die HCD1-743
You Inspire Me Cling Stamp Set HCPC-3667
ColorBox Fluid Chalk Ink Pad – Berrylicious 71053
Designer Dries Clear Adhesive 159723
Other Products Used: Classic circle die, crystal clear glitter, Die cutting machine, Smooth white cardstock, Plum archival ink.
Instructions: Take 4 1/4″ x 5 1/2″ Foldout White Card and cut the panels from designer papers from Botanic Orchid Collection using Delicate Border Dies. Distress all the panels with victorian Velvet distress ink and glue them on the foldout card using an adhesive that dries clear. Before adhering the pattern papers adhere a delicate white border on all the panels. All the decorative elements are cut from the designer paper itself using their coordinating dies. Cut a die cut from white cardstock using Raindrops on Roses die and use half of it. Matt it on a light green card stock. Cut 2 circles from the pattern papers using Classic circle die and a ring from white cardstock using the 3rd and the fourth die of the same die set. Adhere the white ring on one circle base giving little dimensions using foam tapes. Use the half die cut from Rain Drop from roses die, prepared earlier as a mat for the prepared ring panel. For the flowers stamp the image with archival plum and color it using Color box Berrilicious. Shape the flowers using Deluxe flower shaping kit. Once all the elements are ready,  add glitters. Assemble the card as shown. Add a sentiment from "You Inspire me" stamp set.